October 19, 2009
I was going to write something today about how all cereal mascots appear to be screaming, but I made sure to check if anybody else had, first. As things do sometimes turn out, somebody has, and only a bit over a month ago. This is not surprising; surely the level of maniacalness ("mania" itself is not a maniacal enough word, I'm afraid) that led me to suddenly realize this would do the same thing to others. The fact that I don't purchase these cereals and have less than scant desire to, yet still noticed the overpowering craziness of their superfluous, excessively-shaded representatives must be a sign of something that I would be failing in my duties to not attempt to draw yet more attention to, even if the observation is not totally original.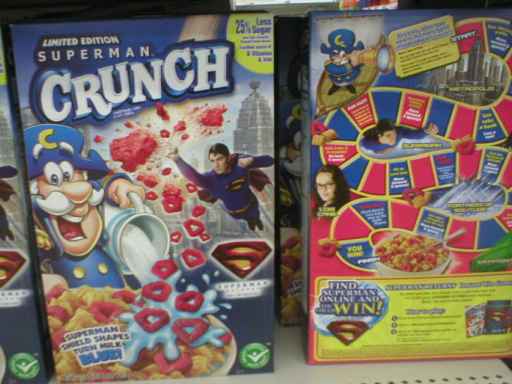 Oh, Captain! This time he's selling a product so shoddily produced and stale that no one less than Superman can break it apart.
I say "this time," for Captain Crunch's mental slide is nothing new. I have been documenting it for years, and have sadly become accustomed to it. However, I still ought to have paid more attention to the effect he was having on his shelf/ship-mates.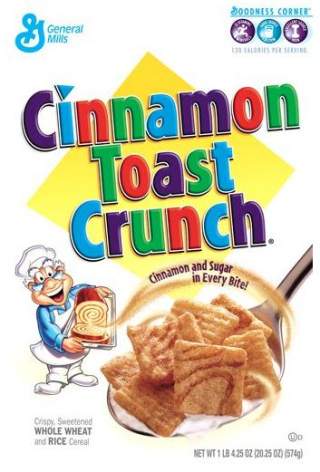 "Wendell," the Cinnamon Toast Crunch chef is so out of control that his picture on the box actually had to be reduced in size to keep it from giving people heart attacks. This is not surprising; his guilt over murdering the other two chefs in the early 1990s, dropping them into the swirl-mixer vat and subsequently feeding the evidence to America can only have grown since then. Unlike himself; he seems shorter and more deformed than ever. He's actually glowing from the quantities of artificial joy he has to inject merely to keep from sobbing.
Yes, yes, certainly, with online vagrants' tendency to talk about trash from two decades ago forever and gravitate toward the most obvious, sociopathic and vulgar explanations for everything, I assume claiming "Wendel killed the other chefs" is nothing any more original* than noticing the perpetually gaping mouth spaces common to cereal box characters. I wouldn't be surprised to find an old page of my own accusing such a thing. But maybe it's so common because it's true.

*Or it is, but only because I didn't feel inclined to put a mention of rape in there. Everybody on the internet knows rape is hilarious!

The famous Trix rabbit pulled some strings, possibly the ones that hold up his eyebrows, and got two different demented expressions on shelves at the same time. He STILL can't get the cereal he is forever in the proximity of enormous bowls of, and that would push anybody over the edge. Fifty years against a garish red background doesn't help, either, as his neighbor would no doubt attest were he in a mental condition to do so.
The leprechaun looks like he's attacking somebody with that giant, irresponsibly over-perspectiv'd spoon. It's more like a catapult scoop than something a human would eat out of, much less a mythical demi-human a fraction of one's size. And once again there is glowing with absence of apparent, appropriate light source. In this case it is not a result of stimulants from anything but that which is in the cereal. The marshmallows are now so toxic and explosive that they must be handled from a distance. I do believe Lucky is experiencing a recoil from… shooting it, I guess. Speaking of shooting, I suspect we are not incredibly far off from needing to put heroin into this stuff to keep kids as interested as our profit forecasts and/or psycho spokesmen require.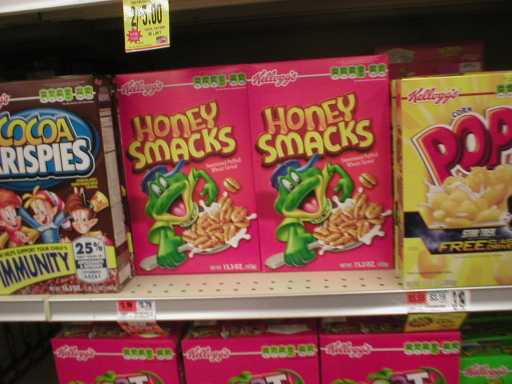 More red, more threatening loaded spoon attacks. The name of the cereal is even violent. The violence is indiscriminate, too, as the unfortunate positioning of that frog's eyes combined with the direction its pupil-like-things are pointing in cannot possibly present any vision to the frog-like-creature but its own nose. At least look at me when you smack me, you brute! And… I don't know what magical "IMMUNITY" Cocoa Rispies is supposed to grant me, but I doubt it's immunity from the sight of its keepers' cackling countenances.
I didn't eat break-fast cereal at all for much of my life. It is only within the past few months that I resumed, and I only eat corn flakes and cheerios, the same things I used to. Even Corn Pops are too sweet for me. Don't pop my flakes! There's no sense to consuming that much sugar if it only makes me want to cover the stuff in salt. All the same, I'm sure the artificial nutritive value that gets pumped into these mystery morsels is better than none at all, as a look at the boxes for an equally sweet substance without it suggests: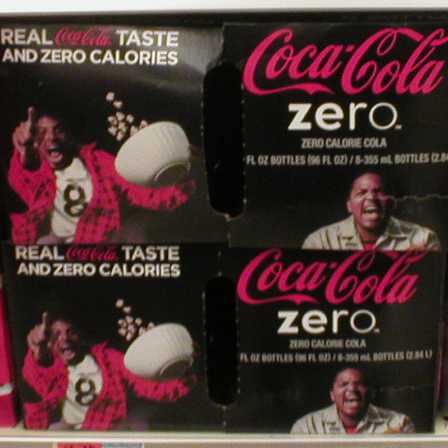 THESE guys aren't even happy. They're ANGRY. They want me DEAD. It's not enough that I kill myself by pouring coke into myself by the caseload. These fellows need results.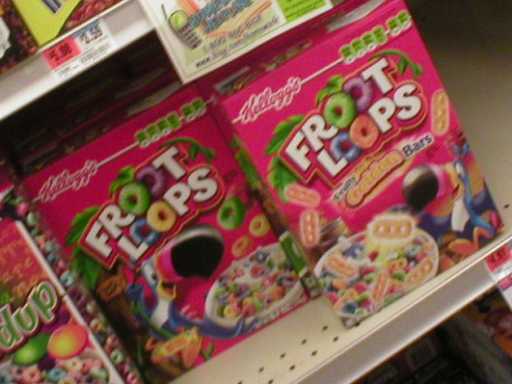 Toucan Sam tm is not quite evil yet, but with that red back there he eventually will be, and until then, as long as he has those GOLD LOOPS he doesn't have to be. What fruit are those frightful sparklethings supposed to represent? Liberace?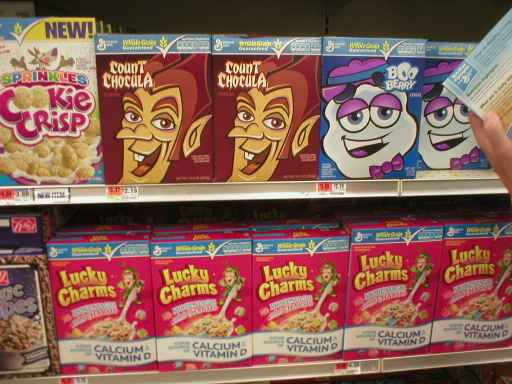 This makes me feel like Count Chocula wants to eat ME. Or my blood. My chocolatey, chocolatey blood. This doesn't even show the cereal. For all I know each box contains an actual miniature Count Chocola which will create untold chaos when released. Or
worse,
just his head. And
Boo Berry?
Why is that here at all? The only place I've ever seen Boo Berry mentioned is on "bring back boo berry!" online petitions. I guess it is good that people's dedicated laziness is not always in vain and can actually get results, but is it fair to burden every shopper with the sight of this result?
Oh, and there on the left… Gosh, kids just aren't excited about eating chocolate chip cookies for breakfast anymore! What now? RAINBOW SPRINKLES? That's so crazy, it just might work. If it doesn't, heroin.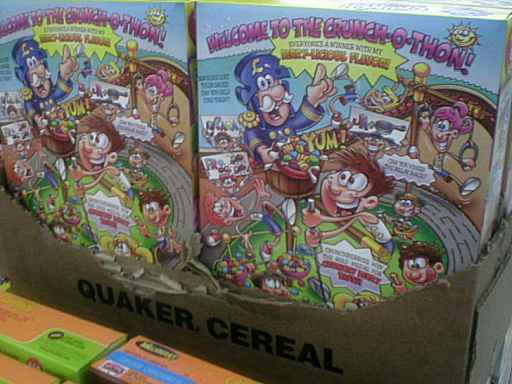 This business philosophy is KILLING our children! The Crunch-o-Thon may welcome me, but it would be morally unconscionable for me to reciprocate. The very thought of encouraging children to engage in such activities so soon after gulping down so much dubious corn product, and with so many razor-edged crunch bits still fresh in their stomachs… oh! If I didn't know of his cerebral breakdown, I would be sure the Captain was doing this on purpose. Oh, what a chilling thought! What if this was all…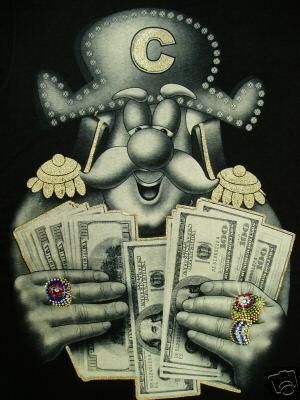 an act?
Forget O-6 pay grade. The Captain has promoted himself to O-G.