August 29, 2014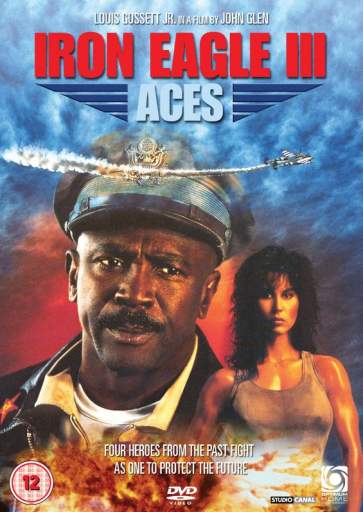 I have this picture open in another browser tab. I keep forgetting about it and then making very alarming laugh-noises and exclaiming "Iron Eagle!" in an increasingly high pitched voice when I unexpectedly find it again. It is the video cassette box art for
Iron Eagle III: Aces
,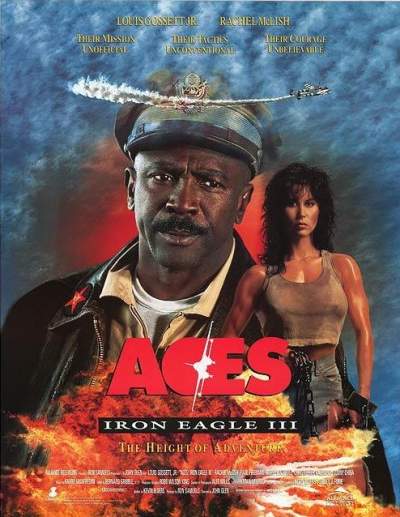 akadaka Aces: Iron Eagle III
and sometimes just
ACES when for some baffling reason we want to pretend there weren't two warning shots before this one.
I am told that this larger edition of the picture was for the original theatrical advertisement poster, which also means that after two whole Iron Eagles this was still able to get itself into theatres. I can't think why it was cropped for the video release. The more picture I see, and the less obscured it is by lettering, the better it looks and the less cheap its 1992 pre-Photoshop effects look. Photoshop existed in 1992 but I doubt the people at fault could afford it or internet to pirate it on at that time. At best they hired someone who was really good with scissors to make a collage.
In fact I went to a school called Aces at one point and I tell you this picture just about sums it up. That is not true, but maybe when I am yet older and do not quite remember, this explanation will suffice and I will not investigate the matter more deeply.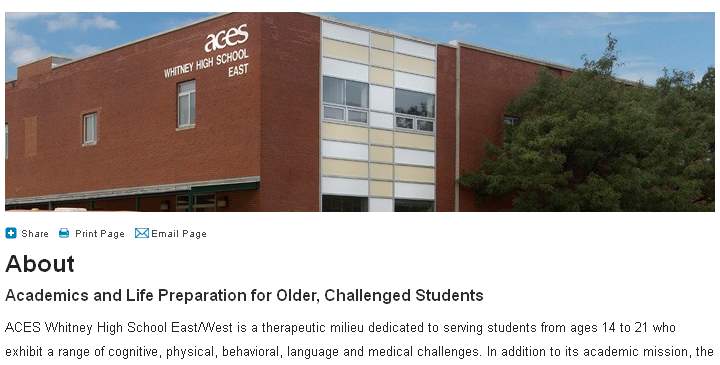 I attended in a hope to provide challenge for the staff, because as anyone in the field will tell you, sometimes teaching is way too easy. I know some of you like your cinnamon and bucket challenges, I prefer the Iron Eagle challenge.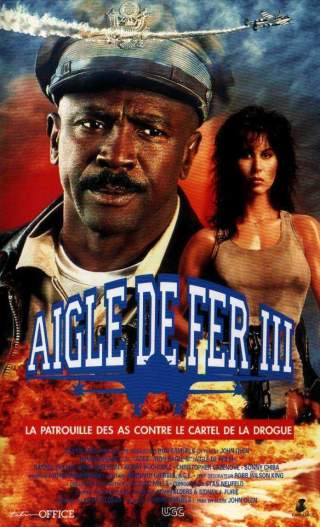 What intrigues me so about this situation? Is it the enormous, legless man floating/propped up behind the tiny woman? Is it the man's goofy facial expression and
Lipton tea
officer hat? Is it just the name "Iron Eagle" combined with my knowledge that he IS Iron Eagle because his colonel hat has an Iron Eagle on it? That real colonels actually have silver eagles, but this guy is so corny that he only gets a rinkity dinkity eagle made of a much cheaper metal? That the series is named after him even though he wasn't actually the main character of the first volume? He looks so concerned. Like he just realized he is Iron Eagle and all the ramifications that involves. That was a magical period; there were two iron eagles already, and you wonder "where can it go from here?" never realizing you're not even done yet;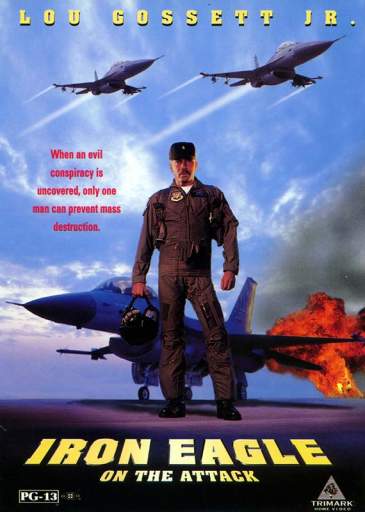 there's still Iron Eagle: on the Attack yet to be made and released. Do you grasp that? It hasn't even been MADE yet. Iron Eagle is STILL in active production. ANYTHING can happen. Plenty more iron, plenty more eagle still to come.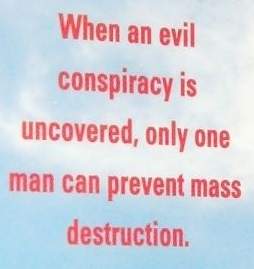 Only ONE MAN will suffice! Who is it? Iron Eagle! It is no longer a remark on the unlikelihood that he would be promoted to general and receive a non-bird for his hat; by this point it is HIS NAME. Don't tell me everyone in the movie calls him "Chappy" (because that would mean you had seen the film and have a more important destiny than reading dumb web pages) to me he is only Iron Eagle.
As before, it was initially presented as a non-numbered original production in the apparent hope of appealing to sequel-snubbers, with the marketers eventually having to admit, yes, this IS Iron Eagle IV, so that sequel enthusiasts could figure it out.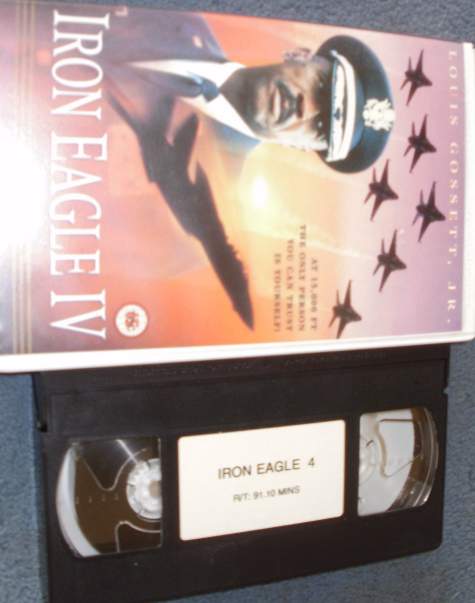 And if Roman numerals are too highbrow for you, we'll put a regular 4 on the
videocassette
tape.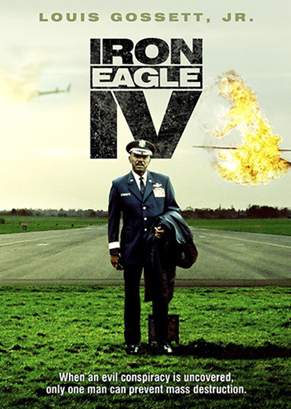 You can tell Iron Eagle IV and Iron Eagle on the Attack are the same movie because the ONE MAN tagline is unchanged, even though in both cases Iron Eagle has visibly failed to prevent something from blowing up while he poses for the picture. Maybe he wants to make sure we understand: He IS Iron Eagle, the one man, and until we meet his demands, things are going to be pretty lousy.