July 29, 2010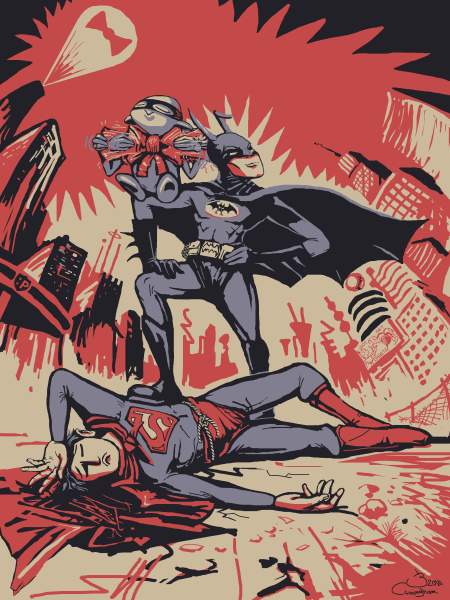 Hey, these colors again. in actuality I made several pictures between this and the next one, and only one of them was also colored like this
I considered The Terror of Kraptonite but it struck me as a tad crass and probably not an original wordplay. "Diptonite" also goes unused because I don't know that anybody uses dip as an insult outside of some Garfield comics from the 1980s that I read as a child, and as long as we're going the 1980s I should give batman a crescent moon shaped head and call this "the terror of Mactonite." Feel free to suggest a better title. You could scarcely do worse!
The person who requested this (rather a few years ago, I should say) is not fond of Superman. However, I find some of her preferable characters highly questionable!
A thing much like the archery picture in that I spent a great deal of effort on it which is not at all evident and features a minimum of silly imps (the minimums is ONE). And hey, these colors again.
I'm not entirely sure how the Bat-Man beat Superman here, but it also seems possible to me that Superman merely gave up to protect himself from further bowtie related abuse.
Yes I've seen Dark Knight Returns.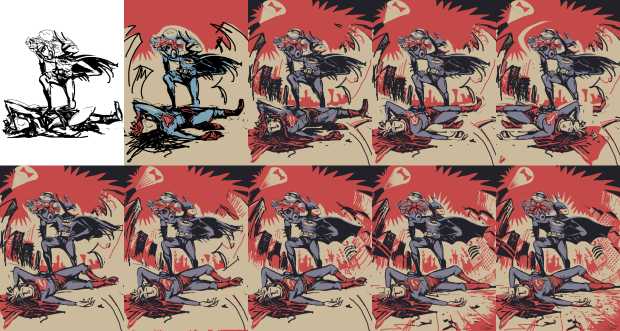 The Super-man looks most beaten up in the third version. A pity I didn't pay more attention to that at the time. Although I wasn't necessarily trying to make the picture brutal so maybe this was deliberate. I don't remember. I am writing this nine months from the date I chose to attach to it. I also don't remember why I never bothered to remove that annoying sideways L-shaped black line next to Superman's cape. The only thing I was certain of was that there must be a rope belt.