August 1, 2015
This year's
hope is coming
picture.
Tracey Sullivan, the race-runner, opted for a less chaotic setup that better reflects what the money actually goes to: holistic treatments for hospital patients. The hoofed creature here is applying some manner of hand-wavy therapy called Reiki and not in fact contemplating strangling the reptile. I added the dorks behind the trees without asking or being asked to just to make it amusing for myself.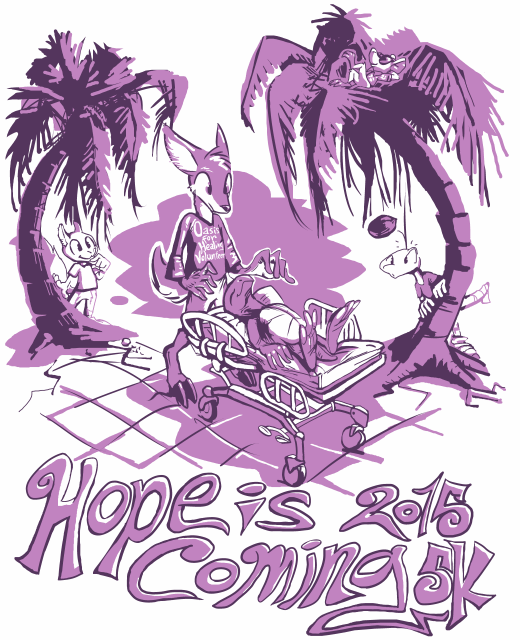 Due to cost matters, the color total was reduced. Since idiots are cheap I was able to keep them all in there.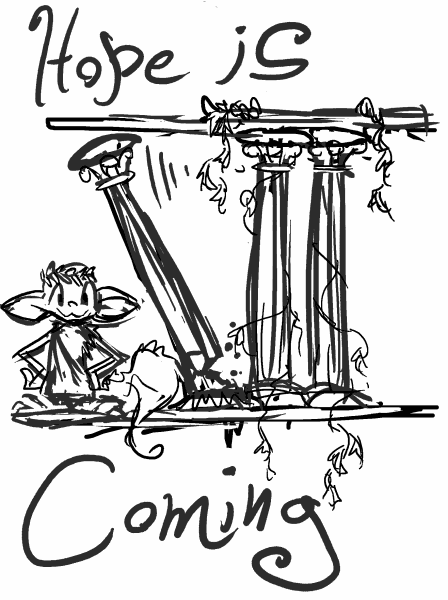 This was the first sketch. It had, to me all the important elements: the number of years we had been doing it and something bad about to happen. I may miss the point of "hope." Also of Roman numerals because before I sent it I wondered why I had written eight instead of seven and erased one of the columns, and after sending it realized I had in fact written seven the first time, and that is now said six, and drew the last column back in. And then I told this story and realized it made more sense if I erased the column anew.
It was at this point that Tracey asked me if I could draw someone in a hospital bed receiving reiki.
It was a good question!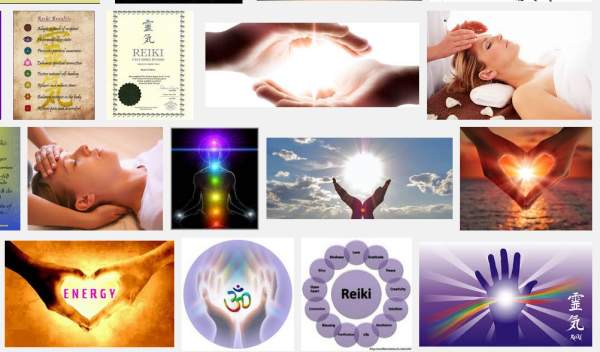 I looked up pictures of "reiki" on the internet, and mostly found mildly abstract pictures of hands with explody light coming out, so it seemed reasonable to assume that it was a destructive and chaotic force. However, in the end I was asked to use my upper left design, where nothing was happening! The bottom sketch shows that I still could not help myself and tried to insert trouble into it, but in the end I kept it rather simple, which was probably for the best since I would not want to upset someone so dangerous.
I also deemed depicting reiki being done with a rake, as it is pronounced as if it is, as too obvious.