May 31, 2017
Concurrent with the 512×512 pixel matter, I offered drawings at smaller sizes, with 100×100 resolution being the most common request. I did not realize what a big deal it was to be able to draw like this until I realized how many people could not. Eventually they started paying me to do it. Not enough that I could feel like I had done something with my life, but at present I can buy more pizzas than I can eat, which feels important.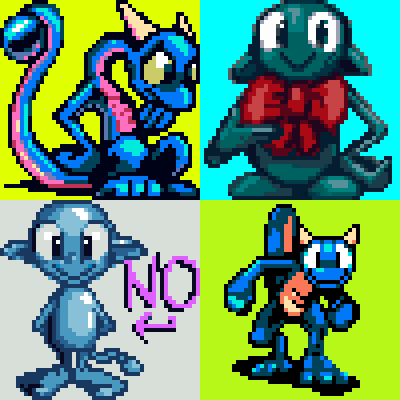 Icons that I initially used for myself. None is especially excusable.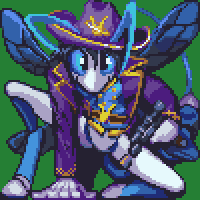 Fastest gun in the wasp, November 2013
A character called Miso for a person called Miso but who presumably does not look like this, stuffed into a tiny 100×100 pixel box but not at all deterred. This was before I gave people many/any options so theoretically I could come up with a better pose than this.

You shall meet with my raccs, 2014 or sooner
Relaxingdragon wanted these at some point. Rare examples of the 200×200 size, which is still small enough that I do not totally lose my mind with it, although I did not develop the habit of losing my mind on pixel-level work until 2016, so that may be a presumptuous statement.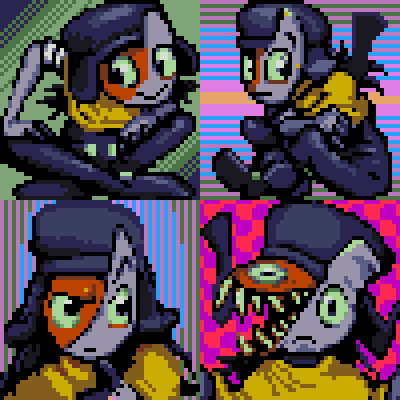 Icon see you're upset June 9, 2016
pengosolvent recently inquired about a new representative 50×50 pixel symbol but something alarming has occurred. These are smaller, only 50×50 pixels, because the deviant-art website restricts user representations to that size. And I drew four because I usually give people 2-4 different layouts to choose from, but need to color them in, to some degree, for them to be legible, and on this occasion colored in all four fully without being asked to.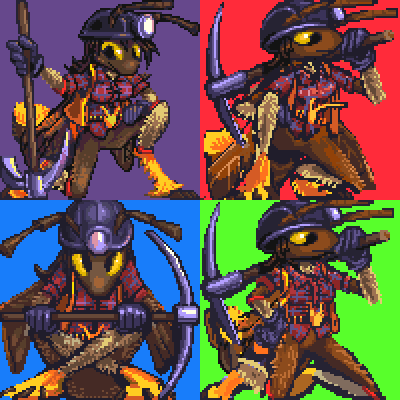 The pickax papers, December 17, 2015
A newer Miso, also for Miso. I had been asked to make an icon similar to the old one, and took that as permission to be equally boring with the poses. And again I could not restrain myself from finishing all example versions! The upper left is the one we went with, and therefore it is slightly more "finished" than the others. Appropriately enough it is considerably more proud of itself. The creature this is derived from is called a tawny mining bee, and I took THAT as permission to add mining implements, including an all important flannel shirt, even though those are more stereo-type associated with logging, because it seemed unlikely somebody would send a logging bee my way any time in the near future.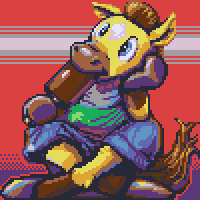 Clippity-clopsicle October 20, 2016
For kinn-katze, a horse creature named Ryno ponders something likely unrelated to being named after a different species, since that is the type of thing you generally have to sort out early in life.
who do lu think lu are? November 17, 2016
100×100 and 50×50 pixel icon robisions of a flagrantly asymmetrical creature called Lulu known to Fairyartery
I just realized I use that "finger touching mouth" gesture way too often. Although I always give people the opportunity to request a different gesture!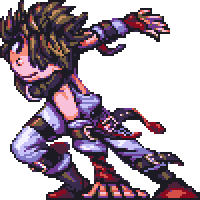 is that who i think tiz December 8, 2016
Ah yes, 'tis Tiz, from something called Bravely Second, for boooey.
After this I decided every icon I make should have something resembling a backdrop, even if the buyer personally uses a version that doesn't, because some sites are very stupid about transparency. And some sites aren't but stuff looks bad on them anyway, hint hint.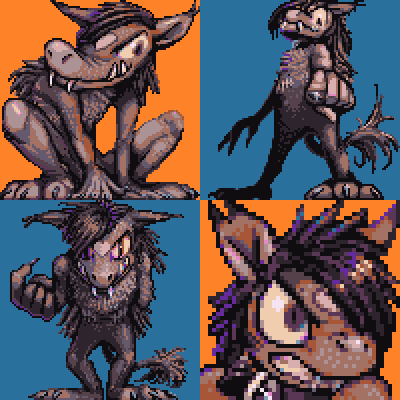 robb from the pix to give to the four, December 22, 2016
a hoofless yet horsely creature named Robbie, unrelated to Ryno's horsely creature, in fact for boooey again. The hair changes its mind based on whatever eye it feels is more fashionable to show at any moment. Also, after examining the previous two items, it became conscious of the possibility for
vision problems
resulting from prolonged obscured vision of a single eye.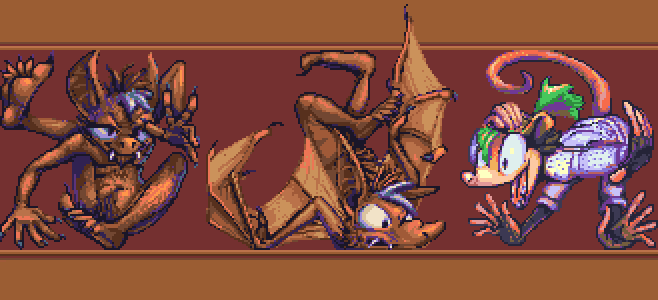 hotel kotel holiday inn, January 5, 2017
for Kotel First is a bat creature also called Kotel, with and without wings, and a more opussummy figure called Obeah whose enthusiasm has been taken out of context to pertain to the winged bat's error, potentially a consequence of trying to escape from a 100×100 pixel space.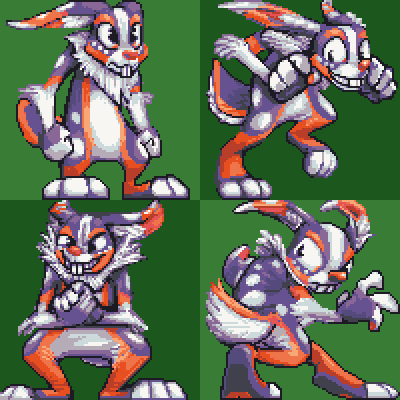 therefore four hares, January 19, 2017
100×100 pixel icons of a hare creature named Lewis for Arito, who was pleasant to work with; I wish I could say the same for this devious dirt-dweller.
After THIS point I realized that flat colors were inadequate for "something resembling a backdrop."
A progress video of a sort, showing approximately how I colored this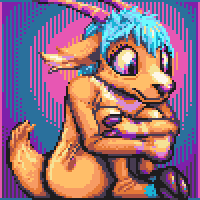 goat tell it on the mountain, January 26, 2017
A goatly creature called Lutka, pixel-styled for trufours. Seems to be having a rough day.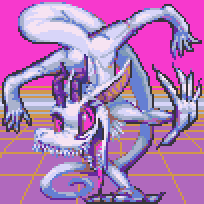 let that synx in, January 26, 2017
another pixel drawing for :icontrufours: of Xiu, who is a synx, and apparently there are more synxes in the world than I thought! Initially there was somebody called Chimerasynx who came up with and drew these things and they have no spines and can twist in silly ways and have more teeth than is reasonable, and at some point they got franchised out, I suppose. This one looks friendly enough, fortunately.
I hope you are not getting sick of these; there is another bigger one coming!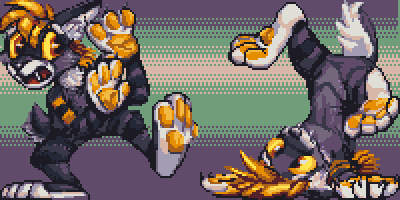 well-financed flop, February 2, 2017
More pixelry for arito, this time of Shani, an apparently easily-worried saber cat. Plus a rinkity dinkity background I added quickly at the end for reasons already cited! Of course I don't have a video showing this, the one part people have expressed to me sincere bafflement at how to produce.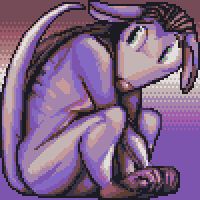 do the rat thing, February 16, 2017
For kjorteo. There looks to have been some disconcerting events recently! And then this happened.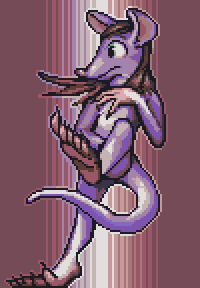 rats and beans, February 16, 2017
also for kjorteo, whose requests' shape necessitated separating it from the other one! This looks to be alarming news for the protagonist. Although clearly it had been seen from quite a way off!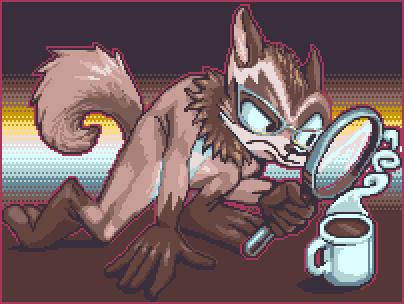 tanuki tea look-see, April 20, 2017
For perikaryon, showing a raccoon-dog investigating a hot drink. It is probably coffee but there is a chance it is tea. Possibly there is a better tool to use in determining the drink's nature.
Amitz all this people started asking me for animated icons, which take 4-8 times as long to make, but I can charge 3 times as much for them without potential buyers recoiling in horror and abandoning the idea! That is real progress. Still less time than it takes to put one of these website entries together, but nonetheless I am done with this one for now, and hopefully for some time afterward, and so I shall exhibit those here on another occasion.