You'll always have a friend wearing big red shoes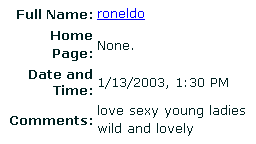 I've been wanting to be rid of the "roneldo" name which I came up with so abruptly in late 1997 for a while now, and this at last gives me a reason that I myself did not create. It would seem that there is another person being called that name who, as recently as January, was signing the most asinine of guestbook-type-thingies with such near-English pearls of perversion as these. "love sexy young ladies." Is this an opinion? Is it a question? Is it a command? Only roneldo knows for sure. The other roneldo. I think in this case, rather than out of personal preference, this person merely could not spell "ronaldo" properly. Seriously. I have enough moronic names at my disposal that if I wanted to say stupid stuff like that I could do so without anyone being able to link it back to the person who says stupid stuff like this.
If we can get the Magic Coral, then forever young we'll be!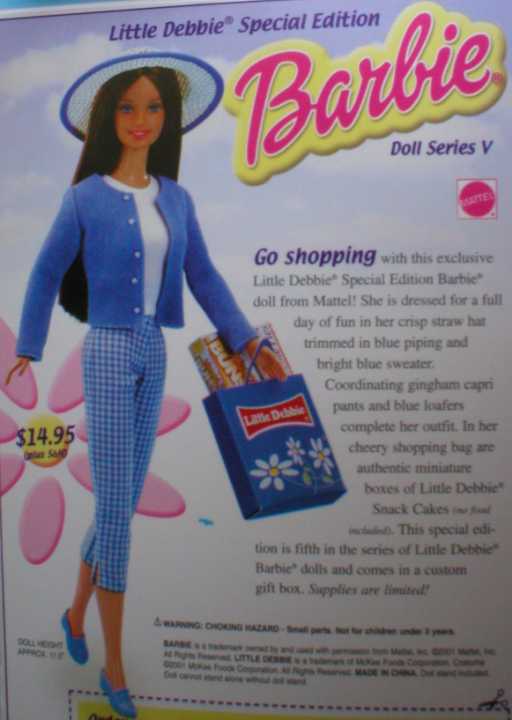 She is dressed for a full day of fun and a full night of binging and purging as she brings home another bagfull of sugary goodness from Little Debbie!® Those authentic miniature boxes are just the right size to provide those essential empty calories that Barbie pretends to desire so no one asks any questions. Although the parenthetical aside informs us that no "food" is included, it is only because Barbie ravenously devoured it all in the moments following the purchase. "I looked like such a dirty, disgusting pig back there," thinks Barbie. "So dirty, dirty..." The enviromentally minded barbie carries the empty boxes until they can be disposed of in the recommended manner, which is more than can be said for their former contents, which will soon find themselves forcefully ejected and flushed directly into the Palo Alto water supply, anything resembling a sewer system long having been abandoned, as "everyone drinks bottled water anyway." No one knows this better than Barbie, who drinks eight everyday, not only to replenish the precious fluids lost during the previous vomiting session, but also because "I'm not hungry. I'll just have some water, thanks."
SODOMY ALERT!
The following item contains joke attempts of a sodomitical nature. If you are offended by the act of sodomy, references to sodomy, or possibly even the word "sodomy," I've already offended you, haven't I. At any rate, disregard the next part. I saw this and decided it needed to be here, and thought I might as well at least try to say something about it. And no, none of that is an apology. I still hate you.
Monday, February 24, 2003
No no, no, no no no nonono no no no, no no nono, no no no-no, no no no-no, no no-no nonono. Know your cuts of meat!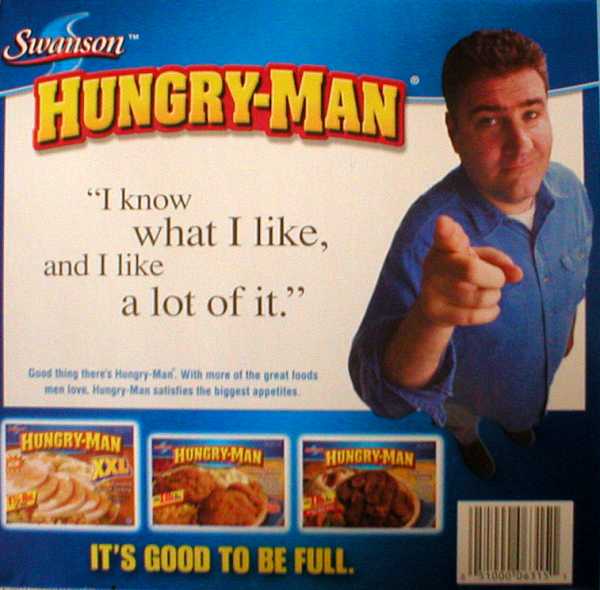 Anal ramming. The original background was removed and the angle is kind of odd, so for all we know, he could be getting some of it
right now.
He's still clothed, so it must be the "brief chance office encounter" type anal ramming, and the facial expression lets you know that he's not satisfied. He does like
a lot of it
after all. And... and... he wants
you
to do it. It doesn't matter if you're not biologically capable of doing such things. That's what "strap-ons" are for, don't you know. He was afraid, at first, but since, as we all know,
it's good to be full,
eventually he came to accept and embrace such circumstances. Like he can really tell the difference.
It has come to my knowledge that the term anal reaming which I initially used is incorrect. While very similar in some aspects, by definition it seems like something which would become very painful over time, and as "hungry" a man as this one won't stand for that. Not for very long, anyway. Still, I'm thankful that my only internet exposure to such things has been through an online dictionary.
Wednesday, February 12, 2003
And don't forget to ask for me: Ten-Percent Charlie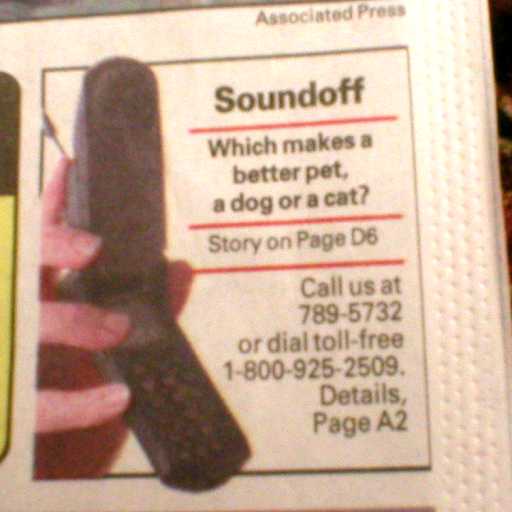 What an important question, one that we need a definitive answer to now, moreso than ever before. A question beyond worthy of the intelligent debate which will no doubt ensue. Are the US setting their military sights on the wrong targets? Are there peaceful solutions to the problems at hand? Should Timecube debate be allowed in our schools? Who the bimp cares? Dogs or cats, the world needs to know. Do you believe octopus beats them both? Then celebriduck off, that wasn't one of the choices. But do come back tomorrow, when the question will be "boxers or briefs?" And none of that "which is better" type setup either. Who has time to be reading that? That telephone in the picture, it has no cord. Back when this newspaper was soliciting our views on the deficit and global warming, there was a cord then. But we're too busy now to stand still and form opinions on any issue with more than one side, or celebrities with more than one name, for that matter. Britney or Justin? Justin or Kelly? Kelly or Jack? The cord held us back. Hey, that rhymes.
Wednesday, February 5, 2003
Adam Chandler versus Adam Sandler: Not if, but when?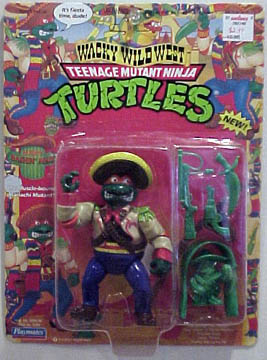 Why do things that are laughable and silly want to get taken seriously? Like those "new" "old" Ninja Turtles that are plotting their strategy at this time. I've been seeing random confessions of giddiness every once in a while for over a year now.
"Hey, this isn't gonna be like the TV show! It's gonna be like the comic book, and then at last we can die happily!"
I don't know if it's a new series, or a movie, or a dark and brooding trading card game. Honestly, I'd rather not know. Because if you're a mutant turtle who recently became a ninja, you're a joke. There's nothing you can do to change that. I don't care if you kill people or actually get hit by a bullet once in a while. You're still ridiculous. The problem with the show did not lie in it not being violent enough. The problem was that it was about
Teenage Mutant Ninja Turtles.
It reminds me of another unexplained internet legend, Megaman. Specifically, Megaman part X. You might think that's an odd connection, but there's a similar ratio of oddity to non-whimsical devotion involved, and I'm not even making baseless assumptions this time.
"Oooh, it's in the future, and all the humans are dead! Let's be bleak and bitter!"
No. Your first name is
Mega.
You fight robots shaped like armadillos and penguins. Face it, you're a joke.
And how could I forget Sailor Moon? Easily enough, it seems, because I did. Let me get this straight... A sailor, as in: someone who sails... a boat... from the moon. A sailor from the moon who destroys villains by throwing a frisbee at them! Sure, that makes a lot of sense. It does? Well, let's toss in a couple talking cats, then. I'm not necessarily saying this isn't a great premise, just that overly dramatic storylines are not to do well with it. I acknowledge that much of the show's popularity came out of it's open source-esqe levels of porn-portability. But then, there's Megaman-X porn, too, and undoubtedly for the Ninja Turtles as well (and if there isn't now the mere mention of it ought to inspire somebody). Now, I myself do not particularly enjoy the erotic [fan]arts, but since no one ever believes anyone who says stuff like that, I might just as well not have said it.
It wasn't too great, but it was better than Impossamole...
My crazy non-Greek mother was watching crazy television again. This time it was Celebrity Mole, a reality/game show, whose situations were neither realistic nor entirely game-like. The celebrities have to find the mole. So I guess they dig holes on golf courses searching for it, or something. I missed the beginning. So the goal of the contestants on the show is to figure out who among them is the mole. The goal of the viewing audience is to figure out who among them is the celebrity. I was having a hard time figuring it out, myself. Let's see...
| | | | |
| --- | --- | --- | --- |
| No... | No... | Gosh, I hope not... | There's no one else left, it must be you. |
It's Eric Von Detten, and last year he played the lead role in a very publicized and successful production that has recently been released on DVD. Do you know what it was?
That's right, he was the guy from Final Fantasy X! The smugly retarded smile, the boy-band haircut, the buckles and straps a-plenty wardrobe, how could it be anyone else? I guess Square didn't pay him very much.
It's a good thing I realized they were the same person before I went ahead with my "whose fan-fiction is scarier" page.
Shaquille O'Neal has inspired millions with his near-miraculous come-back from Taco-Neck Syndrome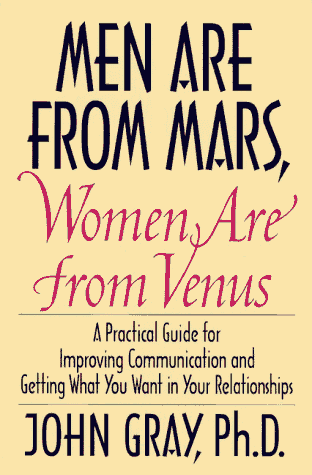 Ehhh?
What nonsense. I was taught at an early age that men are not
from
Mars, they only
go
there to obtain mass quantities of candy bars. As for the women, the jope who wrote this didn't even get the
planet
right. Being as they are dandy and made out of candy, they naturally don't need to go to Mars, but their destination is not Venus. Oh, no no no. They actually go to
Jupiter,
as I hear it, to, quote, "get more stupider." You can tell by the grammar that they've been going there a lot, too. Whyever someone would set out to become stupider is not known to me. I can only ass-u-me that they went there once, just to see what was there, and suddenly became stupid. There was nothing they could do to stop it. Even worse, they became just stupid enough to desire ultimate stupidity, so they kept coming back, possibly to see John Gray: PhD, the author of this book, whom I suspect lives there.
Tuesday, January 21, 2003
Maine, considered the south of the north
Alright, Disney. I get it. Adults go to your theme parks and your cruise ships and your third world countries to do sex to each other. Right. And their kids don't know about it! They are not grown ups, and they don't understand! Ha ha ha, "Mom" calls that kid's brother the "little souvenir," right? Ha ha ha, Disney advertising is so clever and lifelike!
The problem is, they've run out of anniversaries to celebrate. They had the twenty-fifth anniversary of Disney world, which I guess lasted a couple of years, which leads into the whorishly inevitable "millenium celebration," from 1999 to 2001 (longer than the actual millenium, which was the year 2000) and now dead ol' Disney's one-hundredth theoretical birthday has just ended. While it's true the Disney corporation honors itself better than anyone, I guess they thought they needed a break. That's alright, Disney, you just relax. You've worked hard, throwing parties for yourself, and all. You deserve some time off. Hey, why don't you go to Universal Studios?
Collector's Edition Missing Link Sarah Silverman sez:
Urrrgh! Battle sabre-tooth tiger with sardonic wit! Conquer neighboring tribe with brutal sarcasm! Do Craig Kilborn show and play Yambo with Kermit the Frog! Yambo! Yambo! YAAAAAMBOOOOOH!
Why not me be first guest? Sacrifice puny muppet to honor ancestor! Fashion crude jewelry from skull of enemy! Win and live. Lose and die. Rule of life. No change rule. Urrrgh! Me like chinks.




Missing Link Sarah Silverman
Note: the above message does not necessarily represent the actual thoughts or words of Missing Link Sarah Silverman, except for the part about chinks.