January 13, 2015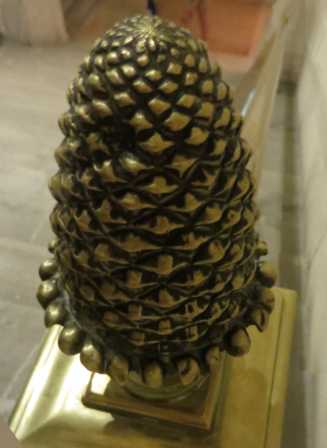 Some people observed the Golden Globe statue award program in my house. It sounded like Church but with tackier music and more applause breaks. The major difference is that Catholicism's rituals are slightly less abstract and impractical. I think the ceremony could have been improved by a few
pantocrations.
The film titled "Boy-Hood" won a few of the year's best picture awards. I think there were about five different "best picture" awards given out but
Boyhood
won two of them, so that is a pretty good score.
I did happen to witness Boyhood some months ago; it is a film recorded across 12 years, focusing primarily on one child from the age of 4 to 16 years. Note that this is not Boy in a Hood, who would probably not have gotten through many years like that. Other characters appear, and then they disappear and we hear no more about them. Just like in REAL LIFE! Yes alright, I have been watching that for 31 years, and I consider its lack of recurring purpose and closure one of the more frustrating matters. A filmmaker has the ability to show just the ones that are important and not waste my time. In the second half I kept thinking it was going to end at literally any point, since it seemed like it had stopped building to anything, but it kept going, adding new people, then dropping them, and when it DID end it was just as abrupt as it would have been when I first expected it to end.
I do think it improves upon the other film directed by Richard Linklater that I saw, Waking Life, but watching a phonograph record spin from start to finish without audio output would be an improvement on Waking Life because it would be over sooner.
In fact neither film has a point and both are too long, and primarily interesting from a production standpoint, but I did not feel the urge to apologize to the person I was with after "Boyhood," although in that case it was not my idea anyhow so I would not have been at fault, but I did not expect an apology either! Still I felt somewhat empty.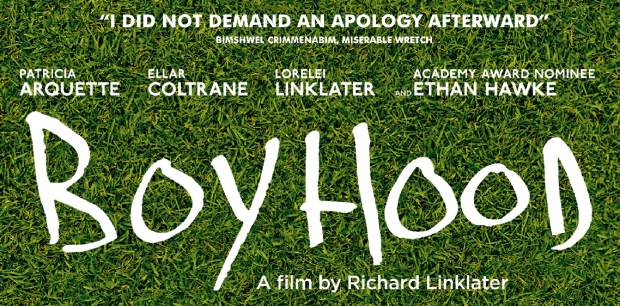 It WAS interesting, and somewhat sad to watch somebody go from periods I recognized, 4-8-12 year old child with no real control, and suddenly jumping to somebody driving a car, living alone, doing sex, things that never fully happened in my life of nearly twice the length. Even choreographed on a screen I missed the transition. Not that I WANT to do all those things, but it would be a change to have the choice to do or not do them. In fact I can drive a car but it always worries me, and I am afraid to do it alone and have never been certified. I passed the knowledge test but the road test was for some reason scheduled for months later and I could not find anybody to drive me to it!
If you are not familiar with Waking Life, good. It is a series of rotoscope-animated scenes of dorks talking at the camera about abstract concepts that lasts two hours. Around the time when I watched it there were also in circulation advertisements called "Talk to Chuck" that were cartoon-filtered "real" upper class scumbags talking at the camera about NOTHING. Imagine watching those for 90 minutes, just with less plot. It is supposed to be like a "dream," and it is, in the sense that when analyzed after waking up it has no meaning and determining what order events occurred in is impossible. The difference is that if I tried to walk away from the movie my legs would actually have found traction on the ground and I didn't bother to try. So Boyhood is better than that. It increasingly turns into a series of dopey philosophical interviews as the boy whose hood it is gets older and the script gives him more lines, but at least he is talking to other people. Sometimes he is driving, sometimes someone else is driving. Sometimes he is in a forest.
I would like to see a story filmed in order across a number of years, but Richard Linklater does not typically deal in "stories." The screenplay was also nobidated for a yet different award, which surprised me via the revelation that it has a screenplay. I thought Dumb and Dumber To had a more solid narrative (but just as much driving). Gosh even that was sad, these people who are supposed to be the stupidest in the universe never have an anxiety panic turning left at an intersection, or any trouble getting on or off a highway or parking.
On the topic it strikes me that studios would not make a Space Jam 2 without Michael Jordan, but went ahead on an official Dumb and Dumber follow-up without Charles Rocket.

not quite; this guy can actually live with himself (and is still administrator of that website).