November 20, 2011
Dear Duff, I prithee, contradict thyself, and say it is not so.
<! This is in two parts, but I posted them at the same time. This one is first, but I posted it second so it will appear first. That is not the least sensible statement I will make today. Also it is no longer in two parts.>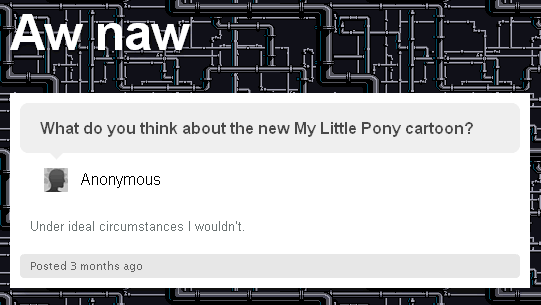 I have a tumbler.eh page. I wish I didn't. Not because of this, just because of it. In fact that's irrelevant beyond explaining where I had taken this picture from. A person asked me this question. I do not dislike this person for this question. However, my dislike of the topic and of some others I associate it with throbs like a toothache to the extent that it is not clear what bridge I am burning today. Know that I burn no bridges, and if I break one it's only by myself driving a truck over it in disregard of the posted weight limit, and it is reasonable to guess that sooner or later I am going to learn to drive.
But a question, of a television program based on a commercial franchise I don't care about, from a decade I've been sick of for a decade, that airs on a tv channel I've never heard of and has repulsive character designs. So the only way I'd become aware of it is if it is it if of it is it being the focus of an obnoxious meme torrent that I would ignore out of spite absolutely whatever it was. Oh and did I! (yes)
Friendship is Magic, they call it. They call it a lot. Too much for me. I resisted making a complaint about this because I felt like I shouldn't even know about it and half the people that will talk to me on the internet are fond of it. However, by now half of them don't talk to me either (not after this, certainly), so I like to hope the remaining quarter only choose to remain because they must have accepted me and must have expected me to do this.
One who did not was a very good friend in fact, but who had happened to be developing a curious hobby of marginalizing my personal value a few months before the thing premiered. By the time it had, friendship was not so much magical as an occasional convenience easily explainable through basic logic and social science. Fox news enthusiasts would not even doubt that sort. So having accumulated increasing numbers of such enchanted friend types by blatanter and blatanter professions of admiration for stuff that it was fashionable to like, he no longer needed the ones that were harder to please than that. Also apparently I'm not over it yet. I'll probably mention it again. I've probably already done it. I've probably already written the next one 79 times since January.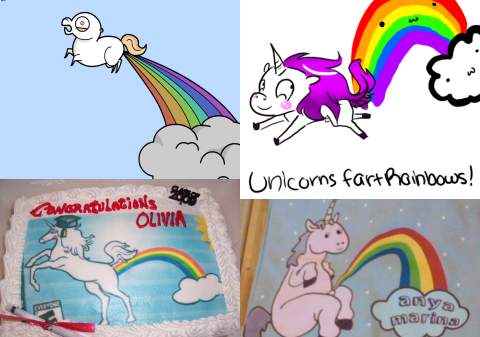 But the cartoon! It really needed to get made, since there weren't enough hilarious pictures on the internet like this already.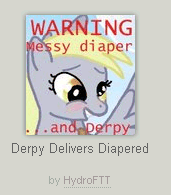 I can't vouch for the writing on the cartoon itself, but the people who produce tribute material are about on-level with every other popular rubbishoid which is to say they veer toward the stupid. I remember feeling left out during my family's Soporanofest a few years back, myself somehow being the only person who'd not watched nearly enough of the program to be obsessed with it, and I got along with the perpetrators afterward. But for this there is no afterward, because people on the internet are not the same as regular human beings who can get over things, or have other layers to their lives apart from these things. I did not get endless waves of daft gangster-sonas in my art queue for nine solid months.
The worst of it is over it by now, so it's receded to the level of a mere annoying fad, but I scrawled all these complaints about it and don't know what else to do about them. Forget them and move on? Do something productive? Me? Never!
Tumblir is very good for not allowing me to get over things. Do you have nothing to say? Good news, you can just copy what somebody else says, and sooner or later somebody I know will also have nothing to say and I'll see something like this (you'll have to click on it to see it, as I'll not display it; otherwise I welcome you to assume that what I am saying may be construed as valid under proper circumstances). Even if you disagree with a tumble you need to copy it onto your page to say something to it, and the original copier in the chain still gets points for it, and if nobody bothers to read your print they'll assume you do agree. Tumblr? More like Stupidlr ha ha.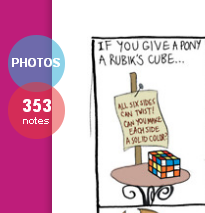 See see look, this character is WEIRD and THIS character is a NERD and THIS character is DUMB! This should be titled "if you put a stock character in a stock situation."
I didn't even GIVE the thing a cube. Somebody who wasn't necessarily me left it in a place where the beast would find it. I think I have some impractically designed characters, but these are quadrupeds with fine motor skills. They can manipulate objects with their "hands" but are cursed to not ever be able to do so while in motion or stably balanced. Ha ha get it stablAAAAAARGH I'VE BEEN STAPLED
Using a mundane setup to exhibit personality variations, certainly I do it; most aspiring creative people have and do, but I do this with my own characters and I wouldn't go out of my way to make it look like I used a template when in fact I implemented my own layout.
This artist actually directly sources facial expressions and poses from stills of the cartoon. I know this, because most of these artists do and I've seen these ones before. And not in a funny way, either, like in those Tintin pastiches, where the characters are ludicrously out of character, throwing bricks through windows during labor riots or having debaucherous holidays at the same location as everyone else they know also is, all while cursing indiscriminately in near-english. They're just playing with a dumb old rainbow cube.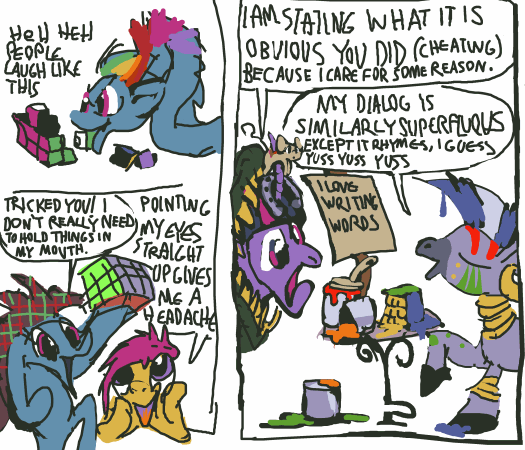 And then he used the
exact same gag
twice (while making sure another character['s head fragment] appeared to explain the gag). Frippits, twelve ding dang years ago I drew an equally dopey looking "tribal" character (an elpsoid) painting a rubik cube, and nobody cared, because I never showed anybody because I realized it was a really bland idea. And I still can't show anybody because that page seems to have mercifully escaped its holding place,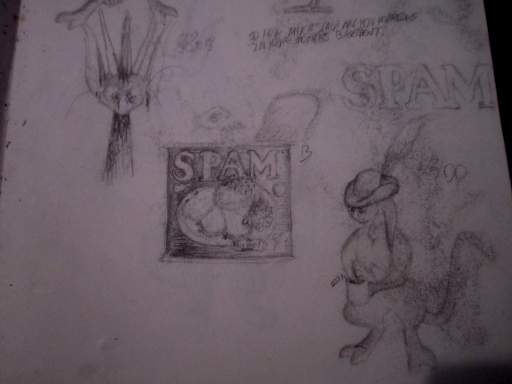 but here's a subsequent page with a frogfrimmed can of spam on it. That's the kind of cleverness it takes for this.
They're rewarding and praising this guy for matching old jokes with old artwork. Even the Pokemon fan-drawingers relegate the frame copiers to middle-tier, but since most of these people are frame-copiers there's nowhere else for them to go. They literally have no talent. I don't have to watch the program to know this derivation is garbage. However, I suspect watching the program has an impeding effect on people's ability to determine that this is garbage.
This is intellectually worse, though; at least a rubik cube has a classical charm to it that this association cannot harm and that likewise does not make the pony-fans who like the combination any dumber for its part. When you are paying lazy homage to lazy bands and lazy cartoons at the same time then you've squared the twit appeal and fractioned the creative effort involved. I initially linked to a different band homage by a different person whom I ultimately decided wasn't fair to single out… the original drawing was of REM as the ponies, which was, at least, the only drawing of REM ponies. I shouldn't have to settle for least (and I must confess I have slightly more scorn for REM than the Beatles). However, I found countless Beatles-as-ponies examples, in under three minutes, often with the exact same color scheme, as if there are canonical Beatles ponies whose composition cannot be challenged. There isn't; these people just aren't even so clever that they can pull off a palette swap without being ordered to. I have no idea who those culprits were so I'll feel no guilt for scorning them in a place they'll never find out about.<!This person has been drawing her personal creatures into boring album cover homages before, but at least her own characters, in her own style.> <!(this image is considerably more popular on the other website but I like to pretend that doesn't control my life and thus I link to this one)>
The absolute worst thing I remember seeing, somebody had drawn the let's say main character's heads floating around the logo for the tv show Friends, against a white background, and called it a day. I was so ashamed for both of us that I won't direct anyone to it unless I am challenged to.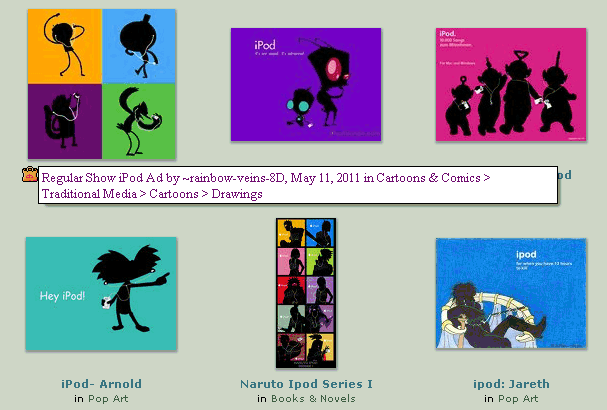 I remember for a while years ago everybody who was cool had to draw their already mundane character as an utterly unremarkable sillouhette dancing against a solid colored background to pay homage and worship before a bloody COMMERCIAL ADVERTISEMENT for eyepods, but most of them didn't do it more than once. I guess they must have, but I successfully avoided knowing it.
It's always lucky for people when something that's really easy to copy gets popular. Pog forbid we have a well-drawn animated series on television.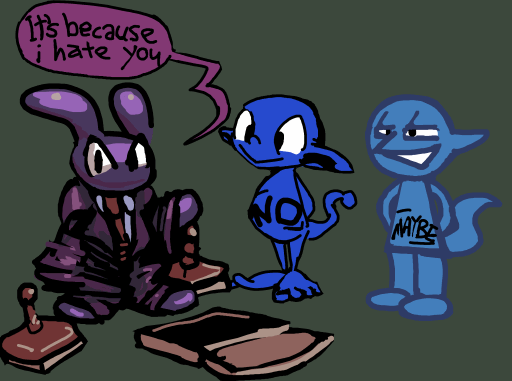 Hacks love their little ponoids. They memorize the shape of this one little horse and can draw different hats on it and bazoinga! ORIGINAL CHARACTER! It's like
Bob and George
fan-authors, except Dr. Light and Rush ALSO look like Megaman.
BUT WHAT ABOUT THE GAY SEAMONSTER???
Nobody draws the seamonster so it doesn't enter into my reckoning. It may even be from a different show that I failed to elude awareness of.
It has JOKES that KIDS DON'T GET!!!
That's the same lure you put out to get me to watch Shreck/every remotely animated thing that got made since Shrek made money, and that didn't work, and it's a secondary characteristic at best! When I was twelve I used to listen to a late night radio program where people called in to ask for advice about sexual relations and I only did so because of the funny sound effects, and I was an idiot.
It has REFERENCES and MUSICAL NUMBERS!
Congratulations, you invented The Drew Carey show? I'm not swayed by this sort of spiel and I never will be! If the best you can muster is that it's a less vulgar South Park that's easier for you to wank out to you won't succeed and I shouldn't feel bad about complaining at it!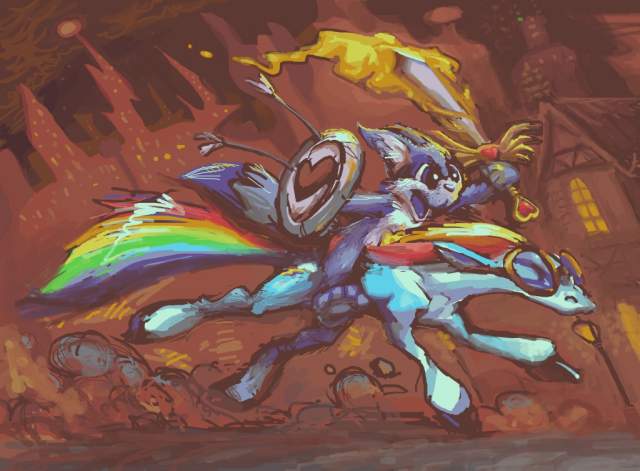 BUT didn't YOU make THIS?
Yes! I wish I hadn't! I felt dirty when I did and the person I made it for just assumed I made it because I wanted to because he couldn't grasp the idea of anybody else not being as into the show as he was. In fact I only made it so he would talk to me, and he did, that time! And realizing that I did indeed have to do that to get him to talk to me made me mad. And then I didn't do it again and he never flippin' talked to me again. I suspected I might have transferred my annoyance at him to annoyance at the cartoon, but half a year later I want to punch them both in the nose so they may well both deserve it. Similarly I theorize that neither cares.
Why don't you just WATCH IT?
Because I don't have to! Unless this is a condition to get my financial aid or my passport renewed then I don't have time to do stuff I don't want to do that I don't need to do. Yet I tried! I got through one and realized I would never want to like it, given everything about it and the way in which it had been brought to my attention, and its refusal to leave. This is like reading one of those "remember when?" pages out of somebody else's high school year book. It's like that picture of the corny floating head with a pipe in his mouth or referencing a "flying spaghetti monster." It's never going to be funny to me because I'm not in your club and it isn't.
I know one person who insists the program is bringing femininist ideas to people who would otherwise not be concerned with them. And maybe this message is more important than how badly drawn or annoying it is, or whom I resent and why. I hope that is the case. My problem might that I know very few people and I have trouble letting go of the ones that really aren't going to get any better. Lazy fan immersion is itself the total absense of ideas, and something these people have been doing their whole lives. I give the management credit for devising a template that is even easier for the least creative to insert their egos into than anything we've had previously.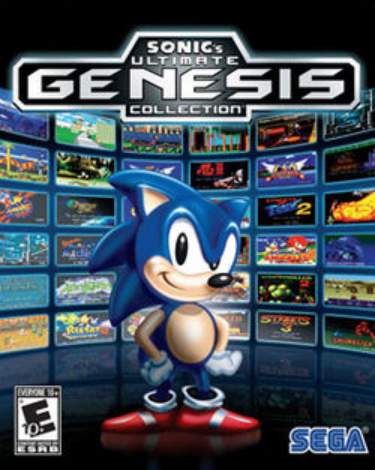 For all their blank slate adaptibility, Sega style hedgehogs are kind of hard to draw, what with their messed up proportion and conjoined twin cell eyeballs, as this box art specialist proves.

Hi I have a psychological disorder in which I think I'm persecuted despite being in an insufferable majority that gets whole websites devoted to it and takes over others. See also: war on christmas. or "if we allow gay people to have rights then everyone will be gay and humanity will stop reproducing." In fact it's such a powerful majority that I was afraid to complain about it. That really isn't fair at all, considering the lack of kindness I've displayed toward the favorite television programs, musical acts and films of people I'm far closer to than anybody who has a web page with red text on it.
Consider even just the website name "ponychan." That means this one topic was so overwhelmingly popular on the oldest and most notoriously hornetly imageboard that it attained sentience and split off into a new entity. Saw never did that. There is no "saw chan." At least it's not a chan that I saw. When you get really popular and obvious, people are more inclined to look for and point out your faults. That's just what happens. Our most profitable news media is kept in business by this alone. And for the record I don't see much about friendship in those which are the subjects of my gripes. It's simply "this character exists. Look at it a lot." I don't have a problem with people watching a cartoon. Not this one more than any other I've whined about, certainly. If it came down to little ponies, the shirt tales, the snorks and muppet babies, I would recuse myself from picking the winner. I have a problem with people never shutting up about it under any circumstances, unwilling to accept that some others just don't want any part of it, and cannot be made to, and further that the harder you push them the harder they'll resist. I don't fleeplezeep how "well written" and referency a program is if its fundamental sensory components are idiotic and embarrassing, and those get the most mileage.
Eh but if I liked something a lot, and knew there were forces massing to decry that I did, certainly I would defend my position. Wouldn't I? I have no idea. I've never liked anything that was so beloved that I could say so and have there be 309 people standing by to statistically agree with me.
I prefer melodic music without vocals. I avoid referring to myself with pronouns. I walk in the rain and look drunk. I know what it's like to be chronically not-gotten on a daily basis. The pony craze is very much gotten, and I wish I might be so into something that was, someday. That would be so great, to have massive corporations just pumping out trash I liked by the week, for free, and be friend-branded-acquaintances with ten thousand other idiots who liked it, who also drew the same stuff that due to my willing suspension of disbelief I could pretend wasn't totally inane degenerate drivel, and is worthy of the source product I liked to begin with, in the event that was good.

Me mad? Yes! I'm furious! The absolute worst people on the whole internet love the dumb rainbow horses more than anything. It would be unfair inductive reasoning to claim that makes it inherently bad; that only keeps it inherently impossible for me to want to like at this point.
My mother watched American Idol but she didn't draw, quote or otherwise invoke Brian Dunkleman every day for a year. And if she had and I'd told her to stop she wouldn't have accused me of being some kind of pop culture gestapo trying to censor her rights and freedom. And if she had she'd be a krippendorfing maniac.

So that was that. But eventually…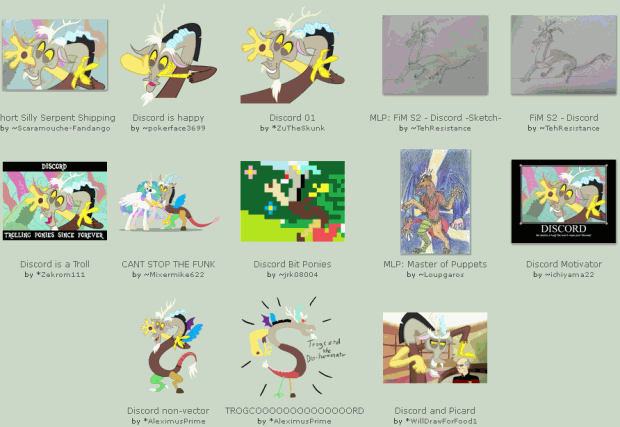 AND What the hack is this thing? It looks like somebody bought a lion king coloring book and just used whatever crayons they felt like on Scar. In every picture it has the exact same expression, and I've seen about fifty of them despite never once looking for one and the thing not bloody existing three weeks prior [to when I wrote this sentence]. The regular characters feature the full range of emotions from happy to douchey but this one is only douchey. I understand that villainous sorts are supposed to be less than friendly but one assumes it may get upset when inevitably foiled, and in any event there should be something to distinguish its bad smirkiness from the good smirkiness of the protagonists.
This is, I think, seven different people doing lame fan-traces based on the exact same shot, or simply reposting the frame verbatim as an original work and subsequently submitting this to the "group" gallery I found them in, since the cartoon had not yet aired, but some official images had been posted online from it, I guess? That's so bad that I don't even care that only the last one is unmistakably douchey at this size.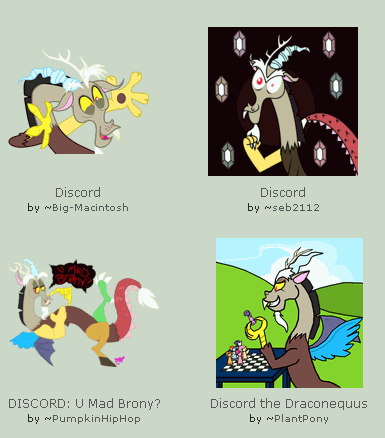 This first person had the clever insight to mirror the frame before tracing it. Ah and "good" here's some passable douchiness. Even when these people try to think outside their own tumblr mandates all they can come up with is "He's the puppet master!" or "he has them all on a chessboard!"

"Q trolls the ponies." I saw a bunch of such remarks. The uninspiration hath folded in on itself! The thing people use as a pathetic launching point, to borrow characters from to use in their own stories, is itself borrowing characters? Is that what I'm to conject from this? Nerds love this stuff. Ah didn't I once say that I loved that? I like when one writer finds a means of reusing their own characters in another situation where intellectual property restrictions seek to prohibit them from doing so. I don't like when a point of nerd idolatry safely assumes, and REQUIRES that its audience be familiar with another bastion of nerddom. I'm not terribly proud I made that pointless page of video game references. But at least they were varied and over quickly. it wasn't a drawn out reverent tribute to one series. Good gorf star trek. This IS just like Bob and George.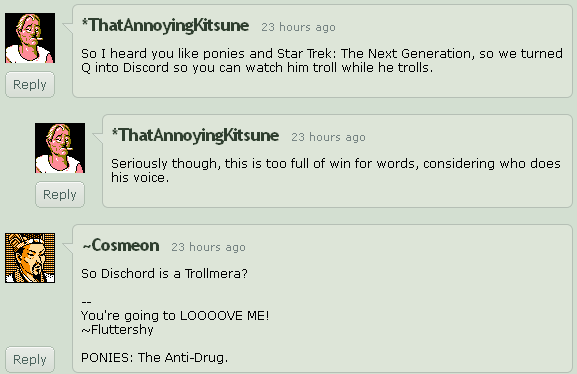 I hate alllllllllll these people! I can't recall when last I loathed so many non-murderers because I self-administered shock therapy to forget
that.
That's everything they do. They consume, and imitate what they consume. Of COURSE they'll love stuff that itself consumes and imitates. Does it matter if the program can stand on its own merit if you can sync it up to audio from The Big Ol' Bowski? and then link it at me out of context after I already plainly didn't care about the last six contextless clips you sent amidst not even asking me how I'm doing? One of the reasons I dislike Kevin Smith films is that there's sure to be 10 to 20 minutes just of people talking about other movies. And this conversation will be the same every time you watch.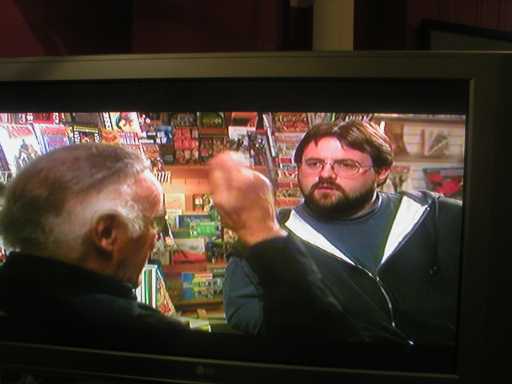 Also: do we truly require in this comic store a mal-configured widecreen tv to put Kevin Smith on? Isn't he fat enough already? And why did the angel order alcohol if he can't actually drink it and presumably never could? How would he have developed a taste for it? How does he even enjoy that?
If you had asked me but a week before this what my least favorite thing about the collective Star Trekkion was, I might have responded that it's sterile, bland and slow-paced and there was no excuse for it to be that way after Star Wars* got made, much less in four consecutive series other than people themselves being boring. Further down the list might have been that invincible douchabix guy who I want to strangle that's in some episodes, regardless of the series, for no reason, that isn't a Romulan. I can't stand Romulans. They're such jerks. And at some point I gripe that the most exotic aliens at best have weird foreheads and funny skin colors. Right but the one guy I hate, apparently that's the favorite character of everybody else. Especially furries. Why? Because they have no sense of subtlety and the smuggest, smirkiest character will always be their favorite. I was surprised when I found out anybody liked Spyro. I am no longer surprised.
*Star Wars the film, not Star Wars the Kevin Smith reference interlude. I grant all reference interludes the same right to be scorned.



One complaint that supposed little pony detractors commonly give is that this is a cartoon aimed at children, specifically heteronormative female children. That hurts their case, and if that's the only case they can produce then they're just as weak. I would question if in fact it is! I would then also question whether children comprise a majority of the total viewing audience. No reasonable child –apart from one making just such an advertising niche jump– could possibly care about a minor star trek character or that this show was mentioned on Jimmy Kimmy's own abomination. I have never encountered this cartoon in the context of anyone under the age of 17 or off the internet*. Through being successfully targeted and then fudnuddling merchandise dollars and ad revenue into the enterprise, adults on the internet are the main audience. Additionally, by the show creators acknowledging the internet adult popularity and working to incorporate or be fully compatible with things they like, those become the target demographic, I say.
*excluding an embarrassing convention I attended, because those are essentially gatherings of real people acting out the internet.
**and then on September 29, some inconsequential loiter gang within my audible proximity at my university's loiter area mentioned the cartoon, asking "is it at Hot Topic yet?" and they moved on within two minutes without anybody saying "bro." Bro anything is bad news.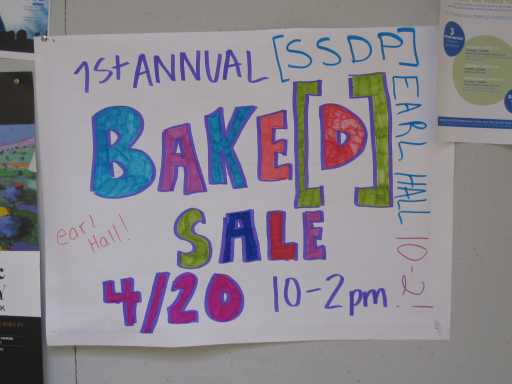 And I go to a school in which people talk about zombie apocalypses, hold "bake[d] sales" on April 20, wear shirts branded "winning" and all sorts of horrid rubbish that nobody should think is clever.

I have an unnatural, almost instinctive resistence to stuff that got too popular for no clear reason. This has surely saved me tens of thousands of dollars through the years on trendy clothes, music albums, cigarettes, beer, tomagotchis, furbies, skip-its and xboxes. I see no reason to give up on it for something that looks like this and that makes people act like this.
I've never encountered anybody who accepts video game music as a legitimate art form off the internet either, but I scarcely encounter them ON it unless I seek them out, and in any event it's much more reasonable that something just one person likes should be a fringe matter; there are thousands of these pony dipes who exist exclusively in imaginary places. Sometimes I wish I was imaginary, but I am increasingly afraid I am.
================================
It did once come to my attention that somebody thought I made that, as well. I can thankfully remark that I did not, as much good as that would do for my public standing in the eyes of people I don't want to be seen by. It's not the worst in that gallery, but the worst in that gallery is enough to make me not want any. It might be well done but it's nothing I want to look at.
================================
The next entry, on, let's say, December 4, 2012, promises to bring a shocking exposing which you already knew.
November 11, 2011
At one point, a cat enters playing a fiddle (a role probably filled by a musician in feline costume).
Have you wondered what I have been up to lately that has consumed so much of my time? No? Good, because it isn't this.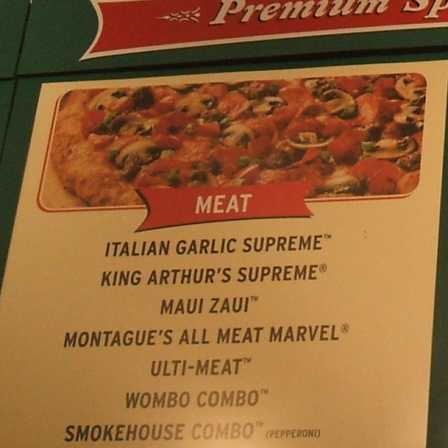 What does non-historical, non-Italian, possibly Hawaiian monarch King Arthur know about pizzas? You'd be surprised how little. For one thing he evidently cannot name a single meat. He seems to have heard reports of Pepperoni but is not confident enough that it's real to put it in full size print. There was more consensus in his time on the existence of Wombo, a horrific beast that menaced the countryside by giving birth at inopportune times. The menu, alas, stops short of specifying which byproduct of this ends up on the pizza.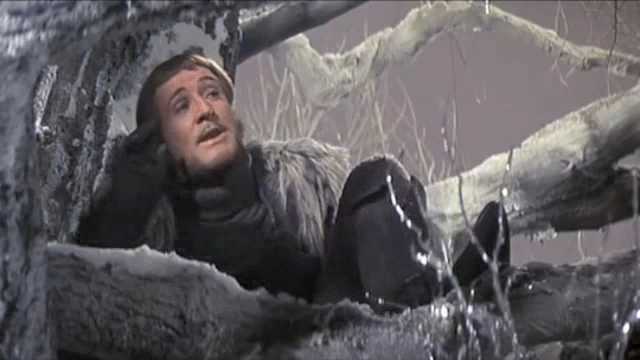 I wonder what the king is doing tonight. Not pondering the culinary arts, that much is certain.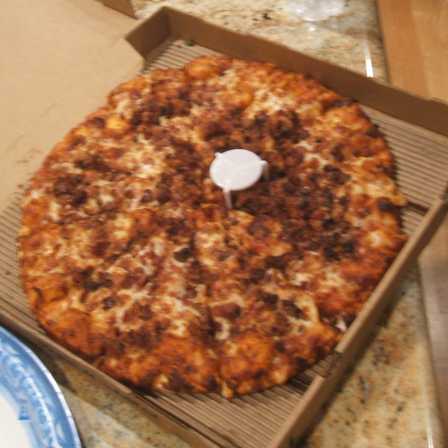 The pizza wasn't
bad,
but it seemed a bit like a frozen pizza that somebody had heated up. I could have done it in my own home if I wasn't on a totally ill-advised trip to California that I thankfully only regret based on my primary reason for going, which had eerily little to do with this pizza and that ultimately mattered less than it could have. I never forget a pizza, though. Yet I was nicely received by the folks whose home this occurred in, and I can't remember if they insisted on paying for the pizza or not, so I'll just say they did and that it was very kind of them, especially considering that I overestimated my ability to consume foreign pizzas in single attempts and left the remains for them to ponder. With that in mind I decline to comment on their bottled pancakes at this time.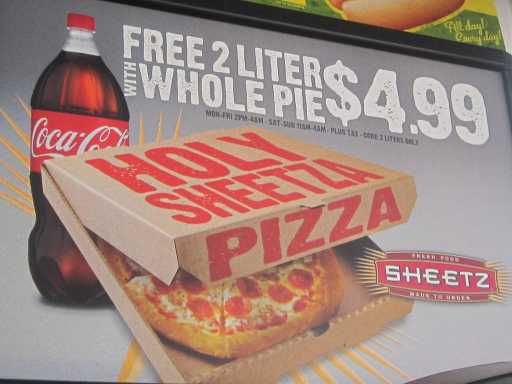 Congratulations, you've equated the name of your company and all the products it makes with excrement. Blessed excrement, perhaps but still nothing that I want to take a bite out of.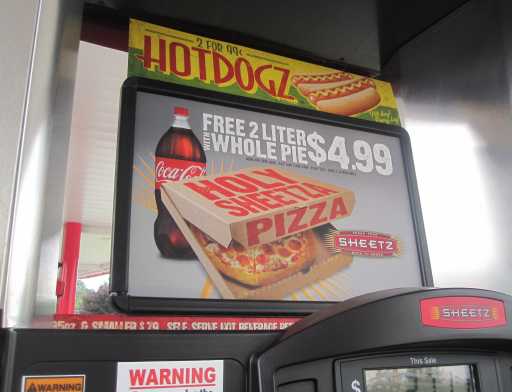 When you can't even legally type "hot dogs" without having to swap in a Z something has gone beyond wrong and two warnings may not be enough. I'm pretty sure the only legal minimum food content in a hot dog is anything that can be dyed pink without rupturing. It's not like they're Wyngz, after all; hot dogs are supposed to have offal in them. What's in these? Just plain awful? Rather a devious strategy, putting this by a gas pump to make the fuel seem appetizing by comparison so that I feel more inclined to consume that more expensive product.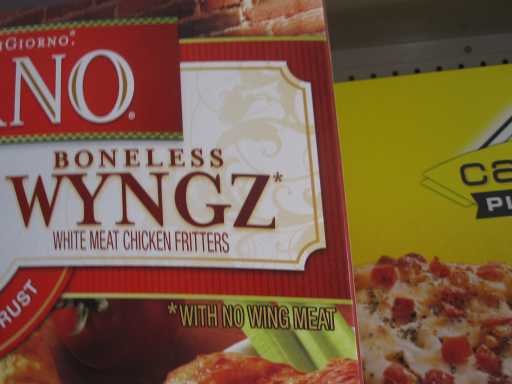 Ah yes, the famous wyngz. So called because they aren't actually wings. Just some matter comprised of similar matter formed into a similar shape. Although by that reasoning several of the products observed today may be appropriately labelled pyzza. This rule seems to be applied inconsistently, however: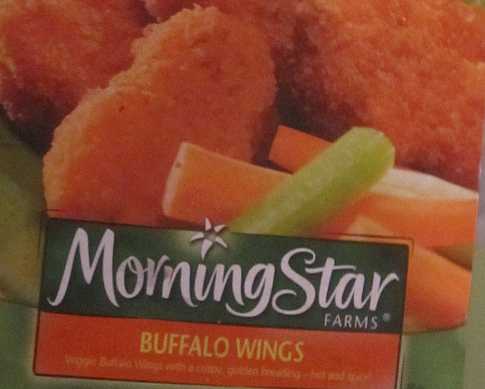 These don't have meat in them at all and don't even look like conventional wing-shaped meat pieces, yet avoided having their vowel revoked.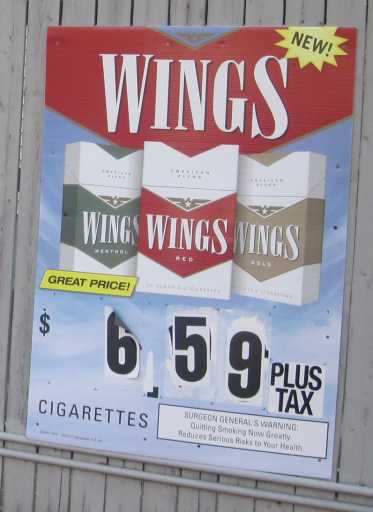 and
these
aren't even breaded. How can I be sure putting them in my mouth will make me sick? At least the price is great. What's more it would be great whatever numbers I attached to the sign. But this is beside the beside the point. What, if wings be out, is a more natural thing to pair with a pizza, still in its box?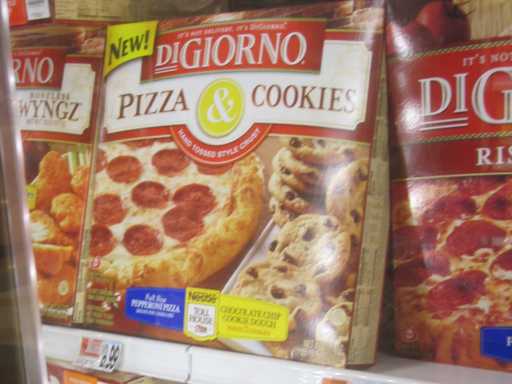 Pizza and cookies!
Wha? don't you mean cookyez? (cookno)
This doesn't go far enough; we need to put cookies
on
the pizza. They already look more like pepperoni than the
little cubes
less elite bad frozen pizza brands use and there's probably more organic matter inside them. Also, wouldn't it better highlight the longevity of frozen food to print OLD! on the label? Yes, it would. How dare you question me. I shan't forget.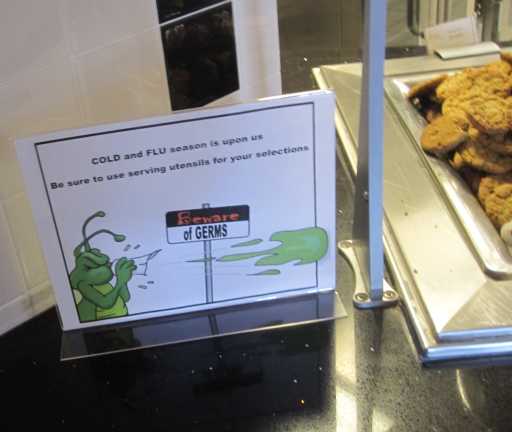 It makes sense that they would team up: cookies get a formidable ally to protect them from horrifying anthropomorph insect aliens who fire head-sized phlegm projectiles and pizza gets something it can spell properly. It's wyn-wyn.