February 21, 2014
You'll also notice that Jenny is sometimes in diapers, but its not because she chooses to be (you'll have to explore some of her stories to understand why)
page 60 of this. Yes that yellow font truly has to go.
Peh, there still is not time to talk about this at length; I have a prompt appointment with aimlessly walking outside in the rain.
I like this page better than the one before it. Also, it "works" (the creatures are layabouts; only I work to put them here) better if you have not seen that one yet. Whoopth. I started this one, then realized I forgot to make that one, but should soon since it follows immediately after the last time the gnomes were seen, and rerealized I had better get on that, and later reallyized it was less urgent than I thought. In fact the last time we saw them, we were jumping ahead a few minutes into the future, since as I said at the time, there was no way they could have reached their [location] so quickly. Now they have had time to get where they are going and we can rejoin them at their proper position in chronology.
February 13, 2014
changing the rules is what guys on cougartown do best
I have a comic update ready, but I am so disgusted with the character called "nemitz" at the moment that I need more time to prepare my presentation of grievances.
—————————————————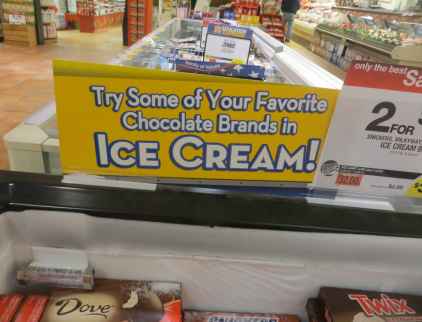 Nothing I like better after dinner than a good brand. Ah, what delectable trademarks. You can really taste the copyright. If I am feeling quite decadent I will sprinkle on some focus group.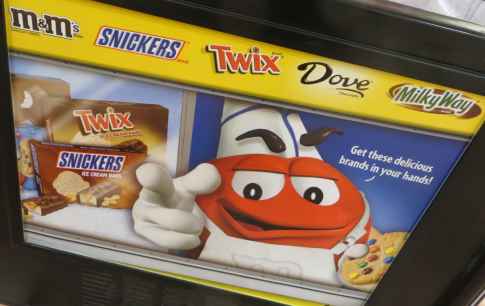 In fact my hands are drawn to things which rhyme with them, so in the absence of a brands I will sometimes just have stands until the craving disbands. My life is rather bland. It did not turn out as I planned.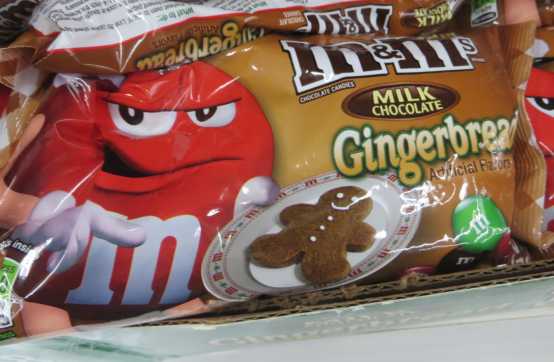 The red computer m&m with a face has passed beyond edgy attitude into brazen hostile jerkiness. This thing appears to genuinely hate its life shilling for the mass consumption of its tiny, speechless evolutionary forebears.
Got a problem with artificial gingerbread flavor being needlessly injected into bizarre forms where gingerbread flavor is not necessary or desired? Hey, shut up and shove it down your face hole, ya bloated apathete. You got somethin' better ta do? I didn't think so. Nyeahhhhh.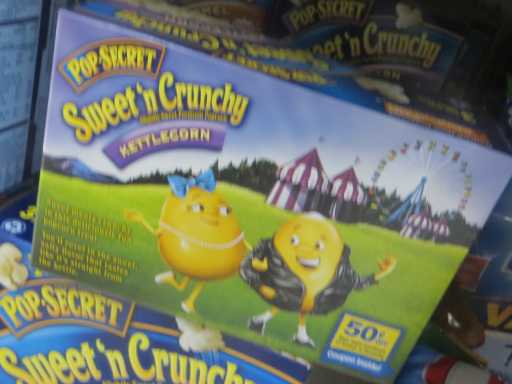 You may recall how last year pop secret genetic engineering experiments dating back to World War 2 were exposed, with the surviving progeny of the original subjects liberated at last. At this time they are gradually being introduced into the populace. You could learn from them, red computer m&m! They still remember what it means to be subjugated, and choose to embrace life and live it as best they can, shilling for the mass consupmtion of their tiny speechless evolutionary forebears.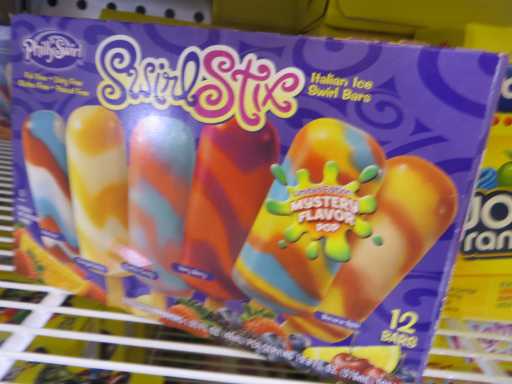 More glorious
stix.
On the topic of embracing the bad position you have been given, SwirlStix has decided to unsheath the mystery flavor. And why not, I say, if we already use mystery ingredients. The stix have combined their ingredients in such a way as to produce something that the scientists agree has
a
taste, but they cannot identify a conventional earthly edible whose taste this vaguely resembles.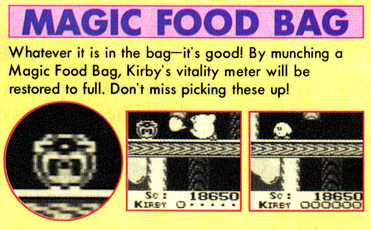 I had long presumed that Kirby was not at liberty to disclose the contents of the magic food bag, but perhaps, far from being pop secret, simply nobody knows.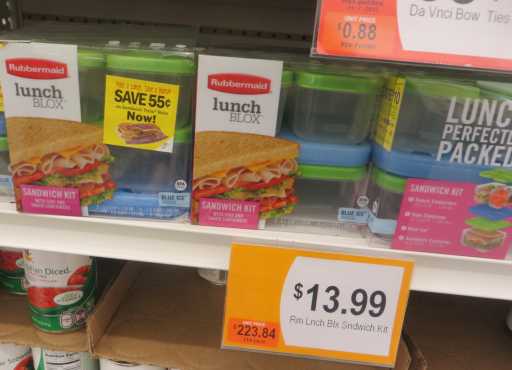 Quite simply, due to the magic density, the magic food bag is opache and cannot be seen through. Placing your stix into a blox may assist you in determining their contents once you tire of holding them up, but it is only a temporary solution.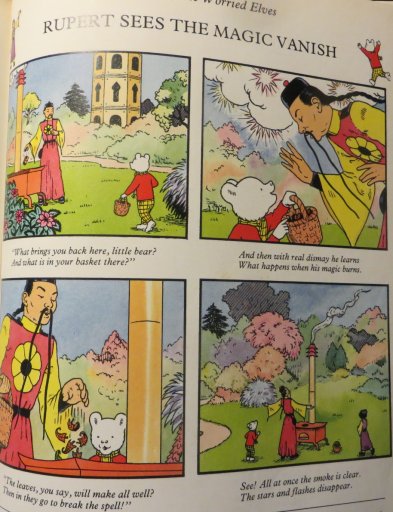 There is a solution to this but it was not known in Kirby's time. The visual clarity of its contents notwithstanding, magic food bag is immensely superior to a regular food bag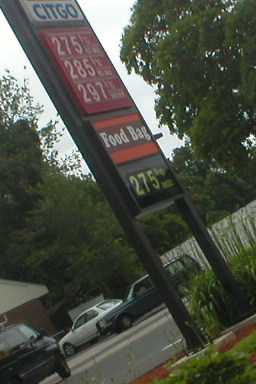 Food Bag is so crummy that nobody would ever stop there, and thus the sign can only be photographed while speeding past it, requiring the resultant skewed-perspective picture to be stretched horizontally to be legible on a website, which makes it appear to be collapsing, which never completely occurs, a tantalizing affair. Food Bag, despite being horrid, is superior to foot bag.
On November 11 2007 I wrote a several-hundred word rambling anecdote about how stupid I think foot bag is that ends with "That sounds like a sock a hobo would wear" which I think is the most important point and the reason I went looking for the anecdote half an hour ago.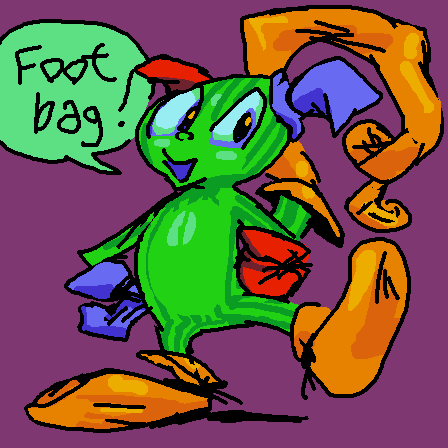 Which is not to say I was looking to look at one in action. Great gimpity. I cannot think of anything dumber than that.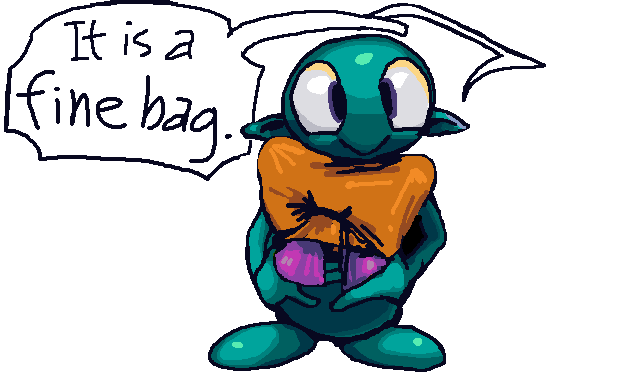 I am going to ignore that as long as I am able.
I was inspired by an objectifying photograph of a woman kicking a lump in some most certainly awful publication with the corrrrrrrny caption "FOOT BAG BEAUTY" but that I otherwise neglected to collect any evidence of. Stop the presses: FOOT BAG BEAUTY. Calling all cars: FOOT BAG BEAUTY. Spy Kids 3D: FOOT BAG BEAUTY.
Additionally, Foot Bag concerns my sole experience with an Atari Lynx. On a terrible school bus ride, one student had a Sega Game Gear, and only awful licensed games. I myself also had a Game Gear and after that experience I became convinced and afraid of its badness. Particularly the audio component, the only component that could get me while on the bus if I was not within visual range, despite my comparatively functional selection of games. So then another student had an Atari Lynx, and seemingly only one cartridge, California Games, and it was worse. The worst California Game was "Foot Bag." A mess of pixels vaguely identifiable as a human being kicked a smaller mess of pixels, with that being the goal in itself, and you, the player, used 20th century technology to press buttons to facilitate this without even needing to be near an electrical outlet for the 20 minutes or so your 16 double-A batteries lasted. After seeing the worst california game, I was convinced the Lynx must also be the worst game system, because if better games had been possible somebody surely would have made one, and I was presented with no evidence of this. Our state that spanning most latitude and containing the most people and these were the best games software company Epyx could come up with to define the whole, and then ported this to every video platform. It makes me want to go back in time 18 years and die abruptly after playing it.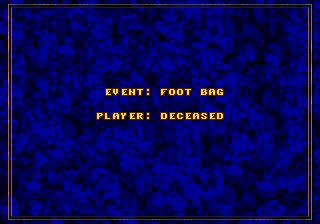 Foot bag is not an event! At best it is a prevent.
According to wikehhhpedia that foot bag portion of the game specifically was coded by Ken Nicholson, who also invented DirectX, which meant I could not install a game on my computer without hassle for the next ten years. Later the XBox video "game" system was itself named for the X in DirectX, which brought recreation of actions I had no interest in to new heights of realism and popularity, and therefAGHHHHHHHHHHHHHHHHHHHHH MY FOOT'S BEEN BAGGED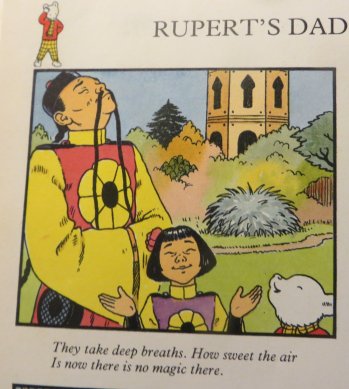 I think that reaction is in excess of what is called for.
February 5, 2014
Betty Crocker's 101 Delicious Bisquick Creations, As Made and Served by Well-Known Gracious Hostesses, Famous Chefs, Distinguished Epicures and Smart Luminaries of Movieland.
page 59 of this. Look at it, if you like, before you read what is beneath here, if you dare.
Excessive "hatch" detail is secret code for "I do not feel like drawing a background here"
If I had known how many pages were going to have these gnomes on them I probably would have made them lizard or camel people or given them a meeting place that was more interesting and easier to draw.
And now I have enough gnomes for half to split off and form a rival gnome gang. It seems a bit more like an army than a gang with that many members, although they are at a birthday party.
the rightmost characters in the last frame I added very late, since there was too much space free (and then after I tried to add them there was not enough space!) and I did not know where the drink had come from. It struck me that the one with sunglasses would be much more appropriate to have objecting the comment about bad attitudes.
The last row is not necessary, and i like that it is evenly on one row, so it can easily be removed. However, I wanted this to fill one page, since I think that saves less trouble later, if scenes do not mix in such a way.
Herge did that a lot in his later Tintin stories that were not made on weekly deadlines, but they also were planned out in full before they were drawn and forced into a restrictive 62 page format that required them to be economical. Restrictive for him and his team, anyway (from my viewpoint, at least, but I never read any official statement about that); some Frencho-Belligerent comic folk went with a 47 page format and still had lots of space. My space is imaginary and unlimited and I still run out!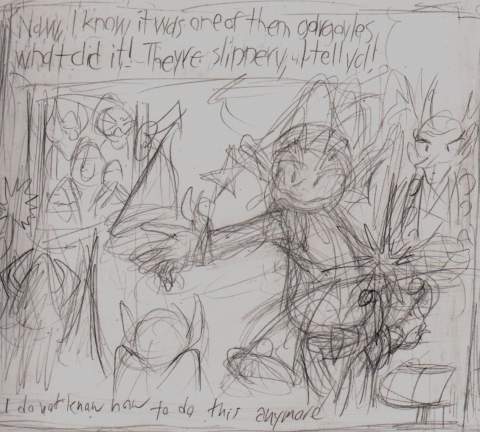 Indeed, such was the vexation caused by this page that I barely drew it on paper at all. I feel like I am forgetting how to do that. Very little was coming together like that, and I used no ink. I never really knew how to do that.
However, compared to the first "bar" scene from, somehow, a few years ago by now (also known as about an hour ago), the coloring is much better. I used such subdued tones before, and the pictures look covered in dust. If it was deliberate, I must have been trying to account for my instinctual garishness, but I did not quite succeed. The garishness will always escape, as the current state of the page link page reveals. I will only defeat it by learning its tricks and shame it with my superiority into compliance. As the defacto parent of the comic strip I will make it think its rebellious preferences are "uncool" by pretending I share them. One message I should have taken from video games is that "sealing" an evil is never sufficient and it always come back. I am ineligible for real procreation so I cannot rely on descendants to finish paying off my evil-slaying debts.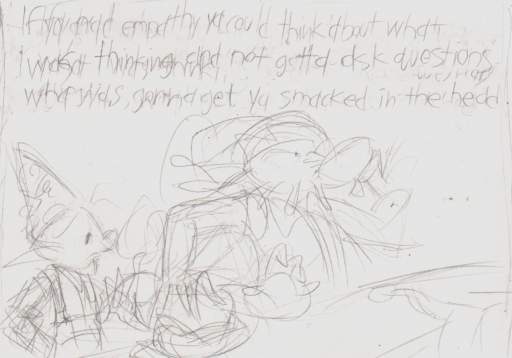 This makes me think that I should drop the pretense of black outlines for part "3" and produce new pages as I have been producing the redrawn old pages, by forming objects out of colors, which is closer to the "normal" process I use for making imagery. Actual ink looks very good, but if I no longer use it then ultimately nothing is gained from pretending to, once consistency with preceding material is not a factor. I was not pretending at first, but on this page I most certainly was.
Outlines are good if you hire someone else to color or you make outlines very fast, or very well, but I make them slowly, badly, and probably spend about as much time coloring regardless of their presence. My outlines are generally incomplete when I start coloring, and continue to change as my perception of the page changes through its stages. I certainly do not make enough money from all of this to hire others to form my half-brained mush into something solid, but I can probably make more presentable mush.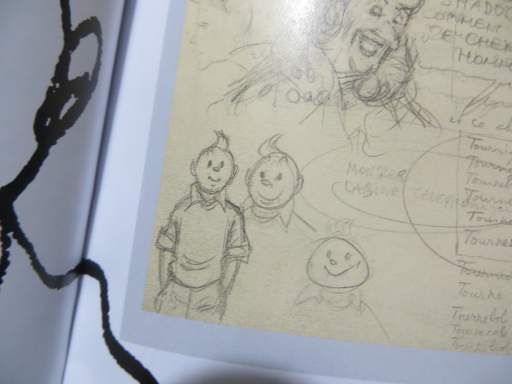 In any event the next page should have more smiling blob people that my skills are better adapted to on it.