September 19, 2019
the dutch ambassador is a fool; he wears a bowler hat
on that page
older version
very older version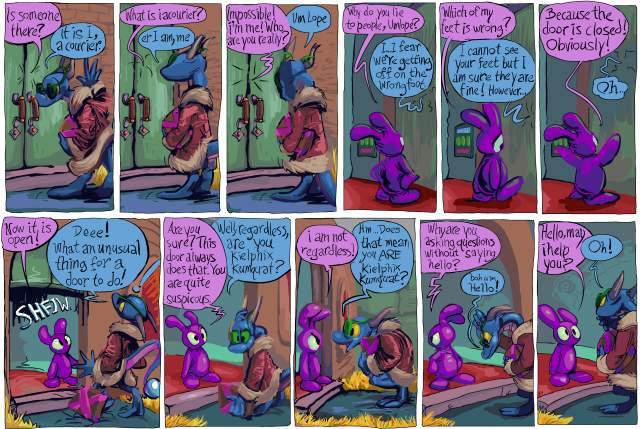 what better way to honor the recently ceased publication that was one of my major influences in artwork and comic strips than by removing the most blatant reference to it?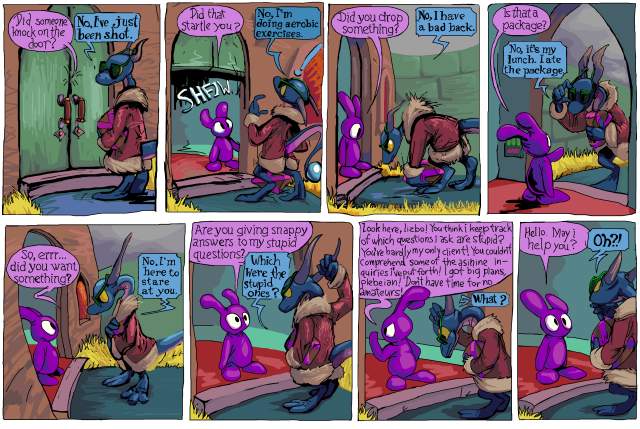 I wanted to renovate the text on a lot of older pages because somebody who doesn't actually care about the comic that i inexplicably wanted to and thought that I COULD impress with a printed version of it, casually suggested to me replacing the hand-drawn dialog with fonts, not aware that I had taken considerable effort replacing fonts with hand-drawn letters. It prompted me to obsess beyond any past level over the legibility of the text in the second book. And I thought while I was at it I should deal with this old thing.*
I have seen some people (other than that one) in person enjoy this section, after being indifferent to the first few pages, but while it works for pog, overall it is terribly out of character for lope, especially when i introduce the concept that without its hat the pitiful lizard will not take bold action. I had worried about this prior to the first printing in 2015 but eventually decided it did not matter. However the more i saw it the more it mattered to me! At last year's alternative space weekend art show, I was telling people who laughed at that page that it was out of character! As if I didn't WANT them to like that page. Soon they will not be able to! Ha HA! That means I win!
And then for christmas last year a different person who I don't know offered the first criticism of that page, which was enough to finally inspire me to remove it. But looking now I see that he is only criticizing the number of exchanges and not the logic of that sequence of exchanges! The person also called the package "the MacGuffin," kumquat "the main antagonist," and pog "his side kick" even though each of those takes longer to type and say in addition to being less specific, and maybe I should not give too much weight to what he says, positive or otherwise. But something good came of it which is what matters [if i am a reasonable person, which i am not]. Also up to that point I always thought of kumquat as the protagonist of that section. Being told the opposite does not mean I have to change anything but it gives me rare insight into how other people might interpret a work that I wrote so long ago that its content has become in part abstract to me. Except on this one one part that I specifically worried about. It works better in an inconsequential pencil drawn comic strip made without a plan, before the lizard was assigned a personality or existence outside of that minor role.
I also ended up having to remove a view of the door that I really like, in the frame where pog says "did you want something?" but obsessive compulsion of course has made this a referendum on the artwork as well as the text so I end up changing a whole bunch of pages, again, I may [mentally un]well end up replacing a blander view of the door on another page with this one.
On a later page pog alludes to one of lope's comments, saying "didn't you eat the package?" which i now also had. I like that line; it only works BECAUSE the question and answer part is so inappropriate. Outside of that interlude it makes no sense for lope to claim to have eaten the package, and it is possible to imagine that you only imagined seeing lope say that, or retroactively interpret that as a silly thing that didn't "really" happen, like when I show inanimate objects talking or transforming between panels, and directly acknowledging that sort of thing is an act that characters apart from pog could not commit without being distracting, and now pog cannot even do it! Tragic!
I have a personal "rule" that no significant part of this comic strip should be dependent on a person's awareness of other media. On a much later page, elpse mentions "an ethnic sidekick from a lame Indiana Jones ripoff," in foreground dialog, but no other character acknowledges that elpse said that and it has no bearing on anything else, though I still may drop that line when I get to reworking that section simply on the basis of my personal assessment that the indiana jones series is rife with lameness and unoriginality already and more importantly my not wanting to imply that elpse, it of green and greenish skin, has a perspective on what is and is not ethnic in movies that don't even exist where it comes from, EVEN THOUGH to ME it is obvious that the INTENT of the line is to have be implicit that the ethnicity of the sidekick is relative to the protagonist, which in the case of Indiana Jones is definitively established, ethnicity and protagonistship both.
Howdy.
*And also replace every instance of "keilphix" with "kielphix" since the second way implies a more accurate, kielbasa-like pronunciation even though i no longer like that name at all and have shown kumquat being annoyed by it on newer pages, which of course means it cannot be changed! Even though only a few pages earlier lope announces that it changed its name from scragthrax so it seems like I am being redundant by having two characters that dislike their given names. However, lope, who is a little bit like me, definitively changed its name, whereas kumquat, which is much more like me, would not commit to doing so, and I likewise have not! ALTHOUGH kumquat lives outside of the law of any remotely functional society and really could call itself whatever it wants, but I only need to think further than hypothetical people who might criticize the comic strip, not ahead of myself thinking ahead of myself. But I will anyway so in four years I will probably change every pertinent page again to have an entirely different name than kielphix and also have kumquat not be annoyed by it.**
**Howdest.
September 11, 2019
"A crazy person can't do all this," he said. "A crazy person can't make this floating stage."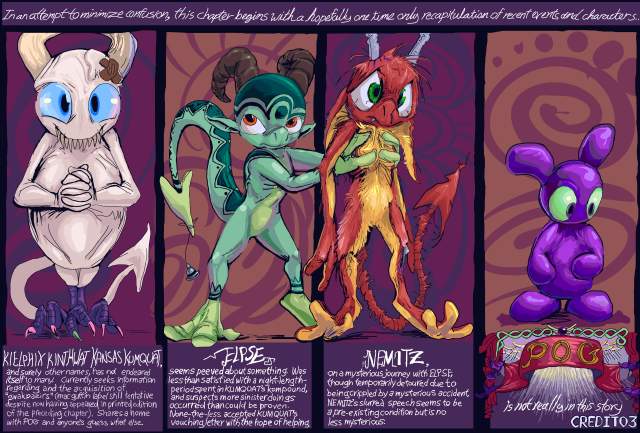 I prepared all the pages for the [proof copy] of the next comic book and sent away for the proof print. I do not consider the work finished and probably will not have time to make a full order for the November 2 + 3 art show, even if i do inexplicably finish by the time the proof print comes and I do not find anything with it that is wrong beyond what I continued to poke at meanwhile, but at least for the time being if something goes wrong it might not necessarily be my fault. Additionally I have updated all posted pages with my 3 months of changes and they can be viewed from
this point onward.
Regarding that up there, it initially started the chapter, but I thought it was more "professional" to start the chapter with a view of scenery, and also establish kumquat and pog's presence. Also, I like the idea of the comic strip having no narration whatsoever, but i also MADE this dumb thing and have always had it between the end of one part and the start of another, even though at THAT time, part one was in a state of disarray and the whole point of my redrawing all that was to render further explanation of what it shows unnecessary. However, obsessive compulsion states I must include it if I am able, and so for now I am doing so.
Kumquat still looks awkward, but the other three characters look slightly better. Elpse no longer has fish whisker things protruding from its face nor stripes on its thigh regions. I LIKE those details, but if I have them here, then I risk forcing myself to include them everywhere else like I did after I added little zigzag stripes next to its feet and hand areas. Also, nemitz is still a crumbag. THAT would be truly impossible to fix in time to get the books printed.
This is only a half page, but i used the second half to cram in my various website urls. Of course I still have people asking if I have a website while looking straight at my business cards that only exist to show urls for my 500 different websites, so this may be irrelevant. Yes so I have tentatively placed this on the inside front cover. I will of course scrutinize that text's legibility. I do not yet have something for the back cover or a preview of the next issue's front cover for this one's inside back cover. I have a lot of cover left to cover.
September 5, 2019
he is arrogant due to his unbelievable inheritance
In may I offered "100 free sketches" at the twittor website in a completely misguided and cynical attempt to expand my audience, not considering that I might end up with an audience full of expansion fetishists, or that I do my best work with no audience.
it "worked," but only when I put in considerably more effort than i expected to, and of course only when drawing other people's characters and noncepts. Not helping were folks who gave such information that there would be no potentially satisfactory way to draw what they wanted that could be at all simple, but only a few of them seemed so entitled that they were absolutely depending on me to do so, and so as usual the fault was mine for assuming it would be easy and doing it anyway, even though never once has something been easy when it seemed like it would be. To help disperse the blame, I inserted less reputable creatures into some of the images that I might complain about instead, and those will be appearing here.
<! I am too self-centered, jealous and/or resentful to care what other people are doing in a positive manner, and anybody else who does not already feel that way will toward me eventually once they realize that i am. What remains are people with no self esteem and/or taste who are so far down the ladder that i look like a good person to cling to, and in my unerring wisdom I decided to pass a chance at charging money for it.>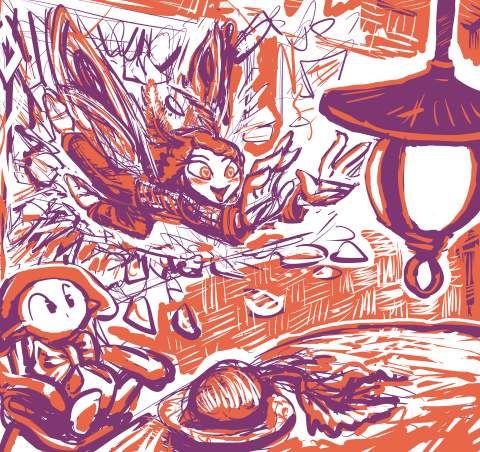 free sketch #11, for https://twitter.com/lazy__lucy! a moth person whose eyes in fact always have heart shapes in them, even when not approaching a desirable destination.
I meant to draw a fork and knife both wearing little bowties beside the plate but thankfully did not do so. I believe I outlined their shapes and then didn't notice I was drawing over them when adding the table cloth and then forgot they had been present. I also did not notice that the bowtie meep on this occasion lacks arms and perhaps both of these things are evidence of order in the universe.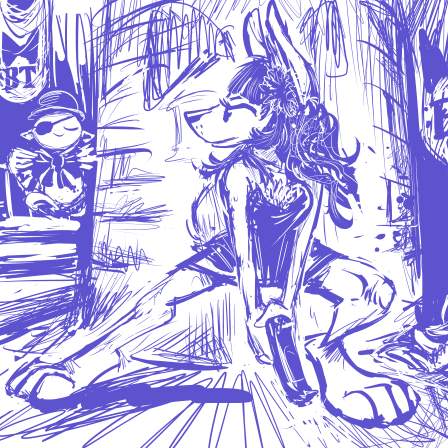 free sketch #14, https://twitter.com/WhiteDahlia_ , time traveling assassin spy, tracks down the leader of a mysterious but most assuredly nefarious organization. I presume it is not actually missing an eye but since it has both eyes closed when it is feeling particularly proud of itself and it never isn't, eyesight gradually becomes irrelevant.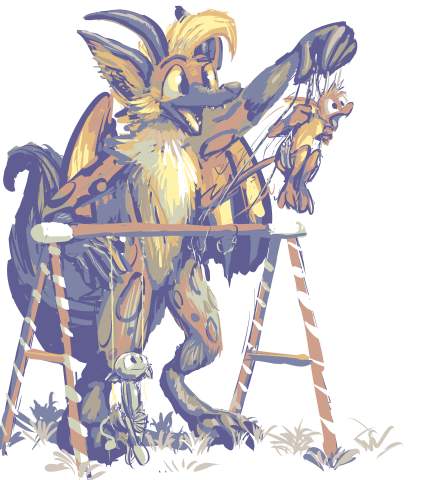 free sketch #27 for https://twitter.com/IanKeith ! Phaeux helps nemitz have a good time on the swing set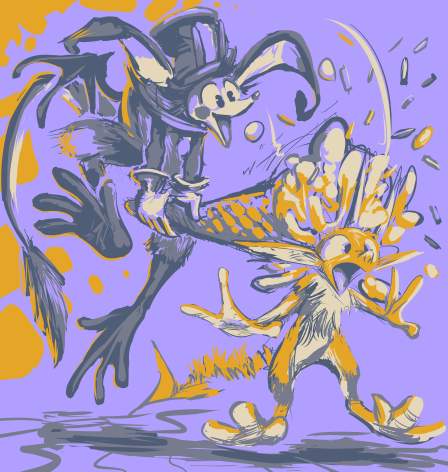 free sketch #?, https://twitter.com/HeathenHeanow/ (who actually draws better than i do)'s character, also named heathen, bestows upon nemitz the order of the banana and birthday cake-flavored ice cream with sprinkles. nemitz reacts with mits usual ingratitudinal demeanor.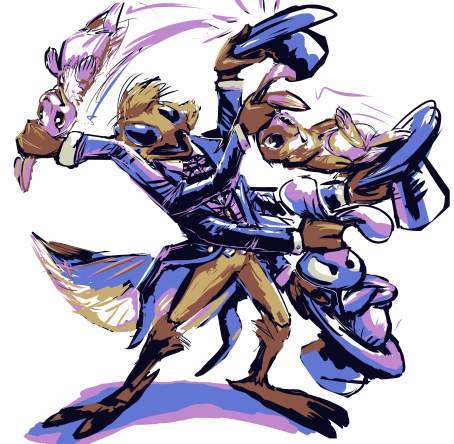 free sketch #28! https://twitter.com/TheAusSpideyGuy s character Leonardo knows that the best thing about having six arms is being able to pull rabbits out of three hats at once, although sometimes it is difficult to find three rabbits to participate in your routine on short notice.
pog was never meant to have anything in common with a rabbit visually and I never considered that there might be a resemblance until people started calling pog a "rabbit," including the
tip-soliciting
lady who gives out animal shape balloons at a local restaurant who thought it really necessary to ask my 4.9-year old niece if she could find "the bunny," referring to pog, on the sketchbook page I wasn't finished with or actually exhibiting after mis-indentifying the actual rabbit i drew as a moose, though admittedly I had put a stupid helmet on it. Which happened last week even though this picture is from a month ago but it seemed relevant. Therefore pog seemed a natural reluctant choice for this role.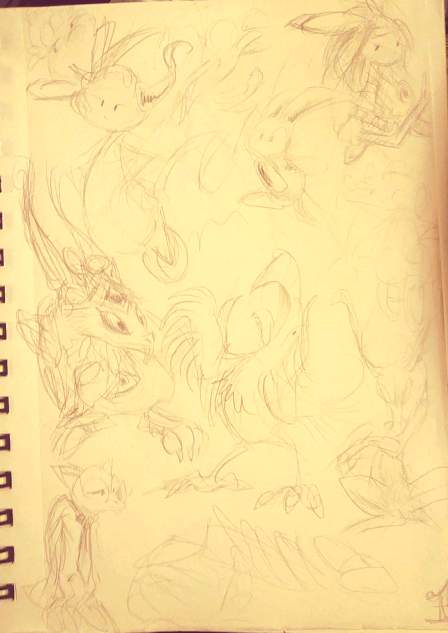 The person also thought my drawing of the sprite from secret of mana was a horse. Which is probably why I did so few ACTUAL sketches for this.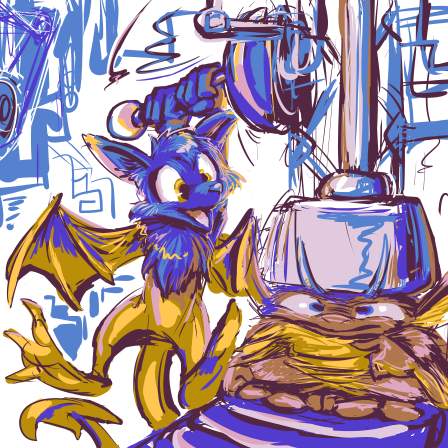 free sketch #36 https://twitter.com/DraygoDraygon 's character also named Draygo sees to it that nemitz gets squashed. nemitz feigns ignorance as to why this may have been necessary.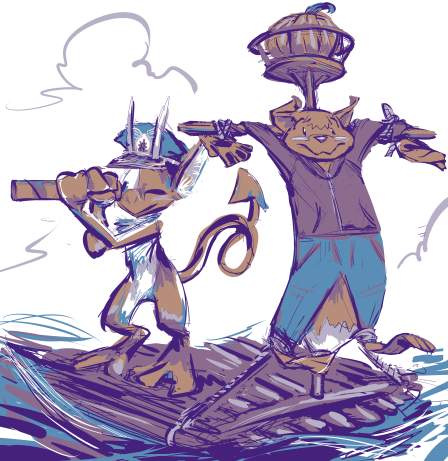 ree sketch #38: twitter.com/SpecstheFox and nemitz go sailing together. you might think it impressive that dumb old nemitz was able to rig the sail but nemitz probably bribed somebody else to do it in payments of stolen beans. (the captain hat is also stolen)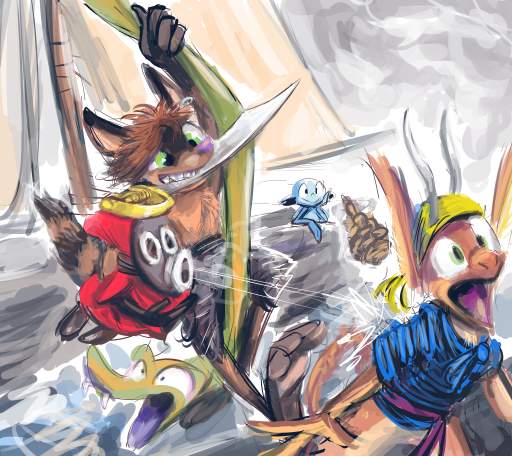 free "sketch" #45! https://twitter.com/CuntyMcPunty 's character Silver aids the cause of justice. rather than a specific content suggestion i was instructed to "go wild," which in my case means "go stupid." It might have been more appropriate for me to say: I don't know you, you don't even watch my page, and I don't particularly want your name to appear on mine, and so I don't see any reason to go anything on your behalf, but i did anyway because I am sick and I need help.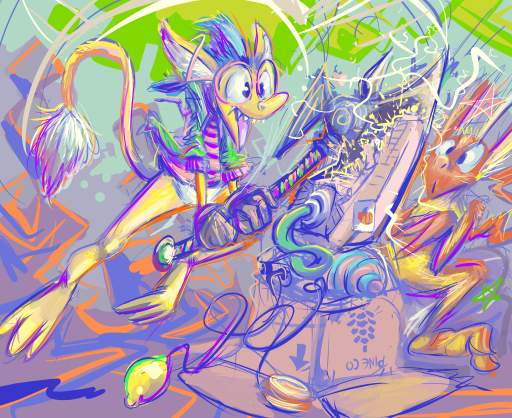 free sketch #¿ for https://www.deviantart.com/artificial-demon ! Acid Goblin hacks nemitz's computer.

That is of course only the monitor but nemitz is ignorant and probably thinks that part is the computer.
nemitz should not even HAVE a computer. mit probably just looks up pictures of beans on pinterest.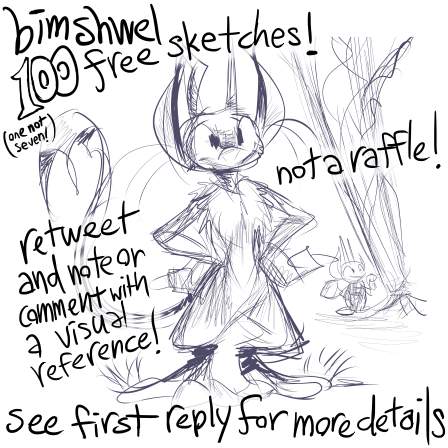 aksi: here is the actual original sketch that I used to advertise what I was doing. I think only three that I delivered were actually of this level of quality. I figured I could chank out ten of these a day, forgetting that nemitz in a basic moron pose is really easy to draw and that I hold myself to a much higher standard when drawing things that I want other people acknowledge the existence of. Nemitz deserved to be promptly forgotten once mit is crushed by that tree.
and a "raffle" is when somebody demands that you share their post and watch their page for a chance that you MIGHT get something for free. I think it is despicable. And so not only did I commit myself to much more work, I necessarily capped the free advertising I could get from it on account of my committing to granting something to every participant but only a set number of them. Does that all make sense? It shouldn't! Also the nature of this sort of thing meant that most of the people who did participate were sickos who just like the idea of getting stuff, not much caring what it is or who it is from. And I could tell because when I checked their pages to make sure they had retwutted my post before making a request of me there were often already 6 fresh raffle retweets above mine. And of course a few of them didn't do it at all.
Or they will have extremely niche, stupid tastes that I can't even talk about with explaining and making myself seem insane just for having been directly in contact with, and only share the offer with other people who are even deeper in the same dumb niche, and then blambi, I have to draw a whole bunch of 8 limbed inflatable monstrosities being force-fed after being flattened by steam rollers. You know, stuff normal people like.
By this point I have finished about 56 of them, which is roughly half because I kept letting people sign up after I closed the thing. Even though decent people would probably honor my set total and not ask to be let in after I had closed it. I wouldn't let nemitz get away with that! Or I would certainly sternly and directly rebuke nemitz instead of talking indirect trash about mit on another website. It wouldn't be professional to talk to fictional characters on my website in an insincere manner.