October 24, 2019
Besides video games and music, Tallarico is an avid baseball and Spider-Man fan, and collects balsamic vinegar.[38][39]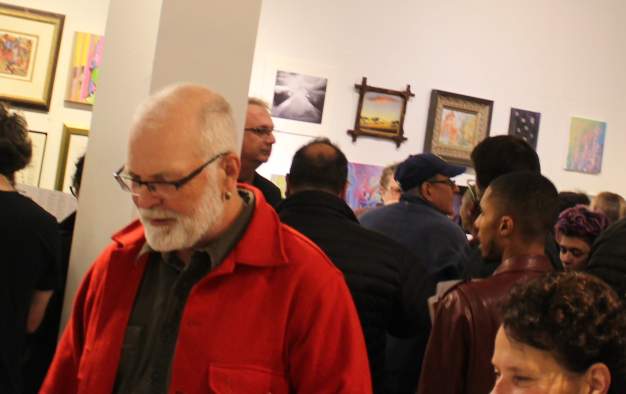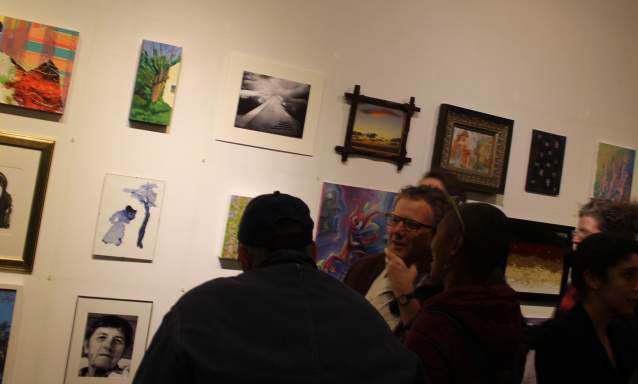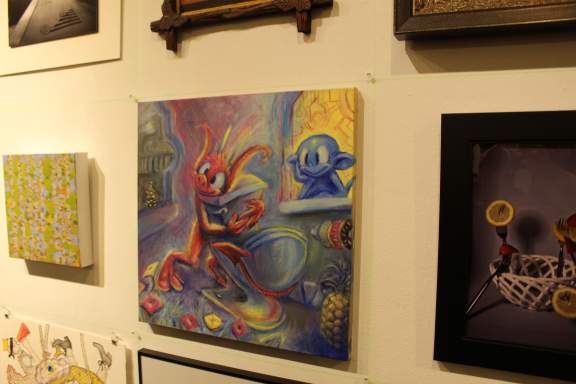 I hated this event but I did enjoy seeing people having serious conversations while nemitz was hugging a toilet behind them, which is probably the only thing I liked about this event the past four years.
This event being the annual City Wide Open Studios "member show" at Artspace in new haven, a location within 20-30 minutes of moderate car driving from where I am usually. Being a member just means you paid $90. I point this out becomes occasionally somebody wants to congratulate my involvement but honestly truly all it requires is 90 dollars and being able to get there to sign some forms. A few hundred people have 18×18 inch items set up on grids where almost nothing stands out and then every person is crammed into the floor space so that no valid human interaction can occur. I primarily paid for access to the actual personal large scale art exhibition I will be setting up at another location, yet still forced myself to give this one more attention than it deserved, except for in 2017 when I just reused 2015's painting, an act which nobody else seemed to notice or care about.
I speak about this so negatively, you may wonder why I am involved at all, and that is because the $90 also gets me a room for two days at the Alternative Space Weekend exhibition which is in a different place, along with a generous assortment of those few hundred others and so far I have found that worthwhile. The painting of course doesn't get to go there since it is for the member show, which is in a different place, and it is a weird size, too small to impress or control detail the way I like to, so every year I think "next year I won't bother" but 10 months later when I feel like less of a wreck I think "eh it wasn't THAT bad, was it?" and do it again. Maybe by "publicly" stating that I won't, I will prevent myself from doing so. Although knowing me, I already did that and merely forgot. Although if I knew me better, I would not forget things like that. I should spent more time getting to know me.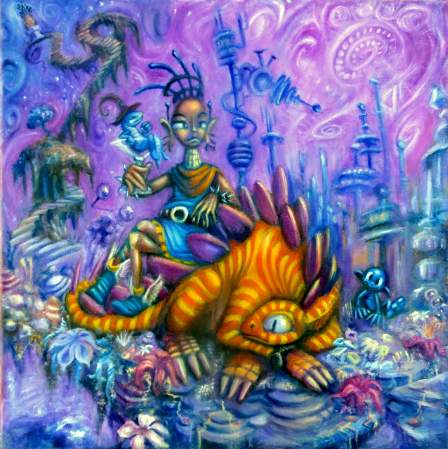 in 2015 i tried to impress with my painting skill.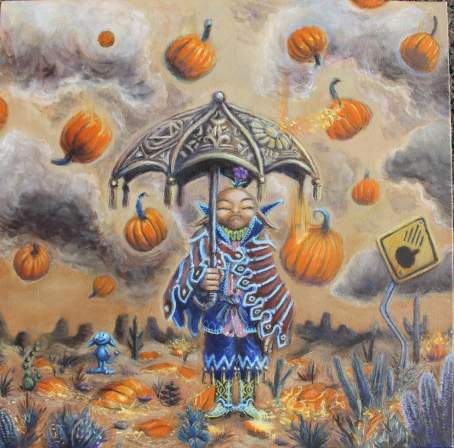 in 2016 i tried to impress with a picture that I know people always liked the digital version of.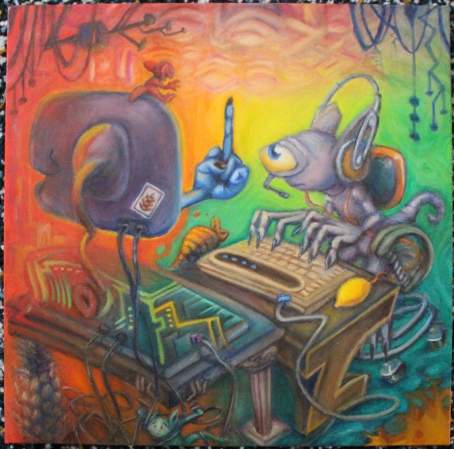 in 2018 i tried to make them laugh.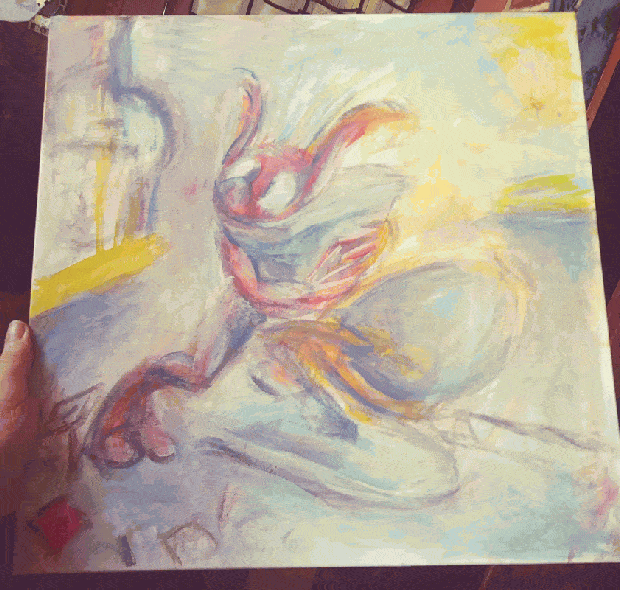 after failing to feel like I had been successful in the previous endeavors, this time I set out to annoy them,.
This is not finished to a degree that I like but considering that I did it between a friday the following monday night (the deadline) the time seemed relatively well spent; the fastest I had pushed one of these out and been done with it prior to then had been two weeks! If the crummy compressed gif works properly, it will be evident that nemitz (horrible red imp) was simple to paint, as I expected, but despite having the original quickly-done digital version as a guide I still misplaced the elements and had excess space on the right to fill, and made that harder than it needed to be!
Since almost all of my art is digital and NONE of it is optimized for a square… even though it used to be sometimes but I discovered none of the printing options I had access to favored squares, and likewise nobody sells hangable objects I could put a print into which would fill 18×18 inches well anyway, AND that I am useless at measuring, cutting, mounting and what-have-you, I have to seek out special 18×18 inch canvases and paint on them in my tiny little space which is not suited to painting. The nice acrylic paint I bought on past occasions which inexplicably is served in little toothpaste tubes almost all dried out.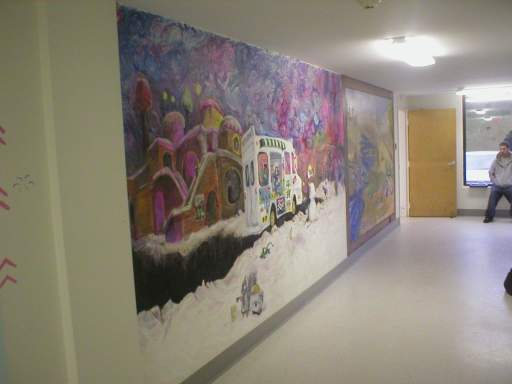 However, the cheap 89 cent walmart paint rigid tubes i bought in 2008 for a
terrible mural
still worked just fine. What I found easily was lacking for a few colors, true red and something close to brown, primarily,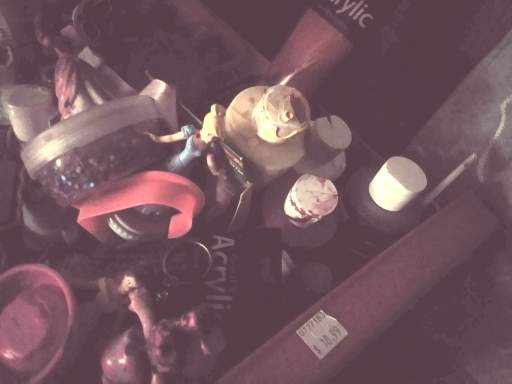 so I supplemented them with my 4.9-year old niece's presumably equally cheap paint.
As noted, a few hundred people participate in the city wide open studios mess each year. Considering that I have to explain to each and every person I know each and every year that the painting I am working on is NOT for my actual art show I definitely wonder how other participants go about the matter. If not for the fact that it temporarily increases my scrap of legitimacy in the eyes of family members who do not consider digital art actual art (unless it is done on an apple brand i-pad by someone they know better) and by extension my scrap of self-worth, I really have no reason to bother! Also, the parking in New Haven is awful.
This time the dropoff deadline was 5-8 instead of 2-4 or whatever it was in the past. I figured after the designated "rush hour" of people leaving new haven, it would actually be easier to get into, but I did not consider that an even greater number of people from outside quite willingly go into it and take all the parking spaces within walking distance to this dump. I could probably handle even that but my inexperience parallell parking led a bystander that I initially considered helpful to offer to guide me through it. I forgot that helpful-seeming strangers are usually pushy nutworks who aren't open to the idea that they aren't helpful.
Go in backward instead of forward, yes, helpful. Wait for this car to pass before backing out every single time a car wants to pass: obvious and not helpful. calling me "dude" when you aren't hulk hogan and "chief" in a manner apart from its historical function of acknowledging somebody of superior rank: not endearing. telling me "maybe you shouldn't be driving that car then" when I am unable to keep up with his rapid "turn the wheel [this way]" commands because it got stuck for the first time ever because I guess it doesn't like to be turned that much that often: I hate you. Reaching your hand through the window into my* car to point at [what I can't remember or guess]: I'm leaving so I don't start screaming at you. There was a less convenient street I could check for spaces which by that point seemed really convenient so i drove most of the way around the utterly 1-way block and went there instead.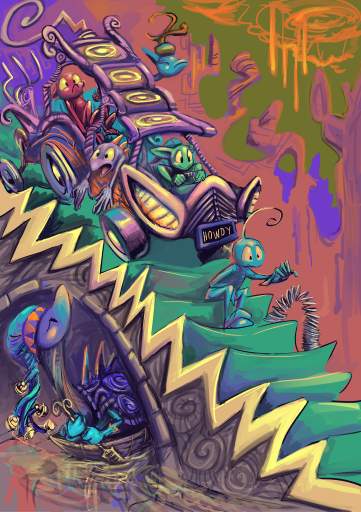 The secret to driving well is to not be stupid or angry.

October 9, 2019
a nuanced side dish, a slow-cooked film that's one of the most heartwarming of the young year
10-23-2019 is anybody still out there? no? I am going to get back to updating this anyway, but I was curious. I have only had things to say recently that transition into bitter related topics, and generally nobody else has a taste for those, nor should they, and those take a long time to write, besides. when I am slightly less paranoid about pressing deadlines, real and imagined, I can potentially write something that is angry in less of a sad way again.
i left that up for two weeks because anything in the running to replace it that I could have posted fast without saying something inflammatory would have been worse.
…………………….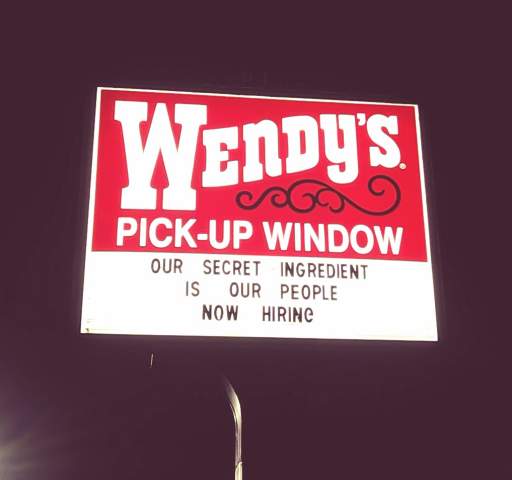 I wonder why they need new staff
This was in Guilford Connecticut. at first I thought this was too much and had to stop there to take a picture of the sign on my way back, and at that point it occurred to me that this is probably in fact a gag to get exposure and of course it got me to stop when i would not otherwise have.
Supporting the "gag" explanation, I have seen the exact same text highlighted as unintentional humor in the context of fast food restaurants several times in the past, but the improperly attached G at the end is throwing me off.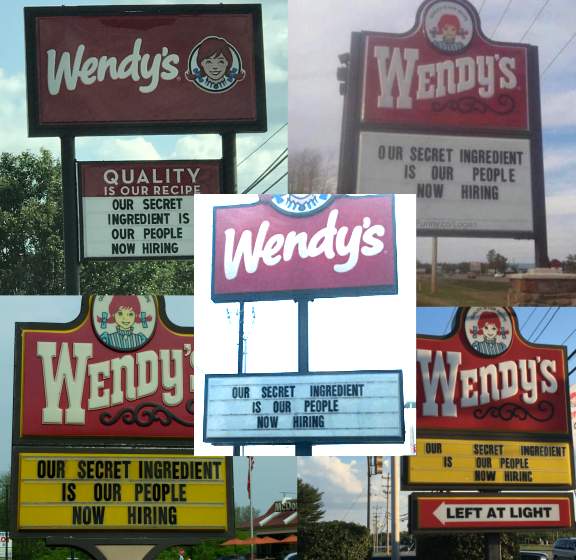 deliberately searching for the text showing up wendy's repeatedly speaks even more to it being marketing disguised as incompetence.

I clearly remember very similar text appearing in a Burger King advertisement that was reproduced in National Lampoon's True Facts: the book, published circa 1995, and it looked like its initial publication greatly predated that of the book. And at a later point somebody sent it to Jay Leno for his Headlines sketch under the pretext that they had found it in the wild themselves rather than in a book that was specifically showcasing inadvertent silliness correctly assuming that tonight show staff would not know or care. On another occasion Jay read aloud some ridiculous Dan Quayle quotes that were in fact deliberately ridiculous fake ones printed in Mad Magazine a decade prior to then. However, the "now hiring" is new and I have only seen it in the context of wendy's signs, and never on wendy's signs without that part so I must conclude that it is intentional.
I would have believed these were fabricated images made by a "meme generator" that allows people to easily customize fake sign text had I not encountered one in person. indeed the middle sign on my montage heap I was unable to find without additional obnoxious no-joke-is-too-obvious meme text slathered over it which is why it is cropped so strangely.
the incorrect G on the guilford sign indicates somebody was following orders and poorly rather than executing their own idea. Or maybe the latest order is to screw up at least one letter since meme generators usually do not supply incorrect letters.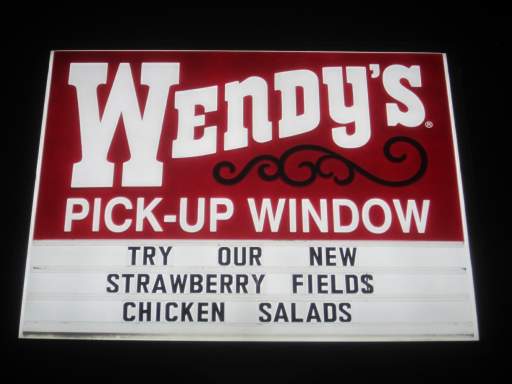 however, on another occasion in 2014 somebody, perhaps the samebody, mistook a dollar sign for an S. Or perhaps the letter box only comes with two Ses. Or perhaps this means to subtly mock the Michael Jackson estate that in 2014 still owned the rights to the Beatles song catalog and could demand royalties on mere usages of the terminology "strawberry fields" even though there is no reason this would be called that if not for the Beatles song continuing to be considered part of public consciousness. The secret ingredient message also only includes two Ses so that may be more probable.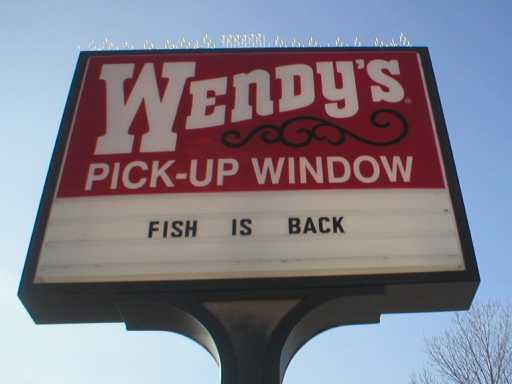 I still prefer the enticing mystery of "FISH IS BACK" (which also only includes 2 of S) Where had fish gone? Why is it back? Did it succeed on its mission? Does it intend to make us miserable since it failed?
according to legend, outside the north haven wendy's i witnessed a sign advertising their Frosty product but had spelled it as "fpofty," which had such an effect on me that someone I knewish online nicknamed fr0sty I had taken to calling fp0fty but I never told him that. I spent longer than was reasonable last week trying to find that picture but couldn't which may have contributed to the frustration inherent in that last mess I posted. I only turned up a shot of the same location's sign from a later point by which time they had found the R but lost the F while they set about advertising jalapeno presco chicken.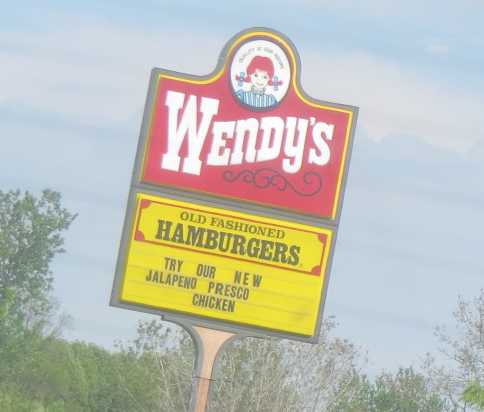 Wendy's seems to occupy quite a bit of space in my mind considering I don't ever go there. Not just because I haven't forgiven them for replacing Roy Rogers in Connecticut (though I haven't), also because the price of their food has doubled in fifteen years so its only real appeal is being less shoddy than the relatively still cheap McDonaldses in towns like these that lack Burger Kings, and presumably that setup suits them both.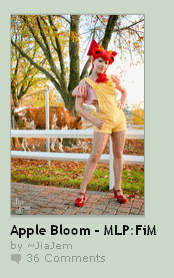 Somebody on the deviantart website has already conceived of the public representative of that collusion without realizing it.
flurk I was in Liverpool England for ONE day in June and saw about three burger kings, and that is not a nation that takes kindly to additional claimants to the throne.
Incidootily, Taco Bell now longer has cheap in its corner either. For a while it was possibly to find combination Taco Bell/Kentucky Fried Chicken stores, but all I know of eventually dumped kfc, and I presumed that was because you could get a taco for 89 cents but the cheapest single item of chicken was three dollars. However, on my most recent occasion 9 tacos cost me about $17, the same as an 8-piece bucket of chicken, that would take me twice as long to eat, be much less complicated to order and whose contents it would not be necessary to thoroughly confirm the accuracy of before I leave the establishment. But there isn't either of those in guilford so the topic does not usually come up.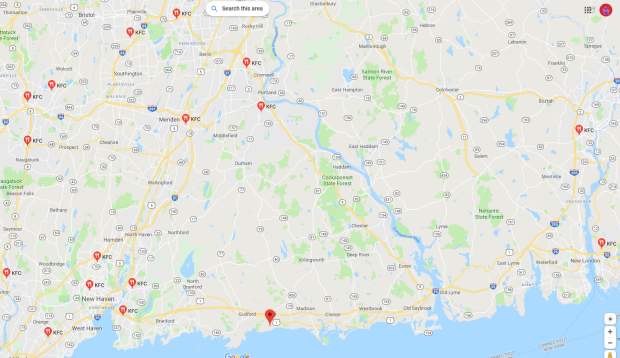 in fact there is a magical barrier along interstate highway 91 and a weaker one across i395 further east that keeps kentucky fried chicken out of any place that I would feel like driving to under ordinary circumstances. The i395 one is weaker because the eastern half of connecticut is a miserable clam chowder framed picture of boats magazines about lighthouses white baseball hat wealthy boron retirement community that I stay away from anyway.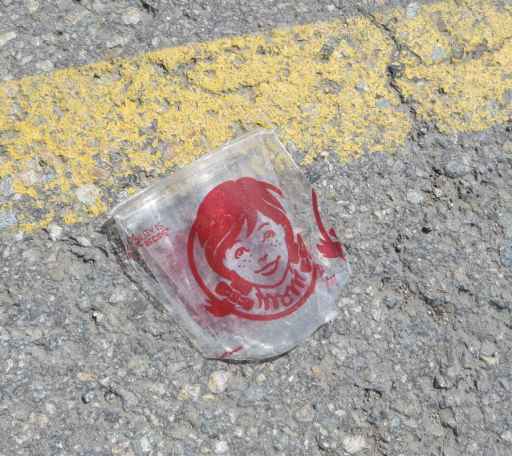 is this funny to you, wendel?
October 6, 2019
"He could explain something why he has to wear that here because we are not familiar to have a guy like that with a position like that," Betty went on to say. "If he would take it off, and be normal like us, I would vote right away because I am a (New Democrat) myself."
that I can be systematically unable to update the website for this long and not be stressed out of my mind about it is surely a positive indication. I have been spoiled by all the automated websites where I can just select a picture and it shows up. For this I have to manually upload it and put in the code for it and somehow or another I cannot spare the mental change to go through with that at the moment. After sorting out some prolonged nonsense with the comic book printing website I assure you I will get to posting filler trash that I already put on twitter a week ago.
I have been relettering what turned into pretty much the whole first comic book based on the same offhand remark that had me meticulously relettering book two in 2018, amidst also relettering book 3. It is a somewhat automatic mode, just very time consuming. I am not even necessarily checking for unintelligibility; if one bauble from before is readable but blatantly does not match another on the same page that I just did, I have to change that one also. If it looks too much like I was trying to imitate a font in the version that was printed in 2015, I have to redo it. If a word is HYPHENATED and on two lines, I started making myself redo all of that, which often requires restructuring the area around that. If the bauble's shape is wrong, because I only decided lope's should always be circular midway through preparing book 1 the first time and didn't care that some didn't match until THIS time, obviously I must redo that. I also decided kumquat's shouldn't be in that bad tintin pastiche shape midway through relettering book 2, and again let it slide if it was on a page I had already redone, but since I am re-checking every page, that means everything is up for
look see I am a sick sick person. I can't draw well enough to be a good artist, but I can make the text readable, of nearly uniform thickness, I can make the containers balanced, consistent shapes.
Apparently I believe that so it is going to eat two weeks of my time every time there is one thing in a book that I want to change which leaves me vulnerable to witnessing other things that are no longer acceptable. I am glad I don't have the energy to no look I'll show you whatever beets I am here anyway.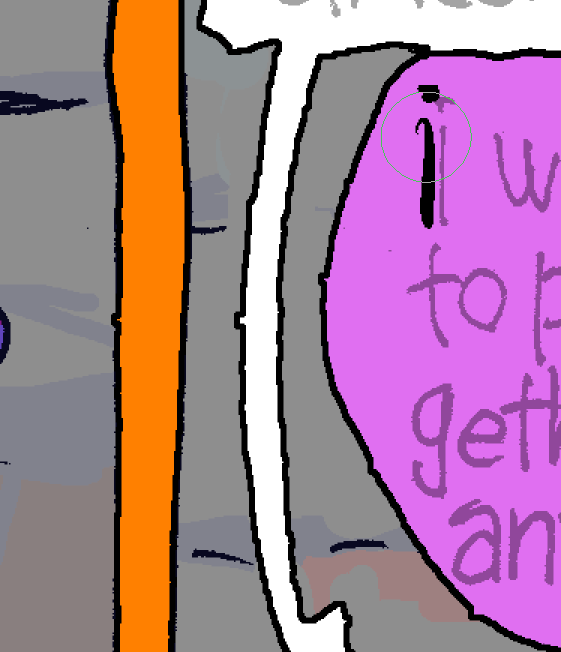 Can you see what is wrong with this little section here? Probably not. At much smaller size on the page you definitely couldn't. That is even worse! I hate knowing a small problem is there and nobody else seeing it, and just pretending isn't there. Tiny little pieces of paper stuck to the carpet, I can't live with that. The little stickers with a number on them stuck to new clothing. When somebody "cuts" off a tag on a piece of clothing, leaving tag residue which is not only worse than a full tag, but much harder to remove since you can't (and I won't) grab tag residue to pull the strings out so they can be cut. It has to go. Only I can destroy it.
Part of being able to make the fixes I "need" to make requires separating formerly flat pages, that I had been PROUD to be able to do flat, into multi-layered setups. I would select the color of the text containers, move those up, then expand the selection and fill that in with black. Which works theoretically but since in actuality I was not sick enough to need things to be totally smooth then, expanding the selection makes tiny little one pixel blemishes into these horrible skin diseases that I have to scratch out of existence, then I need to fill in the space on the base layer that I moved this stuff off of because it still has the old outlines which will show through if I move or change the shape of anything. I should be in a hospital. My brain should be connected to a computer as part of a circus sideshow because they can't elephants anymore and it is not proper to call people with physical deformities "freaks" anymore, but I admit I am a freak and if somebody wants to pay to see a brain melt into porridge amidst the most tedious and pointless fever dream tasks ever taken on voluntarily by somebody whose life has no meaning, they don't even have to pay since plainly I will do
stuff for free
just to feel like I matter to an ever less reputable class of people since nobody doing anything with their own life would stick around this one. And sometimes not even then; I could probably name 50 people with no skill or inspiration who watched my pages, acted like they cared, then abruptly didn't despite still caring about the same brain dead hacks they cared about before and after me but you would not have heard of them and deservedly so. Including the one whose ultimate life advice was 'let it go.gif' if I have one undeniable attribute it is my fragrant inability to let any it go. If it will be my death, it was a life I could not have lived while attempting to let its go on the counsel of people who have less value than monopoly money which is at least pretty and distinguishable from other sorts of money.
I actually made a
SECOND
picture for somebody since I worked so hard on the
first
one that it was terrible even though that person has no bearing on my existence and probably already forgot about it. There are people who come to me every time I offer to do stuff for money and ask for something even though I know they have no money so I would have to do it for free if I did and sometimes I do. I am already buried in projects I will never finish that will haunt me until my death. Me offering to do work for money guarantees in the near future I'm going to be doing extra work that neither further my goals or gets me even the most pitiful organ grinder monkey money.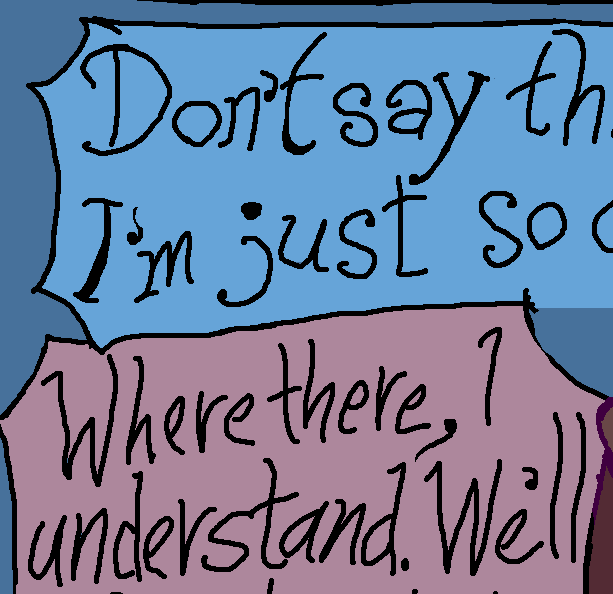 And apostrophes! I drew them vertically mirrored for years! I was so proud of myself to be drawing real typewriter apostrophers instead of ' those stupid things, even though I wasn't drawing them properly and nobody cared except for me, later, when I realized they were wrong. It shouldn't really matter since I have to rewrite all the text, apostrophes included, but a month ago I thought I wouldn't and could get away with just changing the apostrophites.
But I feel a little better now.