June 11, 2011
I've run out of ideas. I don't know what to do about it,
============================================================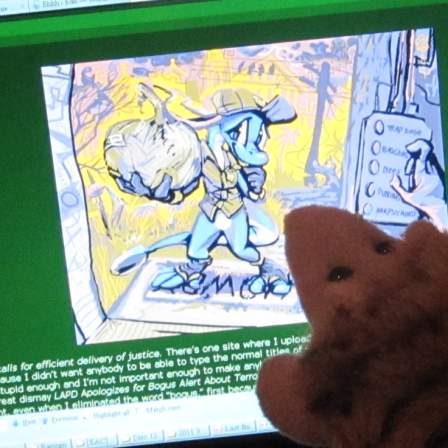 I decree that as per the terms of my trying to have this website sorted better that a meandering editorial like this need not be directly attached to the thing that it relates to. I did not intend for it to meander, but I ought to have noticed that it did so. And lo, I did! So there, lo. I don't need you judging me all the time, lo. That's really low. Ha uh.
Four years ago I would never have dared make such a picture as that, much less display it publicly. How do you feel, internet, to have allowed such an atrocity to occur? Yes, yes, I realize that's what you DO, internet, and therefore you feel just fine if you noticed at all; my question was rhetorical!
A few persons commented –not necessarily complained, but I interpreted it as such because I am a whimpering weasel of a human being– about the creature's conspicuous lack of trousers, and indeed even before such comments existed I was hesitant to display the image here for that reason. I didn't put up the one I linked to within that link either, but now it is relevant and thus I must. As much as I appreciate illogical character design, that one aspect is hard to justify, as I've probably mentioned many times before this because I've always thought it very strange, not in a way that is inherently funny, and I am somewhat miffed at myself for proliferating it. I do not do this out of pointless adherence to convention, I merely came to find it a pleasing aesthetic in the past series of years for some completely baffling reason. Perhaps this was the tradeoff for no longer preferring a computer operating system environment that looked like this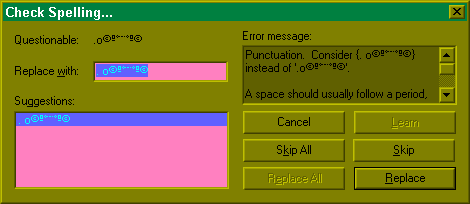 I think I remarked about such remarks before, but I don't recall where, I felt bad about it, and in any event this is not an attempt to excuse such a peculiar anti-dress code (Or it sort of is, now that I've seen the end and my two subsequent uses of the word. I was hoping it wasn't that but it is).
And It's my own fault for showing that midway image to begin with. My own self-consciousness about the issue drew attention to it that it would not otherwise have gotten, or gotten stated. As I said I think this is strange too. I agree with you!
While I can cannot recall a great quantity of images that the dumb beast ever wore respectable thigh insulation in, the lack only becomes conspicuous when the fool elects to wear a shirt and other accessories. It is like Eve and Adam of Adam and Eve suddenly being ashamed that they are naked, except this thing isn't ashamed and we wonder why it isn't.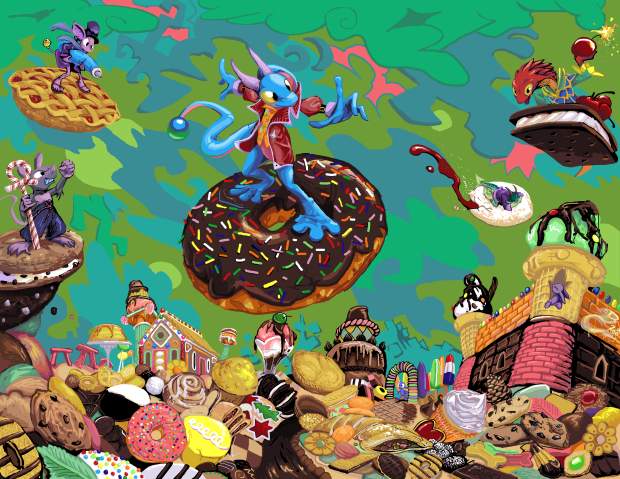 The famous doughnut picture is one such image, and yet it seems not so blatant here. And why? The demi-dressed deinonychus itself is less prominent, but also it has not adapted an iconic commercial dress code to match this odd preference. Unless we consider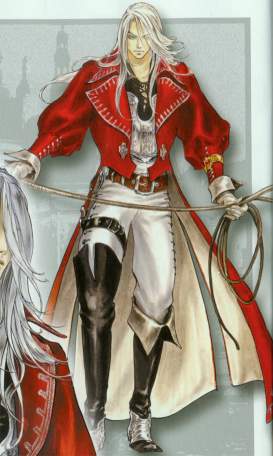 this guy. I'm guessing that we don't.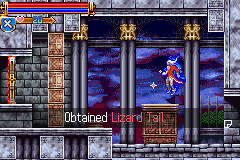 And that's far from an excuse!

In the doughnut scene, you could say the semi-shrouded struthiomimus just put on a coat or whatever, but in
Special Dorklivery
it has examined a standard OOPS uniform, not attempted to wear each part, and then appeared before us anyway. Unforgivable. Also, people are more inclined to accept fur as a pants substitute than an absence of everything. On
another occasion,
It has a bigger, stranger hat, a decent sized coat, a big feather and more colors.
Essentially, stuff to distract viewers from the shank-shield shedder's lack of pants without actually giving it pants. That is still its dumbest style choice but no longer the only dumb style choice. And you might ask "why not just give it pants then? Wouldn't that be easier?" Yes, it probably would. Please don't ask that.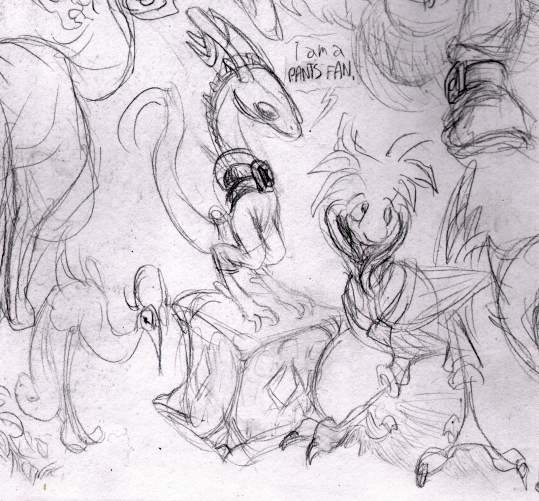 Certainly nobody would accuse this of being respectable, after uh.
However, the creature's legs amuse me. They are so blatant. Almost like its stupid nose. It cannot be helped. They must be seen. Yet anytime I see a reasonably proportioned, cartoon humanoid animal wearing partial pants I can only think of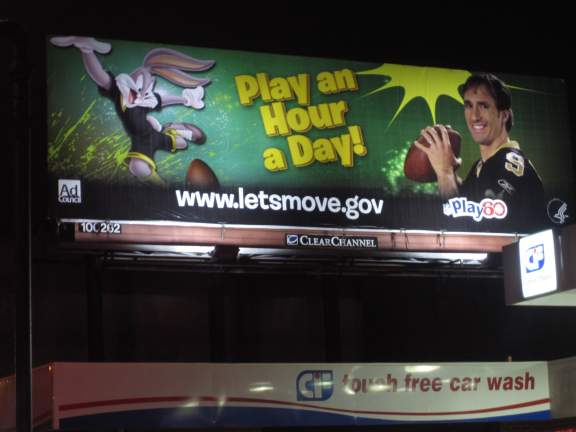 or worse. Even without elbow pads and a skateboard it's going to remind me of Chuck E. Cheese and the Kool Aid Man (incidentally the name of the detective drama I pitched to CBS) circa 1995 and honestly I don't have the time to put that much obnoxious photoshop blendy colors on everything. Thus the solution would be to have the atrociously attired
agathaumas
wear a skirt or similar noncommittal leg adornment.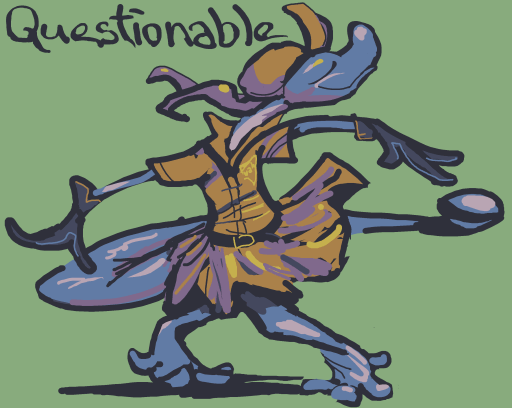 But nobody yet has suggested that, so until someone does I shall ponder my excuse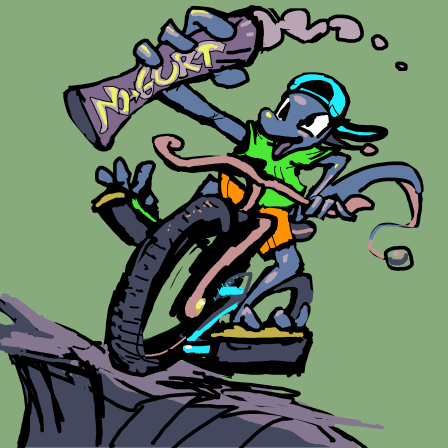 and I shall hope that it is not inexcusable.