October 26, 2016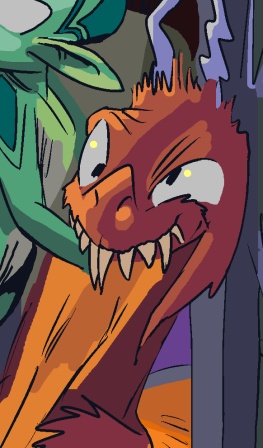 another redrawn comic page.
Much more orderly dialog than
before!
And no bauble stems that cross each other, although a few routes are lengthy, which perhaps some day I will decide is even more distracting. Yes yes I do like how the wordage and containers are laid out here. How did i ever think that old way was acceptable? Even if the last seven days of effort gain me no scrap of respect from one other person, I like having so many neatly-arranged colored sentence boxes.
Originally, on this and the next page I just colored under the pencil drawing, with a few touchups, to speed things along, since it was taking me weeks to do them the other way. But I had to do this one like that anyway! Oops. But this only took one week. So with about ten weeks left in the year, I should be able to get the second book printed, provided I do no other things. However, I have to do other things. Gosh I have to get up now to dump extra water into an electric cat water dish that starts to make weird noises if the water goes over a certain point that becomes closer to the brim of the dish as the filter breaks down and needs replacement. But I don't know where you buy the filters, so I have to order some more, and I don't want to register my own email address with any of these dubious pet supply websites, identify myself to marketers as a pet supply buyer thereby sentencing myself to junk email about pet supplies until the earth crashes into the sun, nor pay the shipping cost on this that probably exceeds the posted $7.99 price of replacement filters. Because I hate having cats and hate spending my own money on them. But nobody else will do it even though it is presumably for another human's sake that cats continue to be kept on the premises. So imagine that every aspect of my life is like that. Outside of these lovely dialog containers. I have brought them under my control.
I cannot recall previously being this aware of how absurdly large i had drawn elpse's feet.