well it's about time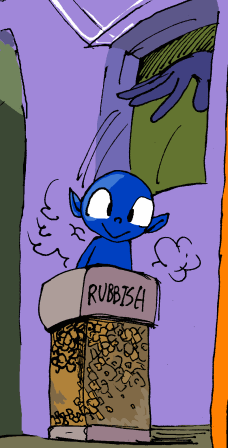 contact:
email: scridgem @ bimshwel.com
telephone: sure, go ahead
discrod: bimshwelf#7516
skeep: yirzod
telegraham frabaginarf
Hello travelers and friends. I am an "artist" apparently and a practitioner of questionable business.
I dwell in Madison, Connecticut, at present. I would like to visit a wide range of locations, though ideally populated by a few people more sensible than frivolous imps. I have already been to fantastic far off places like London, Paris and Pittsburgh, but I always get sent back.
My pictures have appeared in various locations across Connecticutland, admittedly mostly independently-run eateries and public libraries. I provided shirt imagery for the Hope is Coming benefit race for seven consecutive years. Yes I sure did.
I went to school. I have a scientific degree of bachelor from the Southern Connecticut State Universitoid, Summa Cumma Laudy-like. I did not produce many of the pictures seen on this website while there, but a university degree is, to some people, a magical badge of alleged competence which trumps actual apparent competence. You get to choose which you believe!
These links are on the sidebar but the sidebar is ugly so a person's natural inclination is to not see it.
artwork like I hang up in local joints
comic strip
wordy twitter
comic twitter
instagraham
facebook
devian tart
tumblr is garbage and I complain about it when I become aware of it.
Apart from that, I have written many website entries. I have a generous sampling of mental disorders and writing about stupid things helps me to fixate on stupid things less.
I frequently take issue with nemitz, dopes and a creature that wears a bowtie. All are proud of themselves and often hold viewpoints counter to my own viewpoint that they should not exist.
I do not identify with them. I do not identify with anybody. These are at least funny to look at. Allegedly I drew the pictures of them that I complain about. I am highly proficient in skills with no practical or recreational application. I am allergic to successful people.
I am a gender-indecisive being. I typed it all there to keep from typing it here! It is boring and gets in the way.
I find breakfast cereal amusing
Entries back to 2006 are indexed and can be searched through with a doohickey in the upper right corner. Prior to then, you can try google, I suppose.