5-2-2020
I have not updated this page in a year and it appears all the gifs that I MADE that I linked from my deviant-art account because I didn't want to be bothered reuploading them here have had their urls changed and no longer function! Fortunately I doubt anybody has looked at this page in two years.

the you-tube page has some more varied content on it even if new animation projects have been lacking


skip to some terrible animated gifs
hats coming to visit
The first properly animated item I ever finished, regarding a creature who has accomplished even less than that.
03/13/19



The second first beet of the year
A a a follow-up, finally. I still have not corrected the errors in the other one that I said I would but I imagine I still intend to.
04/03/17



The first first beet of the year
A a cartoon, sort of. Not the earth-shaking phenomenom those in my close confidence never said it was but that I inferred they implied, but I didn't finish it, either. As of 2015 I "am" working on the second section and intend to correct the errors in this part as well! So watch out.
05/28/10



Jope and less dopes than might be expected
A cartoon made while I was learning to use Flash, which I wanted to use to make a cartoon with. This covers the first chapter of a nonsensical story I wrote and then cuts off abruptly rendering the nonsense yet less sense-filled than it would be in its complete form. It is utterly inexcusable in many ways. Try and find them all! There is no plan to finish it at this point in time or any other point that is known.
11/24/04



Garish collection of minor animated objects produced during frustrating periods when I could not work on longer animated pieces. Sometimes clicking on one will bring you to a larger version and sometimes this is just how big they are! Ideally I will not forget this page is here, and will continue adding new items, as undoubtedly they will continue to come into existence.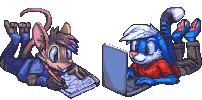 Animated icons for other people



tragic animated icon for nobody


Nothing of consequence happens, and repeatedly.


Leftover from somebody else's short-lived video game project.


Melting amuses me. That is why.

And that seems to be all that is here at the moment.