April 8, 2008
And this news article is full of lies.
Theater carnies don't need to raise popcorn prices to stay in business. They "need" to raise popcorn prices to maintain the same ridiculous profit slope they've had going since they first shouldn't have. That article tries to make these bozoinks seem like heroes for fighting to save my popcorn. Yeeh, you'll pay "whatever it takes to get popcorn planted," because whatever that takes will still end up being less than what you charge for it, you redenbastid.
I don't read the Los Angeles Times. I don't read the any times. I don't have time for times because I get so mad about things written in them that it takes me six greedeen hours to assemble my rage into incomprehensible messes like you see before you. Someone else must have found that link and told me about it. But ehhh:
Two years ago, a farmer charged about $10 for 100 pounds of popcorn. Today it's about $20.
A ridiculous increase, sure, assuming absolutely no fabrication and projecting have taken place, but that's still two dollars for ten pounds (in other words: the approximate opposite of the current US-UK exchange rate). I know there's transportation, storage and disgusting fake butter which makes the entire purchase inedible not included in that cost, but how does one dollar for five pounds become five dollars for… I can't even tell. I was going to say "half a pound" but I think that's mostly the non-recyclable wax-paper container. Popcorn doesn't weigh very much at all. I don't know the exact figures, but they probably get like five-thousand bags of popcorn from one pound of the hard brown things and, I don't know if you've noticed, but some of them don't even pop.
These kookaburras wouldn't have told you two years ago that they were paying one dollar for ten pounds. At that rate, we ought to have been getting complimentary popcorn.
"If we didn't charge as much for concessions as we did, the tickets to the movies would cost $20," said Mike Campbell, chairman and chief executive of Regal Entertainment Group, the nation's largest theater chain with 6,300 screens.
So charge twenty dollars, you pith. This scrum-bum admits his business practices are deceitful. I doubt he invented this practice, but I also doubt he ever questioned it. Maybe tickets would cost $20, but it would be obvious to everyone they wouldn't need to. That also suggests popcorn only costs 2-3 times what it ought to. Maybe they should close the six thousand three hundred big loud expensive wasteful movie display systems they can't afford and just sell popcorn since that's clearly so much easier to overcharge for.
Gargoyles, you know why tickets don't cost 20 dollars yet? Because if prices don't rise at a steady incline we don't get to name a new HIGHEST GROSSING MOVIE OF ALL TIME which may not necessarily be the same as the HIGHEST OPENING WEEKEND OF ALL TIME! every fiddling year, putting THE MOVIES back on THE FRONT PAGE.
The price of pop-corn in theaters hasn't a thing to do with the cost of actual corn. Ehhh, unless you'd have me believe the raisinet and soda crops are getting replaced with ethanol fodder, too, because that can't be had for less than four dollars most places, either. "Beverages provided by coca cola" my beanbag. Beverages provided by my dollars. Ooh dis. That stupid line is the only thing I remember about the pre-preview rule rundown. Which is unfortunate, because that means I yell at the screen, don't turn off my telephone and make my garbage into stylish hats instead of disposing of it in the indicated garbage can. When will I learn?
For years, popcorn manufacturers have offset their rising costs by developing new hybrids that expand more. A few years back, a typical popcorn kernel expanded about 35% in volume when it was cooked. That figure has reached nearly 50% today, but the expansion rate can't really get much higher, as movie audiences would essentially be eating little more than salty air.
This plan gets put on hold until the time comes to convince consumers they should buy their air.
So despite its intended message, the article admits that the kernels are popped harder than they used to be so they expand more, filling more space, requiring a lesser quantity of corn to fill the container. And yet prices did not go down when less corn was used! It has also recently been revealed to me that in some cases it is not corn at all but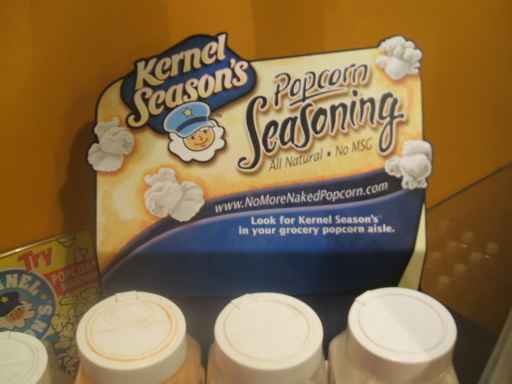 the shrunken heads of white-haired bearded men, which I guess are cheaper to obtain? I don't want to eat that!
Even with such an admission that article is still a parcel of porridge, because tickets around here don't cost seven dollars. They cost seven dollars and fifty cents. Ha, ha! Oh, and after 6 pm, they are ten dollars. I could buy 50 chicken nuggets for that! Maybe I will. No no, not nuggets. I will get popcorn chicken. That costs less than real popcorn, and birds have to be murdered to get that, and those ate corn. All the cruelty and irony would overload my brain and I'd fall under a coma for three years/ever during which I wouldn't have to worry about these things.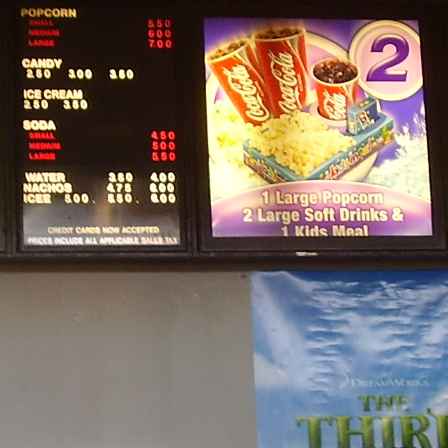 Regal regal regal. In the event you can't tell from the poster pimping the immenent hostile occupation by
SHREK THE THIRD
(because you've undergone therapy to block it from your mind), I took this picture over a year ago. Who'da thunk popcorn cost SEVEN DOLLARS before my wallet was getting bites taken out of it? Verily, the 7 dollar order is a moderately decadent bucket you could probably wear as a helmet in the event you were blind and not in serious need of protection, but the 5.50 purchase is a standard sized paper bag (with wax coating). If greater corn economics were a concern, the three sizes would have more disparity between them to encourage the buying of less popcorn for more money. Instead, you get to thinking
"gee biz, it's only a dollar fifty more, and look at how much extra pop corn I get!"
because regardless of how much they sell they still have more corn than they can give away, so they might as well sell a huge bucket that most people won't finish, even accompanied by something resembling proper butter.
Thanks to holding a massive inventory of uncooked popcorn, the Regal theater chain won't have to raise its popcorn price immediately but probably will have to eventually.
Whoa, thanksh a bunch there! That means for some time it will continue to be only seven dollars! Let the good times roll! I mean pop! Deeeeeeee!
but probably will have to eventually. "The prices will have to go up a bit," said Campbell.
URRRRGH! I just imagine the smug, smirky face he said that with. The prices will HAVE to go up. They have no choice in the matter. Modern movie theaters aren't bloated, inefficient wastes of space, they just don't charge enough for popcorn.
You're so smart, howard we gonna stay in business if we don't overcharge for popcorn, then?
You could sell a big glump of ad-time prior to all movies, set up to resemble a sub-Entertainment Tonight glib-fest which goes behind the scenes of imminent releases that have already gone out of previews and that will soon be inescapable during television commercial breaks! And you could give that ad its own commercial breaks so I forget it's all just one big ad and possibly think you're doing me a favor by bringing it to me! "And now back to the big ad!" Thank you so much! Yes yes, and after that you can show actual normal preview ads anyway! Huh? I mean, like, Hwuh? You already do that? And you still don't make enough money to fund your twelve ludicrous theater rooms that I don't think I've ever seen filled to capacity? Howzat now? You could always blame dvds and big television sets, and hope I don't realize those existed six years ago when you cut down the great deku tree to build this place. Ehhh, it's probably my fault for hiding a bottle of water in one of my big coat pockets instead of paying you three dollars for an eternally plastic water bottle I'd be just as likely to vomit into as drink out of.

Concession sales are a theater's lifeblood, accounting for as much as 45% of profits at the nation's largest chains. Popcorn offers one of the biggest returns on investment for exhibitors, because the unpopped kernels used to make an entire bucket of popcorn cost just a few pennies.
Great gimpity, and now it's going to cost even more pennies! How will these people feed their families? Not with corn, definitely.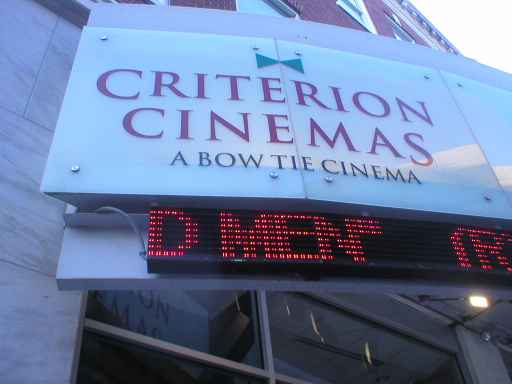 What monstrous, unscrupulous fiend would allow this disgusting sequence of events to take place?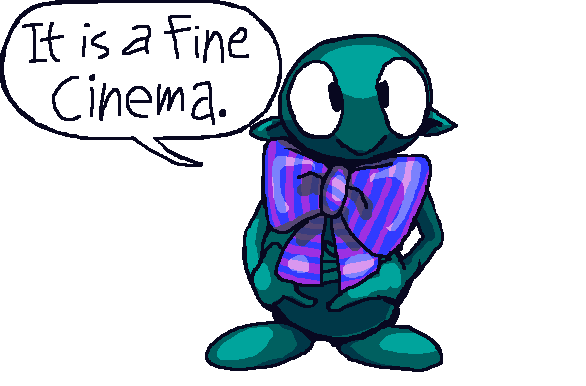 I could cry.
This problem is bigger than popcorn, naturally: it's not being replaced with crops that aren't corn and demand less pesticides, just other kinds of corn, for
ethanol,
which I've never seen a reasonable person suggest is a good idea. Also, that article links to more articles. I don't want to read them; you saw what the first one did to me. Essentially, it doesn't matter how much better ethanol is than gasoline because coal is used to make the ethanol, and coal is worse than gasoline, and we can't put the coal mines out of business because then we won't get to say it's a miracle when all the
miners
get trapped but look like they're going to survive but then don't. The only real difference is that there's more stupid corn getting grown and more dipstipple republican gooselivers getting to collect money while pretending they give a bunkbed what happens when they're dead. I'm sure if you do the research it all goes back to Jesus not liking gays. It always does.
I hope we run out of popcorn. I can live without it, you can live without it. The only people who seem to need it are the graboopis selling it like Leonardo DiCaprio smuggled it out of Africa. I don't think he did!