February 13, 2009
The sudden twitching of my right-side, more efficient eye's lid, and subsequent revelation that the only treatment is surgically removing muscles from it or killing them with botox are things I find incredibly worrisome. Yet thinking about it makes me laugh uncontrollably. The fact that a recommendation to get more sleep is the primary alternative, when I already sleep too much to be accused of having responsibilities makes it more "hilarious." This is unrelated to me not updating the website.
/\/\/\/\/\/\/\/\/\/\/\/\/\/\/\/\/\/\/\/\

Do not take love advice from Pepe Lepew. Or anyone who spells out their accent.
Oh those banner ad people. They never know what they're talking about. Why do I let them upset me so? It's certainly not as if this is an official "canonical" work of the Wib animation department meant to be regarded alongside masterworks of plausible wackiness such as Space Jam and Looney Tunes Back in Action. This was just made in three minutes by whatever poor schmuck was assigned the task.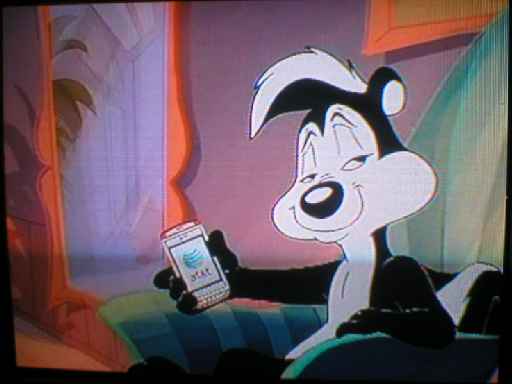 Yes, yes. This is what I need.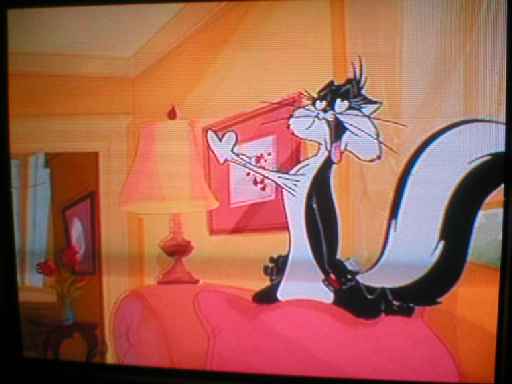 Even better. I love it. You took some cartoon character from the 1930s who has to live in a dumpster due to its abhorrent stench and gave it a big fancy apartment and a tacky modern telephone to send text messages to another character who hates him but now not only doesn't but in fact has gone so far as to intentionally set off his white paint fetish. (I didn't get a picture of that. I can tell you're disappointed.)
Here are the reasons Pepo Lepo was supposedly funny: everybody in the world was afraid of him. The cat was particularly afraid of him. He was too dumb and confident to notice.
Perhaps you are of the opinion that in these days of increased awareness of and sensitivity to jokes about both cultural differences and sexual predators, it's not really "funny" to have a bad smelling Frenchman chasing around and forcibly fondling a non-consenting female, is it. Even though they're cartoon animals (which scarcely resemble their real life counterparts. A white-faced skunk? Seriously?). However, if you take that away, all that's left is another smug squinting supersleaze sending trite messages through a telephone to a vapid swooning ditz-deluxe and we have plenty of those already. We certainly don't need to be reaching back 70 years to find a suitable couple only to utterly disregard the primary reasons they were interesting. Even our most distinguished masturbatory webcomic authors know there's nothing funny about pairing those two, as we now have them, with each other. If you want to have demographic appeal, Pepe has to live in an apartment with three lovesick cats and totally ignore them.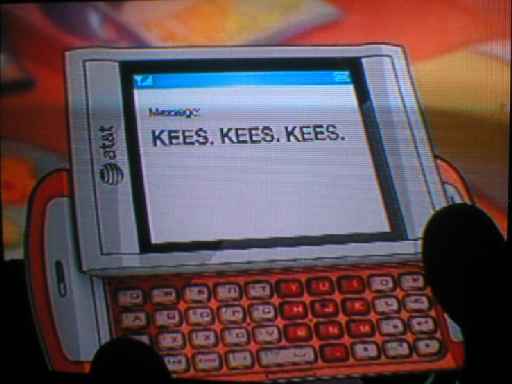 Even
if
we get past all that, still remains the underlying message that the most romantic thing you can possibly do at valentime is to type sentence fragments at the object of your affection. I may be a eunuch but even if I can see that's not an act that proves anyone's devotion to anything other than the stupid phone itself. At least… it might if you have fat, round inadequately numerous cartoon fingers, but it is my understanding that the target consumer typically does not.
They have the right number of fat fingers, anyway.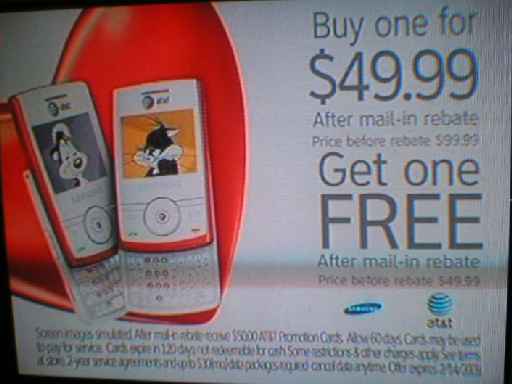 Wow, matching mail in rebates? We really are soul mates!
Worst of all, as former MCI pitch-creatures the merry melodists' loyalties should rightly lie with The Other Telephone Company, Verizon. Who is Michael Jordan going to call on his yellow cartoon phone now? It's one thing to toss their character traits in a trash compactor, but how can I respect fictional animals who are bought so easily? I cannot tolerate such an attack on our most sacred American institution, the corporate sponsorship.
True enough, Peppy did not appear in the MCI ads, and it seems reasonable to assume factions may develop among the various characters, but if mortal enemies Tweetypie and Sylvesterpie can both agree that 5 Cent Sundays is the bee's knees, surely another cat and a skunk that can't tell a cat from a skunk shouldn't be too hard to sell on it. Yes, yes, 10 years have elapsed, and 5 Cent Sundays is an utterly obsolete calling plan, plus probably not that good to have begun with, but these aren't characters who are renowned for their ability to review circumstances and change their foolish, antisocial behaviors accordingly.
Or are they? Maybe I should be glad that for once it's not an old tiresome gag being rehashed. That one's relationship with another has improved. Maybe things really are changing, and for the better. Why, just last week I went to a McDonald's with a relatively nice bathroom.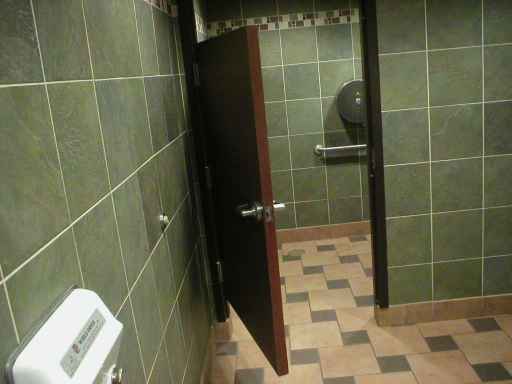 They even varied the fake marble texture on alternating tiles. Things might just be looking up.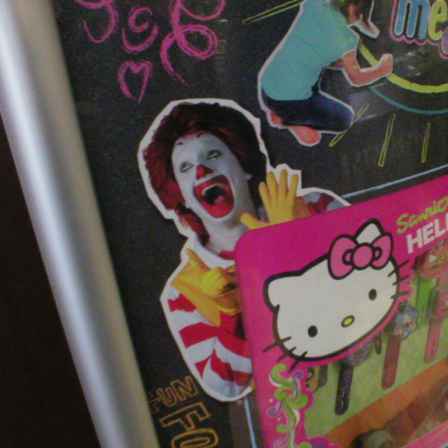 Still, for the time being I prefer to remain as far below them as possible.