May 9, 2009
I wish I could say that when I'm too busy to post something for a few days, rather than just slacking off, that it is a good thing, but it never is.
/\/\/\/\/\/\/\/\/\/\/\/\/\/\/\/\/\/\/\/\/\/\/\/\/\/\/\/\/\/\/\/\/\/\/\/\/\/\/\/\/
I forgot I could do this, too.
=-=-=-=-=-=-=-=-=-=-=-=-=-=-=-=-=-=-=-=-=-=-=-=-=-=-=-=-

Apparently sensing both my lack of direction in the world and my lack of wistful longing for the past, The Church of Latter Datter Jesus now brings me the nostalgia bible. Yes, it's true!The Bible is coming out of the Jesus vault! All it's missing is a doctored down grey bible to pose this one next to on a split-screen.


I remember that everything about my Cathorific religious instruction, supposedly derived from The Bible and the various sectual exceptions and alterations made over the centuries, made me feel scared. I never felt loved by Jesus so much as threatened by eternal suffering if I complained about the giant creepy statue of his hanging dead body stuck to the wall. Or merely did not memorize some weird poem or sit and stand in a weird room for an hour every weekend. And this was before I was aware of the parts about Angry God destroying people before they otherwise would have died (and then suffered) just because he felt like it. The modern, commercial approach to spreadin' the word that the late saints take seems opposed to just about everything left that might be labeled as "pure" about western religion. Sure, I think it's all silly made up stuff (I must be the first person on the internet who does!), but I don't understand how anyone else could not start to think that when they see paid ads for it on television or above their email. This summer: Caffeine is The Devil. Media.fastclick.net is a-o-k, however.
I would like to make an attempt at reading a bible at some point, but not because people I don't know, oblivious to how crazy they come across told me to.

Truth restored! Digitally re-lorded! We took out some of the lies that may or may not have been a fundamental basis of our faith!
"Oh, but that's just the Mormons. We don't like the Mormons. They paid the marriage company in California to ban gays and they don't drink coffee." Yet were they to collectively decide "okay, God changed His mind. Gays can play too," would there be any sensible reason to just accept that from them? Saying that what they've been doing since whenever hasn't actually been the path to salvation until right just now? I hate the way faith-folk resist change, but their ability to disregard change entirely when it happened before they were brought in is ever impressive. But really this isn't about religion or Mormon religions and I just hate stupid ads.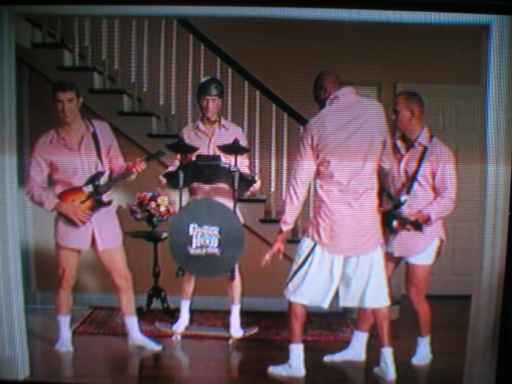 Stupid ads, I said. This is a
horrible
ad. It's an empty trashy garbage homage to other trashy homages to some scene in some movie that most of its product's target demographic has never seen and only knows at all from rubbish reverent near-religious homages to just that specific scene. That movie was called Risky Business and it came out in 1983, the same year I came out, of a womb. You might as well make an ad that references my umbilical cord. They can say "oh it's
parody
" but if they do I'll know they're lying because nobody who needs to explicitly label their work as parody has done it properly. And who's that guy in the front? Does he really expect me to believe he wears such big underpants? No, he just thinks if he doesn't have the upper halves of his legs totally covered on tv he'll magically turn gay which is a fate worse than this, apparently. He's seen enough Snickers ads in the same timeslot to know that. You don't get to be the best selling chocolate bar of all the times by letting customers turn gay, after all
1
.
I remember there were something near eighty ads exactly like this last year, suddenly, for no reason, all ostensibly for that guitar game (even though I assumed most of them were the exact same ad, and so why have bothered with so many?). I can confirm this because some
wikipediphile
has listed all of them on the page for
Risky Business
as if they were isolated occurrences or particularly relevant to the film. Of note (whaddaya mean? If it wasn't
notable
it couldn't be in there, right?) are that it mentions the cartoon Doug (Aka My Name is Earl the animated series
2
) and the film Mrs. Doubtfire, two things of which I came to not be fond through direct experience without even knowing they had done Risky Business ripoffs. I could block those bits with my mind and still have enough ennui-disgust smores left over to do the deed.
And then midway through itself page section mentions an ad with Metallica that I saw but doubted in which instead of doing the thing they kidnap other people who looked like they were going to do it, because that foyer film set is a theme park attraction or something, and then Metallica Guy says, in the ad, that they won't do the ad and then the house explodes, just on it's own, I guess, as the Metallicites walk away from it. Oh, go die, Metallica. You were still in the ad and accepted Activision's dirty money. You're just about as bad-ass as those letters kids used to send to EGM magazine with Sonic the Hedgehog beating up Mario drawn on the envelope. You're so pouty, you wouldn't let your songs be in the game unless you got a special version with no one else's songs in it sold at the price of a new game. But Aerosmith, the world's third worst old band after KC and the Sunshine That and Kiss outpouted you and did it first. That is the interpretation this presentation has led me to and I feel you are not owed a thorough investigation, even though this vague disclaimer seems to indicate that I gave you one anyway.
I can appreciate how Metallica, among other overstated modern bands that just come at me constantly, used its fame to demand that it be allowed to make really long songs, not adhering to arbitrary standards regarding length and repetition. Yes. Maybe. But I still don't want to listen to them for hours, continuously, much less while holding a toy guitar and staring at rainbow dots. I would have those dots coming at me in my sleep if I did that, which would interfere with my normal schedule of dreaming about people not liking stuff I said on the internet.
1 I realize that makes no sense but I laughed when I typed it so it stays.
2 That makes perfect sense.