June 9, 2009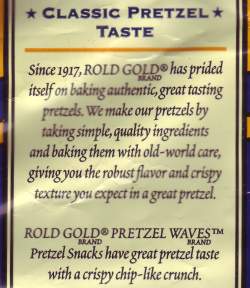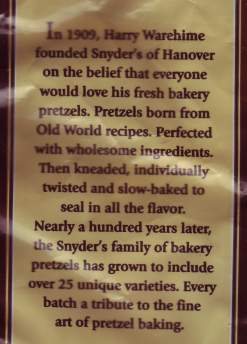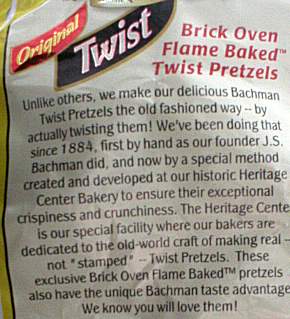 Pretzel companies love to brag about their great traditions on the back of their packages; often citing the dedication with which their founder hand twisted them and such. That would be relevant if you were trying to sell me a bag of hand-twisted, slow baked, 1900s style pretzels. What I have is a sack of tiny, cold, factory-mold prefabricated thingies flavored only by salt, designed to be eaten fifty at a time. The only tradition in the game here is my own tradition of gluttony. Even when I do see a big pretzel, it is still most likely a thing from a machine that has not earned the right to be shaped like an ampersand. I would settle for a circle if that meant you'd charge me less than five dollars for it.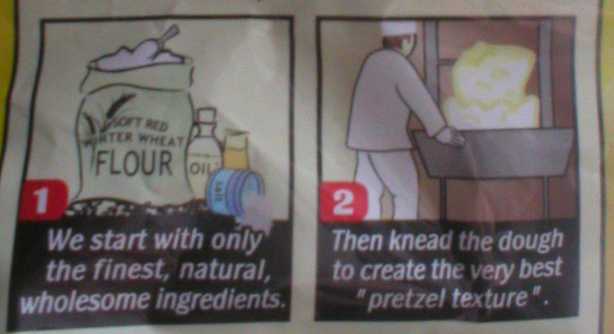 What's more wholesome than a big jar of salt? How about one that had been spilled and gathered up prior to usage? I would not trust desert-dwelling men
without
hats to handle these ingredients. Only to dance safely, and only if they want to.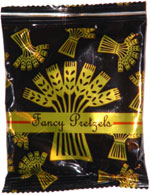 Pretzels just think they're better than every other snack, even though about a third of the way through the bag I always want to die. With popcorn, chex mix, p'tater chips, chocolate bars, and all the rest, I never want to die until after I've already eaten it all. Which means pretzels last longer, and I get sick more times on a single purchase. Very efficient. Something to keep in mind in a slow economy. So I suppose they
are
better. But they don't need to get attitude about it.
Coca Cola is even older than a lot of pretzel brands and there's no proud boasting printed on containers of that. Because it's just dumb soda (and because it was originally sold as medicinal wine made with cocaine by a morphine addict with no business sense who suffered from Henniganism).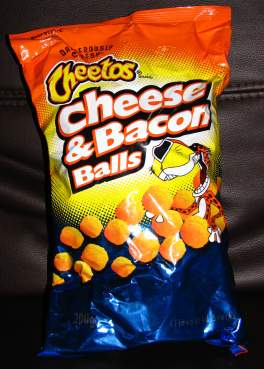 You don't pick up a bag of cheetos (I hope) and see on the back something like
The grand Cheetos® brand tradition dates back to 187X when our proud, humble founder Cheslinski Chitowski travelled from Bolshevik Mexico to the United States to fulfill his dream of opening his very own Cheeto stand in Michigan, where he used the old world cheeto method of hand mixing yellow 06 and monoglopxide mccarbonuke to make the original orange dust which he lovingly hand sprinkled over every individual hand misshapen cheeto skeleton. He declared his creation Chitowski's Astonishing Curd Flavored Corn Wellness Supplement and sold them out of his humble horse drawn van. This dedication to craft, quality, and orange led Chitowski to coin the term "cheetostitude," the feeling of joy and gradual loss of fine motor skills one gets eating properly prepared cheetos. By the 1930s cheetostitude had become nothing less than a national identity and is credited with ending the great depression, abolishing silent film and bringing Superman from Krypton. An outsider in his time, Chitowski never lived to profit from his work, and went to his death believing it was not easy being cheesy. And yet his message of peace, hard work and safe, reserved quantities of cheesiness lives on to this day in the Dangerously Cheesy™ modern Cheetos® brand Cheese and Bacon Balls snacks product.
Nobody would take it seriously. THIS is what is printed on the back of a bag of cheetos: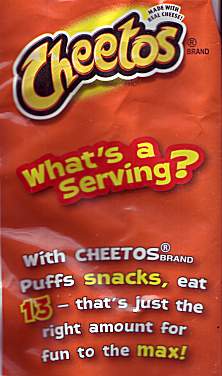 and I forgot what my point was. If there's anything that's dangerously cheesy it's the people writing the labels.