January 13, 2009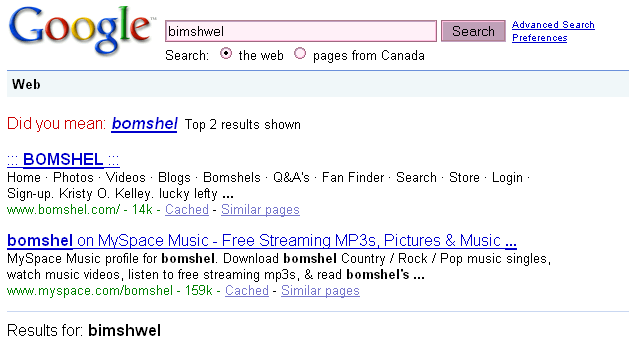 Google, that's just rude.

^^^^^^^^^^^^^^^^^^^^^^^^^^^^^^^^^^^^^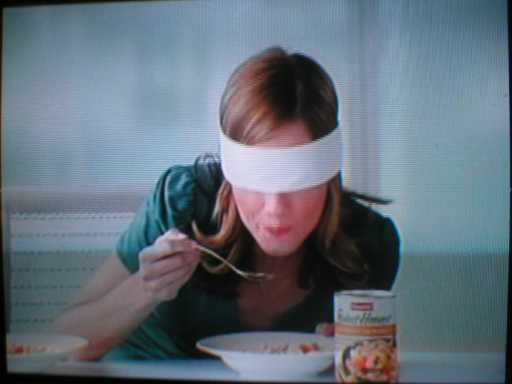 Are blind taste tests telling me I should close my eyes all day just to buy different brands of the same food? It doesn't seem like much of a trade off. But I would have to do that, because I am already biased, and I would know what I was buying. Just for the taste tests, might I suggest disposing of your empty cans rather than placing them beside the bowls? It's bad housekeeping first, and having the evidence gone might also help you cut back on your blind-fold budget.
Ehhh, soup is hard enough to
eat
drink
have when I can see it, with noodles and nondescript green vegetabloids flopping all over the place. Why torture this poor sightless souper further?
This is from a recent advertisement for the Campbell soup company, which has decided to make its marketing strategy accusing its biggest competitor, Progresso, of infusing its product with Alpha-Bits. When our blind broth biter slops the Campbelled soup she claims to taste chicken meat and nondescript green vegetabloids, and when her mouth molests Progressoup, she only tastes preservatives and MSG. Quite an astounding thing to be able to do, and I think with such keen senses this person may have a bright* future as a drug sniffing dog, but what is MSG? Another ad makes it more clear…
*or dark, if she insists on keeping her eyes covered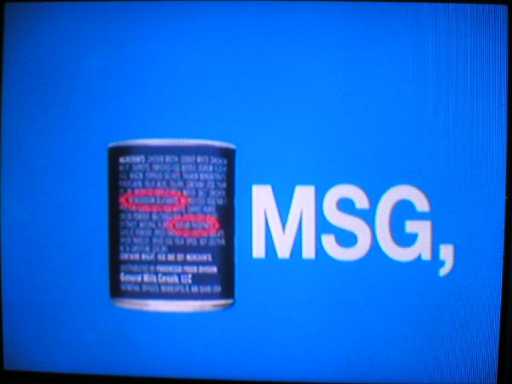 Typical half-literate consumer in need of guidance who speaks on our behalf, reading label:
Mano…soddium glutamit? Gosh, readin's s'hard!
Confident right woman:
UH THAT'S MSG!
Oh no! The most fearsome consonants in the land! I still don't know what MSG is despite your helpful clarification rendering it with less information than I had before, but utterly unverified folk-nonwisdom-hearsay has let me know it is bad in some way!
That's right! Some hypochondriac doctor went to a Chinese restaurant 40 years ago and wrote a letter to a medical journal and that proved MSG caused the holocaust, nine-eleven and Delgo!
The famous Robert Ho Man Kwok? As far as I can tell he never followed up on or was in any way pressed to prove his claim.
Because MSG killed him! And PROGRESSO is putting it in SOUP! And so are we I mean Campbell's but not this particular variety they are advertising at the moment.
Is there anyone who can save us?
BRAAAND POWER! The world's most trusted name in ads disguised as consumer advocacy reports that inexplicably only air during advertising blocks and are the same every time!
Hooray for brands and their power!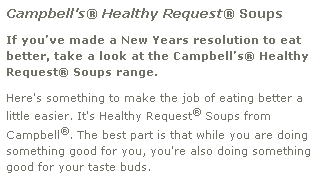 Oh, lombard street! This year I resolved to always wait until arbitrary declarations of number-change to attempt to stop my bad habits, so I guess I'll have to keep requesting infirmity until 2010.
Here's a hint to tell you a company hack might be behind something: if each and every trademark is acknowledged every single time. Is this the brand power website or the back of a box of Froot Loops?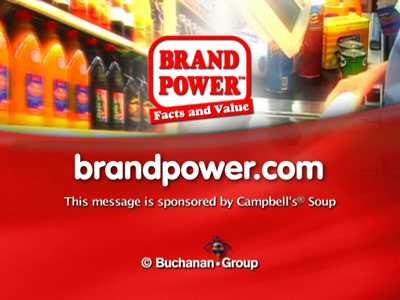 Phrases like "sponsored by [the company whose junk we're pushing]" are also generally worth looking into. Adding some vaguely named company ending in "group" or solutions" is merely zesty monosodium glutamate flavoring in the mix to guarantee its irresistability.

Though experts consistently agree I am no commercial artist, I am yet fascinated by the incredibly efficient buchanan group logo. That being a bee (B) with a head which is a G, the G's open space also functioning as pleasant highlight with a normal background and a violent hemorrhage in the actual very red ad.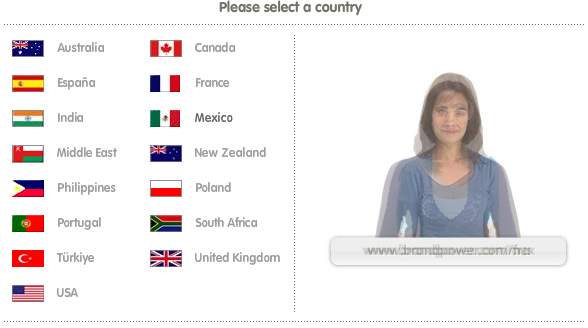 Notice how the woman at the front page morphs mightily depending on what place your cursor fondles the flag of. Make sure you choose the one you most closely resemble. If you are a man, why don't you go out and split logs or something. Don't you know shopping is woman's work? If you want, punish yours for using the internet unsupervised.
This is not simply showing you regional spoke-people, your agent under cover, behind enemy lines, under siege, a time to kill; none have names attached, they are just hobos pulled out of boxes, well explaining their passion for the first bowl of soup they get. If they were in any way identified you might be able to look them up and find out what they were actually qualified for. Also, as far as I can tell, in the actual ad clips they're all lost on the same supermarket set.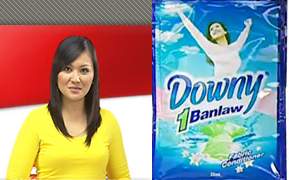 I do like the Philipine woman, for having something of a look of disgust in her avatar and also for evidently being the same person as the one on the package of the product she sells.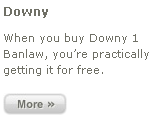 Although she's not really selling anything, I suppose, since you
practically
get it for free.
It is further worth observing that the artist in residence didn't finish whiting out the boxes of Tide in the background. Hey, it's a rigorous job.