December 24, 2020
it has nothing to do with christmas but it is what I have. Very likely you will have to click on it to go to a more legible version, so be sure to not do that.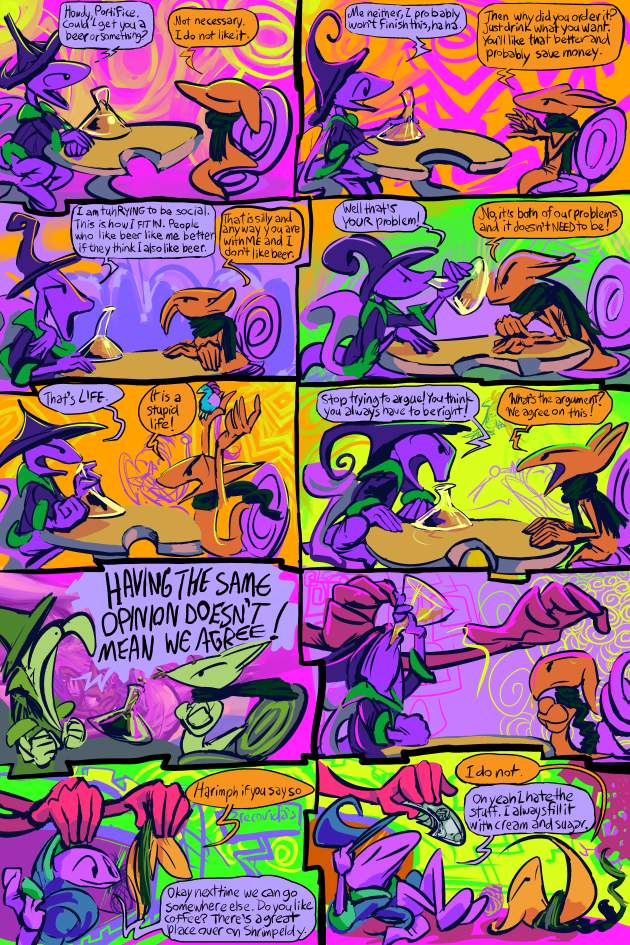 this attitude exists but the depicted situation is imaginary, since that is the only way anyone, even a dopey purple lizard, would invite that snake anywhere, and neither would likely be permitted in most dining establishments anyway, due to covid, naturally.


thanksh, instagram. You know what doesn't prompt a "link to a health source"? actively encouraging the purchase and pouring of designer poisons into your mouth.
Early on I considered having the lizard be lope (the annoying lizard from the longer and deceptively ongoing comic strip), but I imagined that thing would totally commit to pretending to like alcohol and not admit it didn't if it chose to do that. Also the pathetic snake exists is a somewhat more mundane world than lope does so that its experiences are slightly more relevant to reality. Lope would not have access to "beer" and would have to settle for something with a stupider made-up name like Glapzo.
it incorporates a composite of responses from
an anonymous comment thread
of people claiming to not be able to stand the taste of alcohol but drinking it anyway and not explaining why they would do that and seemingly not even realizing how little sense that makes, apart from one who claims to just be after a "buzz." I would post specific examples but I don't feel like entering image code and being reminded of other things to complain about for the rest of the day when this is already two days late! If you can drink it at ALL that means you CAN stand the taste, so your experience is different, unless you have willfully longterm suppressed your ability to taste it, which also means your experience is different since that is ridiculous to do unless you work in espionage or something like that and if you did you would have the discipline to resist leaking out bits of information related to it.
Some people live their whole lives like that, doing totally optional stuff they hate, acting like they don't have a choice, and forced laughing while explaining it. I can't stand that. Such as anyone who complains about having to watch idiotic commercialized "educational" television with their small children. YOU had the power to not expose your children to garbage. "oh i'm so out of shape since I haven't been able to get to The Gym ha ha." You can exercise anywhere! You don't need to pay a membership fee to go to some dreadful over air-conditioned gender role-enforcing dump and be seen in embarrassing poses and clothing.
And I don't want to hear about the long lines at disney world. Oh excuse me, at "Disney." There are other less-attended theme parks that cost substantially less without being reasonably priced so you can still go fashionably into debt to arrange a trip and are probably closer to your home and don't directly finance the acquisition and diluted overexposure of formerly tolerable media franchises! Ah oh or the advertisements on spotify. You can GET this music yourself and listen to it whenever you want in any order you want, and you can also listen to music that isn't in spotify at all. I bring ear phones with me when I go shopping to save myself from having to complain about the terrible music in stores. I have no tolerance for bad food and bad music. I couldn't pretend to like it if I wanted to, but I also couldn't ever want to.