March 7, 2021

You will possibly need to click at this in order to be able to read the words in the event you are interested in doing that.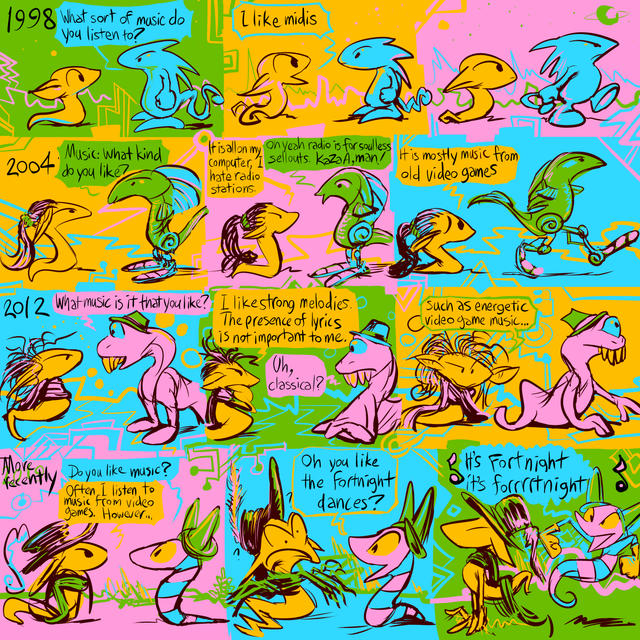 I have told of the encounter that inspired this a few times before I went and made it. One person claimed to know what a fort night dance was but was unable to explain it, and I was uninterested in personally investigating.
The intent of this comic strip was to express frustration in relating to other people, not that I just don't know what sort of music I like or how to find it; I have been hoarding it for decades now! Rather I think people who rely on youtube, spotify or ueck record stores to provide music for them suffer more than I do in this respect. I can hear what I want when I wish to and need not worry that I will abruptly lose access to it if stuff gets deleted, my connection goes or what have you.
obviously if I still have to type out an explanation then the comic strip has failed in some way but it still provides a foundation for an explanation that people will attempt to grasp, whereas when it is ALL text it is more likely to be completely ignored, or perhaps worse, skimmed.
I seem to have multiple versions of this image sequence; one says "energetic" and another says "Japanese" and I no longer remember which was an edit to try and be more clear. "Video game music" on its own means essentially nothing at this point, as you can put sappy acoustic guitar drear or imbeciles yelling over static into a video game and legally it qualifies as "game music" and somebody will mentally contrive a way to think I am referring to that if I say I like video game music, as if I am that arbitrary and simple. Because, in fact, I often am; there are foods that I know contain certain ingredients that I don't want to think about, but I can eat those foods so long as the ingredients are not brought to my attention within close chronological proximity of my eating the food. And I just spent over an hour removing tags from "new" bedding material (it formerly belonged to someone else), including the inside of pillow cases where they were never at risk of coming in contact with my skin, because otherwise I will have dreams about the tags somehow getting me if I succeed in sleeping no matter how far away and rolled up into the . But about music my arbitrariness only extends to not wanting to hear anything from someone that I feel personally secretly in competition with, but nobody knows that. Nobody can guess the stupid rules that control me! I should* make a comic strip about that!
*n't
Yes I think "Japanese" was the earlier version, because I didn't want someone saying something like "BUT WHAT ABOUT ROB HUBBARD?" But for every Rob Hubbard that made the best use of their technology and did interesting things with it there are seven Kingsley Thurbers who banged random notes on a keyboard, painted bad electric guitar sounds and default spc kit trumpets over them and did the base minimum a job required. Apart from that early western developed video games rarely had more than a few tracks, if they had more than one, while Konami, Namco, ah ahh ahhhh-Arsys, whoever, were diapercharging games with heaps of music as soon as the technology permitted, and sometimes they even credited the people who made the music!
Anyway even having just the one word in there breaks the flow and I should prioritize entertainment attempt value over information since as noted I inevitably end up explaining everything anyway. weh