February 12, 2008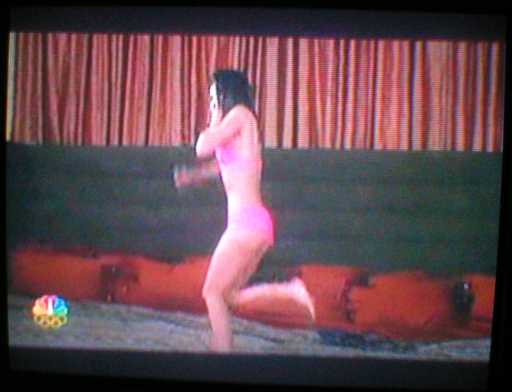 Over the years I have seen, plenty more than once, films or television program episodes advertised in which a character dances gleefully to trashy music / embarrassing self-recreation of trashy music while wearing only under-garment type clothing. I am personally of the belief that this does not happen. Or if it does, I doubt that this is with frequency approaching what is suggested to me that it is. I further believe that anyone who would do this would make sure itself was totally alone and lock any adjoining doors and cover any exposed windows. Regardless of whether the person is cornily and/or murderly interrupted, I think it looks stupid and I hate seeing it. Anybody who has personally witnessed or felt the impulse to do this… probably wouldn't tell me, especially given my negative attitude toward it, so I will continue thinking as I have. …I'm not going to tell you what, if anything, provokes my chemicals, but it's not underpant/"swimsuit" people and I'm sick of seeing them. I do not need more little triangles of taut rubbery fabrics in my life.
I don't think fat or skinny or otherwise regarded as "unattractive" by popular media outhouses men dressed the same are instantly hilarious, either. Even if they are additionally wearing socks and sunglasses and singing that "bob bob baran" song.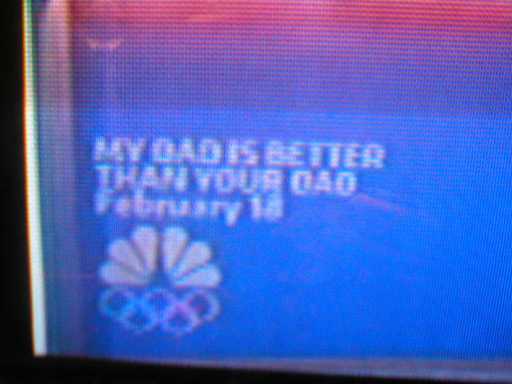 Oh, and allegedly your dad is better than mine. I thought The Strike was ending. ? I'm still not watching the dumb olympics. I didn't know they were on, but that's the only logical reason for those stupid rings to be beneath the national broadcasting company logo at all times. Unless you would have me believe the ill-defined peacock is riding an ill-defined bicycle sideways.
I don't understand pornography. I know that usually men like looking at pictures of naked women and occasionally women like looking at pictures of naked men. Fine. Ehhh…. but I don't understand how they also like looking at men and women doing stuff together. Wouldn't the sight of one of their own kind put them off the mental state they're trying to create? Must research more (don't wanna!). But perhaps you've guessed that though never wanting to I've encountered these pictures on the internet. You might wonder what I was looking for but I hope you don't.
I also do not understand why anybody would want to see viscous white fluids doing whatever. I, prior to this undesired exposure, had I any concept of what was coming, would have assumed that part of a process to be an unfortunate side effect of the act that people just dealt with because they had to. Yet there it is, in that picture, which somebody drew, which somebody painted, as if somebody wanted to see it. Ew. We needn't discuss how hair complicates things.
Yes, so, not just photographs, people draw this rabbage. Some people appear to draw nothing else. They can say "look (no!), this is a thing I do to amuse myself and my weird friends. This is not my job. I work on a boat." Well I'm not criticizing them for that today. I'm just wondering how anyone likes it. Unnnnnnyihhhheah.
Sure, I've drawn them, naked people things, but never because I wanted to. I was there in the room to draw life, and at that particular point in time it just happened to be a part of life. I'm glad the models were clean and apparently dry. I wasn't glad then because the alternative wasn't making itself relevant and I wasn't thinking about it.
There's nothing worse than a self-righteous pervert. I'm not saying my "thing" is half-open soup cans, but if it was, I wouldn't cover this page with them and act like I think everyone thinks it's great and I'm doing them a favor. Though I probably would be, because it's not like we can type a synonym for erotic imagery into google or the yahew and have that come up. We have to work for it. We should unite, pool our resources and findings, but to do that we'd need to "out" ourselves, and oh! the shame we feel.
I don't get mass e-mail telling me where to get my hot can pix in exchange for simply running password stealing malware. Life is hard. Sometimes it seems like life is the only thing that's hard. It's not as hard as it was back when "can" was a popular synonym for human posteriors, however. I almost became a monk. Alas, I could not master spinning on my head in time for our Tonight Show appearance and consequently was not issued a pair of sacred white sneaker shoes. I resigned in disgrace.
And tins never get the job done. You're probably wondering why I don't like the Shop Rite Can-Can sale (featuring beets and pork & beans!). I just think it's tasteless, that's all. What I do with my cans is my own business and I don't like to see a spectacle made of it. I'm no ho.
Hey, have you seen those new cans the kids are buying where you just pull the tab, and don't need a can-opener or anything? What about foreplay? If I wanted to do it like that I'd just buy Spam, where the whole lid comes off at once. Yes, the reason I don't buy Spam Luncheon Meat is out at last. That's the real reason I stopped making jokes about it every single day of my life. We just didn't have fun anymore. The magic was gone.