February 20, 2008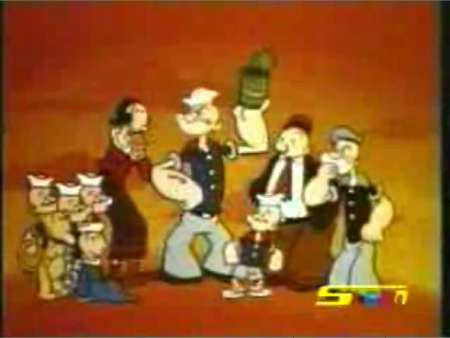 This is one of the final frames from the astounding Arabic opening to the rarely remembered 1978 pop pop pop pop Pop-eye cartoon. Unfortunately, I can no longer find the video online, and at the time when I could I had not yet gotten into the habit of saving such things for later viewing. What's important right just now is this picture and the important question it raises. Do we really need six Popeyes? It is not as if there are six Blutos! Certainly never at the same time, the Brutus factor notwithstanding (I think I used that word right). And yet somehow that is the amount of popeyes present.
Though a wise man once said "Once you pop, you can't stop," therefore explaining how, we have yet to determine why there must be so many Popeyes. Two-thirds of the characters on this program are Popeye! That is not good. There's regular Popeye, old Popeye, an astounding four miniature Popeyes, who will, unless we act, one day be fully grown Popeyes, and… while Sweepy (akadaka "Swee' Pea") is not biologically related to Popeye, he has spent nearly his entire life under the influence of regular Popeye, and has been known to emulate that Popeye's habits and behaviors. So really, there are six and a half Popeyes. This is more than my mind can comprehend.
Additionally, I will assume, by the distance, that the three popeyes on the left are nephews and that the one small popeye in the middle is a direct descendant, delivered by stork (or more likely pelican) to normal Popeye. However, any Popeye scholar knows, just to show he's better than Donald Duck, that regular Popeye has four nephews, one of which is merely estranged. Somewhere in the world is a seventh Popeye, bitter and resentful, looking for revenge. I'm scared.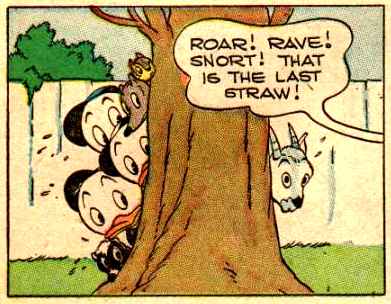 Now I am even more scared. We can only hope before causing too much damage they meet and settle their differences. We haven't even discussed the fact that in order to have nephews Popeye must surely have other Popeye relatives not acknowledged here. I don't think I could handle it, quite honestly.