April 14, 2008
Now that the Enzite ads have ceased (I guess when I wrote that their en was in zyte), replacement ads must immediately appear, and comparisons with the old 2:30pm Colbert Report re-run commercial break shall be inevitable. Will the new hold up? Will it bring honor to the Enzute legacy?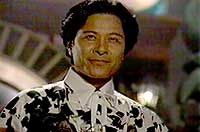 What inspiration will today's challenger bring? And, how
will
the Iron Chef fight back? The
heat
will be
on!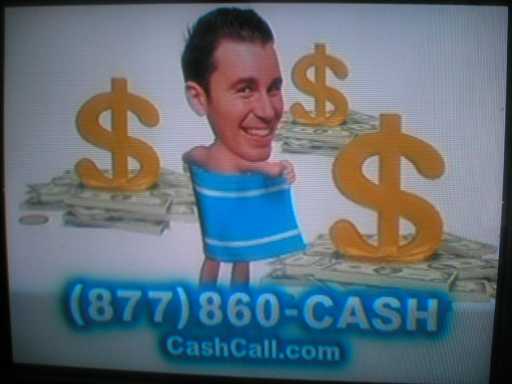 I'm going to win.
No! Not ugly and creepy and fake-whistly enough! I don't want no second-rate insincere grinning scamming megagoon!
I am not attempting something resembling hyperbole with "scamming," this truly is quite worse aside from not making me think of peenuthes, but now that I've thought of how I haven't thought of that, I have thought of it, so cashcall is still bad for that. And… that guy's naked, after all. At least gobgammed Bob kept his clothes on.
But ehhh!
Enzait would probably only repeatedly charge you for the useless pills it would give you and not take back in a month, but for $2525, the apparent minimum which can be borrowed from Cashcall, it demands 42 monthly payments of $216.55! Over nine thousand dollars! The annual percentage rate is 99.25, so by the end of the first year you've pretty much paid what you've borrowed, but then you have to keep paying for 2.5 more years! Or something. And you don't even get any fake pills! It's so bad, Gary Coleman himself apparently had to back out of the deal before I found out! And he'll sell anything! It would seem.
Residents of states beside California which have not specifically forbidden the likes of Cashcall (Iowa, Massachusetts, Nevada, New York, New Jersey and West Virginia) can borrow as little as $1500, but have to pay a $500 loan fee rather than the usual and still kind of ridiculous $75. And if you need $1500 with such urgency you'd take it at 141.42% interest or whatever for one year you probably can't realistically afford to be paying $500 fees. The thing I read which attempted to explain "APR" to me mostly used figures between 9 and 10 percent so I must assume this is absurd.
Cashcall must be pretty bad for the casino crooks to bite their thumbs at it. Or perhaps they simply can't stand the fool-from-money-parting competition. Whatever the case for the Nevada exemption, that likely won't stop Cashcall from being advertised there, if Iowa and Canada have taught us anything. We could learn a lot from Canada.
Who's watching basic cable television in the afternoon on a week-day but desperate and unemployed / confused and elderly people, right? They're lost to the world, anyway. You might as well grab whatever they have left and rescue them from their emotionally exhausting cycles of optimism and grim realizations, and send them straight into comfortable routines of grimness. If you put this ad on at night you'd potentially risk someone not blinded by despair seeing it. You'd also have to pay more money and CashCall is more into the getting money side of things. Aye yi yi. When did I start saying "aye yi yi?" Am I going to start saying "aye caramba," too? Can cowabunga be far behind?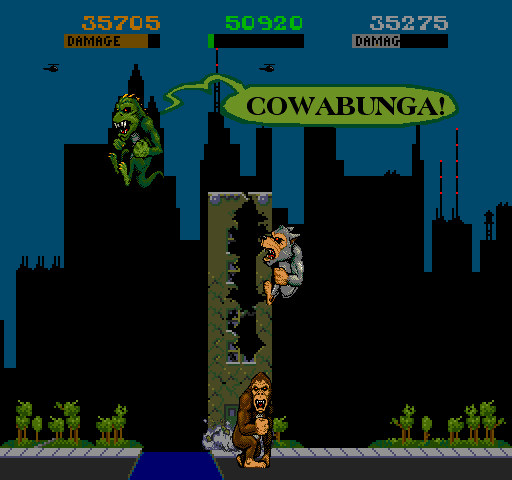 This isn't clever in the remotest sense, but it is still the most coherent digital communication I have executed in a month.
Alas, in looking over a cashcall recruiting ad which was in search of new employees, presumably to replace whoever was the most recent to quit from fear of constant angry post-cashcall calls, I was redirected to and therefore went to careerbuilder.com, which I said four and a harf years ago I'd never do. I just thought you should know that if I make an unaccredited vow of minimal significance I might momentarily breach it unintentionally a long time after that. For my penance I have to look at the page I said that on and attempt to read standard weight text against an animated background.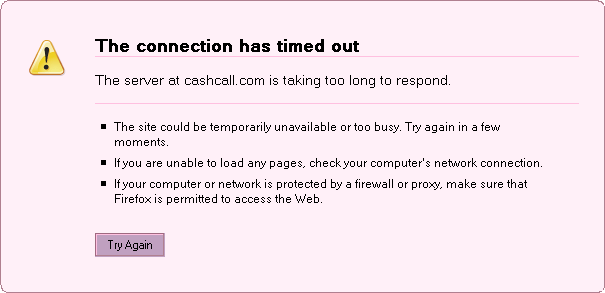 Cashcall.com is like the only website I know of that doesn't work unless you type the www first. I'm sure that must mean something. I just don't know what. And they like it that way.
"CashCall Watch" defends the Cash Call in a limited capacity by saying how much worse some things called paydoy loans are with interest and disclosure and such. Those I only know about from my junk e-mail and robot comments. Definitely a titanium support beam of responsibility and stability to prop your argument against. It's a bit like defending cancer by comparing it to AIDS, isn't it? Or maybe like defending White Chicks by comparing it to The Hot Chick.*
I don't know how to help people who lose their jobs, or still have their jobs but just can't afford things because everything costs more because the people selling them are selling less and charging more, because unlike their customers they lack the self discipline to not buy seventy gold toilets, cowards. I forgot what my point was.
Look at this, I just came here to show you a dumb picture and somehow that turned into another huge whiny complaint about something I don't understand and can't fix. I imagine you can imagine how this affects personal interactions. It is at least better to complain about something you don't understand than to accept money from it, theh.
*according to the Wikipedia, Rob Schneider "was the first Asian-American to be a cast member" on some Saturday evening television programme, because his grandmother was from Phillipines-land, and I suspect he added that and related distinctions to the article himself. If he has a problem with me having a problem with that he is welcome to take out a defensive blubbering full page rebuttal ad in Variety which I'll never see.