July 6, 2008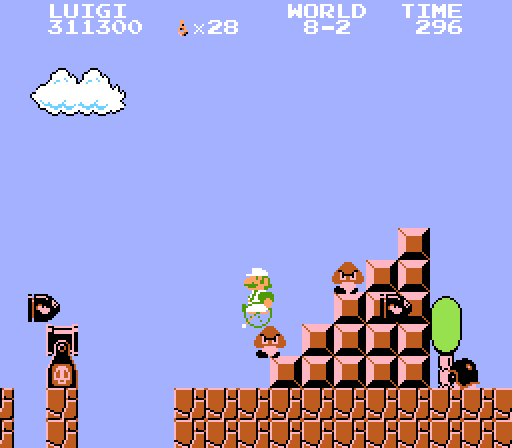 On the subject of Super Mario Brothers and invalids, in that thing which I wrote yesterday and not two years ago, I thought I would treat you to my favorite retarded rom-hack of that game, Super Wheelchair Mario. Not even brothers, just [Super] Wheelchair Mario. That Luigi is also available is an added bonus. Unlike the version I've had for years, which would only run in Nestical, because that's the best, classiest emulator of all the times, I copied the changed graphics into a closer-to-functioning rom and passed the amazing on to you. It seems appropriate that a game about a guy in a wheelchair needs special assistance to be more accessible. I would commit a disservice to show numerous pictures of it with my special witty commentary when the game itself can be downloaded, played, and forgotten about in fifty-seven seconds.
Like so. Of course it's zipped; Do you think I am made of kilobytes?!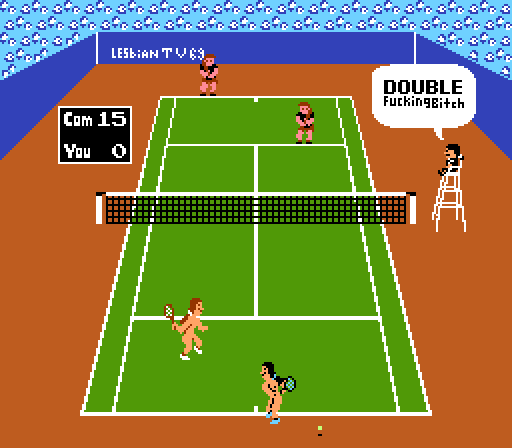 Another of my favorites, though I don't find it nearly as profound, is "Lesbian Tennis," in which the women tennis players have their clothing drawn off, with large black pixel rectangles about their nipply and crotchal regions. See, you know they're lesbians because they're naked! It reminds me of a story Weekly World News printed maybe about 1997 (I actually have a stack of the things, never having thrown one out, but I fear to look through them (and not just because they themselves are beneath a stack of turn-of-the-century MAD magazines)) about a gay cow-boy. How can you tell he's gay? Because he rides a horse while just wearing underwear, and, to a lesser extent, from his mustache.
Regarding the famous Super Nakio, he HAS to be naked. It's part of his name. Naked is all he knows. He is impervious to clothing. Quite finkly, it would disgrace his family heritage were he to not be naked.
As an unfortunate post-script to this thing I wrote today and not one year and 364 days ago and did not forget about, I decided that you really needed a picture of Super Nakio in action, and I could not find it among the huge archive of asinine mario hacks I downloaded [fairly recently]. I then looked-over a presumably more recently updated rom site, and giggle-searched for the phrase "super nakio" or just "nakio" itself, perhaps hoping to find it mentioned in someone's online resume. Ehhh, no dicks dice.* The only result I could find for it was this page in which somebody complains about someone searching for super nakio. I am always glad to help. But it is my sad conclusion that Super Nakio does not, in fact, exist. Not that there is a shortage of hacks in which Mario is naked, just none called "Nakio." Alas.
First brought to my attention eight years ago on this page, it seemed to me perfectly reasonable to assume Nakio was real, and all this time I never for a moment considered the possibility that maybe, just maybe, he was not to be. There may be Super Naked Badminton, Naked Little Mermaid and Super Nazi Penis Cartel Freedom Fighters 3 (and there are), but no nakio. It is but a legend, a story of hope passed down from a harsher yet somehow more optimistic time. Nakio lives in our hearts, at least. Now I am upset and desire ice cream. *I also am ashamed and desire eggrolls.
***************************
It was never my intention to have a Nakio eulogy at the top of my page for longer than a few hours, much less two days. But sometimes that's just the way things are.