December 17, 2008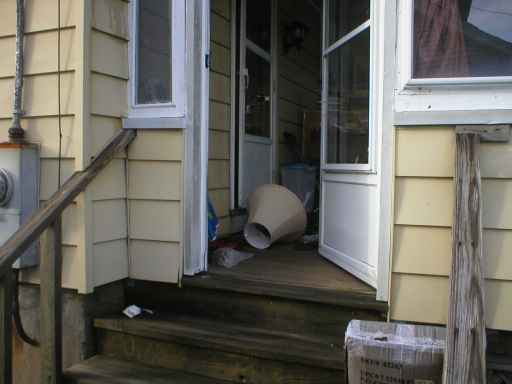 The best defense against potential burglars is to reside in a house that looks like it's already been
ransacked.
This naturally works best in regions where it would not be suspicious for a burglar to not steal a lampshade.
-=-=-=-=-=-=-=-=-=-=-=-=-=-=-=-=-=-=-=-=-=-=-

Several people have recently found it prudent to harangue me for not inserting something resembling my name into these silly pictures. So now everyone must suffer.
Not necessarily this one was suggested.
Curious Skeme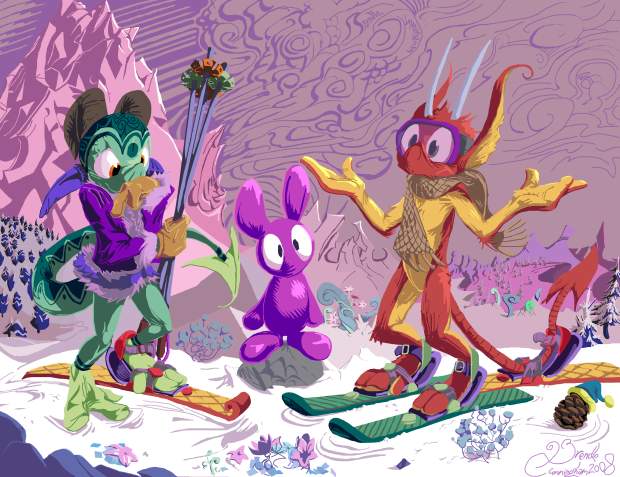 As to why I neglected to give them hats or earmuffs, I don't now remember but it probably wasn't a good reason as the absense of those is the primary aspect of this picture that I like less than the other one similar to it.
It seems to me unfair that all the interesting mountains exist in places without snow. I'm sure from a meteorological perspective it makes perfect sense but as long as this is all made up I may disregard that if I wish.
This will hopefully be the last large picture to so prominently feature the red or green creatures for quite some time. I fear they are seen too much. For one ehhh, becoming obsessed with completing this, which approximately nobody requested me to make, has kept me from other tasks, one of which might well have been producing something elpse to float at the top of this website.
I require reasons for delay compiled in list form.
1 I don't know how to draw skis
2 nobody knows how to draw skis that would work on stupid animals like this
3 if they did it would probably come in the form of a boot and the "joke" doesn't work that way but I didn't realize it went exclusively toward boots until I had already drawn it and my best hope then was to hope nobody else knew that
4 this is not how I usually color things
5 I obsess over minor nuisances anyway
6 and then I added additional problems before and after the list which I did not assign numerals to.
It is hard work to get something to look this cheap. What are the benefits to having a pixel based image of this size look like a tacky scummy vector construction? You, I am asking you this, as my research has not found there to be any.
I declare that it was all too much trouble for something that looks like powerpoint clipart that you couldn't logically incorporate into a powerpoint document. And then I get through all that and realize that the original non-power "point," that of ski decadence is much harder to discern than it was initially, due to the weird colors and all the junk I added. The focus is elsewhere, so the foreground figures become weird obstructions rather than the subjects. Ehhhhhhhhhhhhhhhhhhhhhtoo late fix.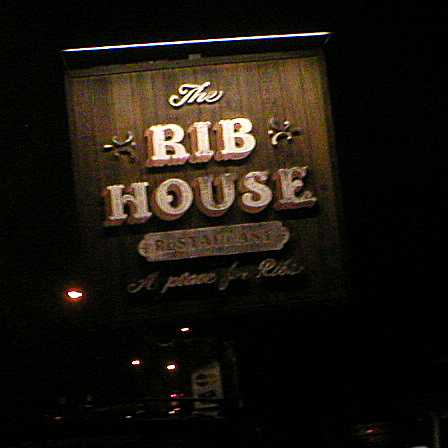 Still to come: Somehow I have semi-agreed to make three sport themed pictures to be issued as tertiary semi-prizes for a raffle being raffed on December 23 at some place I hate going to. Because if there are any things I am known for, they are my ability to work fast for free and my love of all things sportly at places that I hate. Hopefully this will spare me at least one "what're you doin in there? Are you gay?" by a drunk grabbing the restroom stall door the next time I fail to operate the apparently only toilet on the premises within a satisfactory time frame. Although scientists have proven that's the only cure for urine retention brought on by fear and discomfort and/or gayness, I do understand that sometimes I have to compromise.