February 5, 2014
page 59 of this. Look at it, if you like, before you read what is beneath here, if you dare.
Excessive "hatch" detail is secret code for "I do not feel like drawing a background here"
If I had known how many pages were going to have these gnomes on them I probably would have made them lizard or camel people or given them a meeting place that was more interesting and easier to draw.
And now I have enough gnomes for half to split off and form a rival gnome gang. It seems a bit more like an army than a gang with that many members, although they are at a birthday party.
the rightmost characters in the last frame I added very late, since there was too much space free (and then after I tried to add them there was not enough space!) and I did not know where the drink had come from. It struck me that the one with sunglasses would be much more appropriate to have objecting the comment about bad attitudes.
The last row is not necessary, and i like that it is evenly on one row, so it can easily be removed. However, I wanted this to fill one page, since I think that saves less trouble later, if scenes do not mix in such a way.
Herge did that a lot in his later Tintin stories that were not made on weekly deadlines, but they also were planned out in full before they were drawn and forced into a restrictive 62 page format that required them to be economical. Restrictive for him and his team, anyway (from my viewpoint, at least, but I never read any official statement about that); some Frencho-Belligerent comic folk went with a 47 page format and still had lots of space. My space is imaginary and unlimited and I still run out!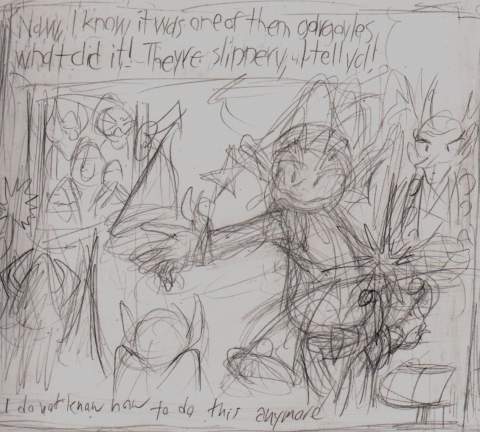 Indeed, such was the vexation caused by this page that I barely drew it on paper at all. I feel like I am forgetting how to do that. Very little was coming together like that, and I used no ink. I never really knew how to do that.
However, compared to the first "bar" scene from, somehow, a few years ago by now (also known as about an hour ago), the coloring is much better. I used such subdued tones before, and the pictures look covered in dust. If it was deliberate, I must have been trying to account for my instinctual garishness, but I did not quite succeed. The garishness will always escape, as the current state of the page link page reveals. I will only defeat it by learning its tricks and shame it with my superiority into compliance. As the defacto parent of the comic strip I will make it think its rebellious preferences are "uncool" by pretending I share them. One message I should have taken from video games is that "sealing" an evil is never sufficient and it always come back. I am ineligible for real procreation so I cannot rely on descendants to finish paying off my evil-slaying debts.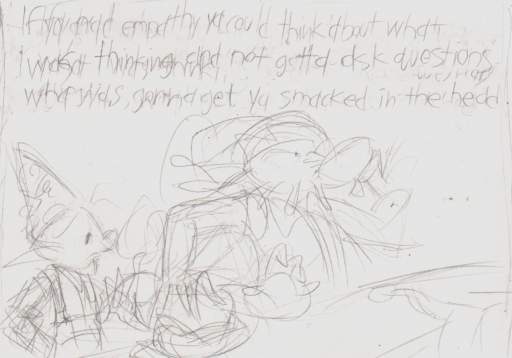 This makes me think that I should drop the pretense of black outlines for part "3" and produce new pages as I have been producing the redrawn old pages, by forming objects out of colors, which is closer to the "normal" process I use for making imagery. Actual ink looks very good, but if I no longer use it then ultimately nothing is gained from pretending to, once consistency with preceding material is not a factor. I was not pretending at first, but on this page I most certainly was.
Outlines are good if you hire someone else to color or you make outlines very fast, or very well, but I make them slowly, badly, and probably spend about as much time coloring regardless of their presence. My outlines are generally incomplete when I start coloring, and continue to change as my perception of the page changes through its stages. I certainly do not make enough money from all of this to hire others to form my half-brained mush into something solid, but I can probably make more presentable mush.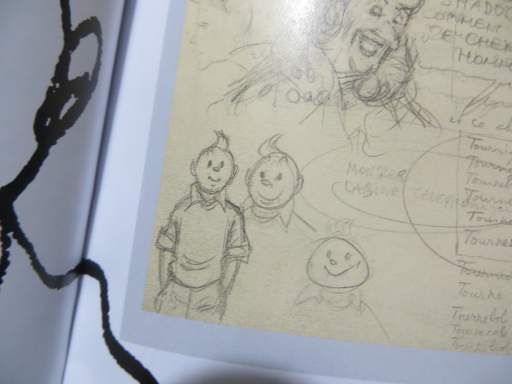 In any event the next page should have more smiling blob people that my skills are better adapted to on it.