March 11, 2011
Hello there. Busy busy busy.
============================
Don't read this, but…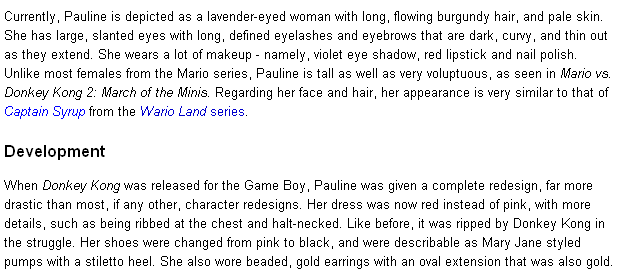 Is there something wrong with me for thinking the Super Mario Wiki's description of
Pauline,
from Donkey Kong, 's physical appearance is really creepy? The one for Princess Toadstool is similarly alarming, but there's so much more silly rubbish on that page prior to that point you'd be unlikely to come across it unless you were looking for it, for comparison purposes. I can't even get past the "contents" section. In my case, I had merely taken to wondering what Nintendo had done with D Kong's preferred kidnap victim since the first game, since I know Nintendo loves to reuse old characters

(except for them), and before I knew what I was reading I had found
that.
With the princess, her being one of the primary Mario series characters, and this being the internet, it is not surprising that over the years someone with spare wiki-writing time would have developed a weird obsession (in contrast, I failed even to notice that her hair color changed between games). I didn't think anyone could possibly care about Pauline. The writers are content to state that Mario himself is "a short, plump man." If I was the sort who got into the businesses of others who have business, I would take it upon myself to edit that page to say something like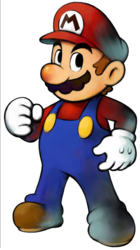 Mario is a rotund Italian American. He is approximately three feet tall but can grow to twice this by ingesting a magic mushroom. His mustache is composed of a brown arc with 6 humps along the convex side. He appears to be turning to stone. He often has four fingers on each hand but sometimes has five. The buttons on his overalls serve no apparent function.
I have a follow-up to this but it changes the subject entirely and I have a headache. Wondering what color nightshirt Mario's father wears isn't helping. Actually the more I think about it the more I think this information is presented in such a manner entirely as a joke. However, "the more I think about it" is further than that sentence should have gotten because I really should not be thinking about this.