July 22, 2015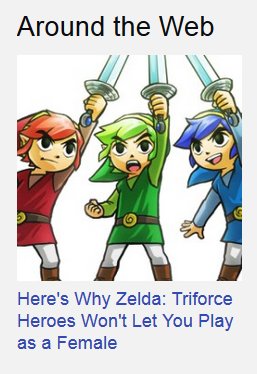 Without even reading
this story
(and I did) I see the real problem.
Maybe I am so far out of The Loop that I no longer realize there is a loop and am unprepared to defy gravity going around it, but why is it expected that a Zelda game should provide a female hero? Apart from
Wand of Gamelon,
one never has up to this point. Many series do provide them, but it is not a reasonable expectation that everybody now do that. This is not like restaurants having clean restrooms; it is a made up waste of time. A female chief executive or president might be revolutionary, and take steps that a man never would, but a video game character still obeys the whims of the developers, who are still mostly men.
We can make the industry more inviting for women developers, I suppose, but I do not believe we are entitled to play video games with protagonists that remind us of ourselves, and I do not believe that would even be an ideal turnout in many cases.
I suppose the difference is that this is supposedly a customizable character beyond just the red link, blue link and original recipe link in the picture, but considering the childlike figures and Diana Prince circa 1968 outfits, I would still say testosterone isn't what's winning the war here. if you had told me those were female links, I could not have challenged it. You can claim the Link in the first game is female, since the art is vaguer and nobody in the game indirectly refers to the hero. You could claim Megaman was female were it not for the second half of his name. Obviously if Capcom were to designate a female Megaman it would have long skinny legs, bambi facial features and hair flowing out of the helmet even though as a robot it is neither male nor female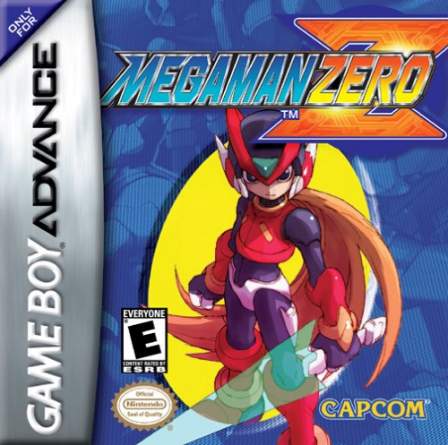 exactly.
And I would say that misses the point, if there is one, which there might not be. I think hyrule's hero could very easily be designated female, but it wasn't, and oh well.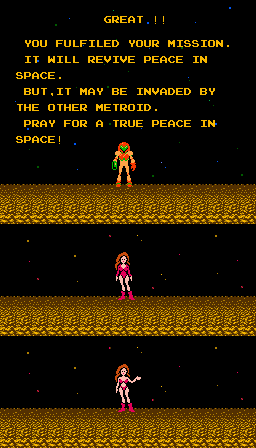 Nintendo's original female hero, Samus, was stripped of her armor and sent out into space dressed like an aerobics instructor/mermaid (depending on the in-game time taken) the second the "this is a woman" reveal was made, because we really cannot trust male game developers to develop a female hero that is not a tightly-bound sex object. I am not saying "give up on female heroes," just to treat the ones we have better and not take an affirmative action approach to producing new ones. I am sure our noble fan-artists can "fix" any that they find inadequately-insufficiently-covered afterward.
I have never heard anybody say "I like the Metroid series and do not like the Zelda series at all because I identify with female heroes better." Anyone who did would be an absurd person. That nobody knew Samus was female at first shows that on a fundamental level, this is irrelevant to the game portion of the game. But maybe "game as game" is going out of style.
This reminds me of the situation a year or more years ago around Game-I've-Never-Heard-of-That-People-Assume-I've-Heard-of-#739 where presumably prospective players were disgruntled that the game did not permit homogayxual relationships. It came at me in crumbumblr, which studies have shown nothing that I respond to positively will come at me in.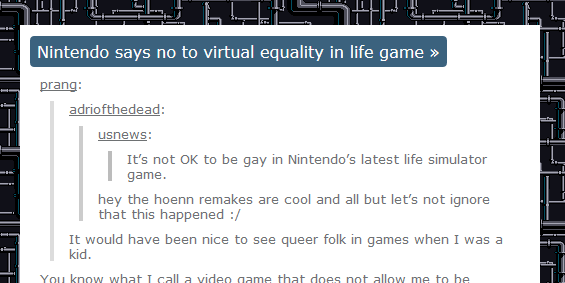 You know what I call a video game that does not allow me to be un-gendered and accurately reflect my idealized view of myself? I do not call it anything because that is just the way things go. My opinion on this may be ultimately irrelevant because it is a "life simulator" and my life seems like the least interesting and least necessary thing I could possibly simulate. Feeps I play video games because my life is futile and aimless. This one would only serve me to simulate someone else's life, and sure enough -most- of them are able to personally identify with some arbitrary lumps stuck to their bodies someplace and the rules society gives them based on those lumps, and if not they often realize they are instead attuned to the rules associated with the other lumpset. I have no lump rule.
Does the mii system even let you choose to be neither? I bet it doesn't. That would mean no personal representation in ANY game that used them. Although again I would probably never play any of those games, and if I did I would rather my figure look like someone else. Still hardly ideal, but it is my own problem.
I think gay people have a right to complain about lack of representation, and in many ways their fight is my fight, but I do not have a huge heap of sympathy on this one. I do in the sense that it seems like this would be a basic thing to change and to have it not changed is frustrating, but I can handle if it never is changed, and it probably will be anyway.
And if you got through that, it was probably the first time anybody read it. You get popular on tumblr either by being widely liked or widely hated. I am too angry to be liked but not angry enough on the right topics to be hated. I know of somebody who gets regularly abused for having an uncommon sexual preference, but he also responds passively to the abuse as he posts the evidence. You get support online by looking weak and exhibiting your weakness. The dominant culture thinks this is enough; criticizing a consciously weak person for not taking any step in the direction of self-defense is "victim-blaming" and worse than actual abuse.
Then a long interlude here about Shia LaBoeuf that got too complicated, but it ended with pudding. <!If you looked at the page Wednesday afternoon you ideally did not see it and cannot confirm that.>
I used to let scumbags push me around on [every] forum [I used between 2002 and 2007], enduring mobs of people I hated to follow one or two that I liked that wouldn't even tell their friends to cut it out, and I hate myself for it. "Oh you're gay because ha ha you're gay fag (smiley face.)" They would say this when I had usernames like "cupcake" and used a butterfly for my avatar, thinking "gay" is a good insult.
Now I stand up for myself and explain my points in detail, and "detail" is not a fun reaction for anyone to read, so they give up. My personal ambiguity leads to tiresome situations but is ultimately not interesting enough for anyone to try and victimize deliberately. Now this here seems like it wants to present me as a victim because it might seem like I imply someone else's situation is easier, but I am GLAD I don't respond passively to antagonism. I am glad people don't think I will let them tear off my clothes and dump pudding on me. That remark no longer makes sense now that I have removed the interlude I mentioned earlier.
And my existence needs some work but I am glad I don't need an imaginary human on a computer screen to be said to do sex a certain way to validate it. While you have a gay pride parade I will have an ambiguous repressed sexuality shame walk inside my house that I am afraid to leave in the daytime. My skin burns easily. However, I can go out, and when I do, I cover my vulnerable regions instead of cursing the sun.
Reflecting back on this matter a full summer month after the initial posting, I think that I would indeed curse the sun, but I would still protect myself first.
More to the point, I probably need to make real friends and be less aware of ones who play video games all day every day, or worse, just watch video of someone else playing poorly, and then chain-complain about aspects of them that really aren't important. A multiplayer Zelda game would necessarily have most of the depth cut out of it, and a "life-simulator" isn't a game at all so I welcome people to be dissatisfied with them for any reason they can get, and so give up playing them faster.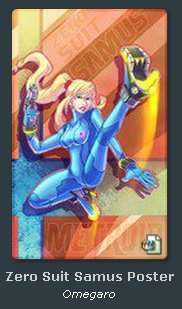 And then get back to drawing idiotic fanart for better games.

And a gay man drew that.