October 16, 2015
Oh faddle dee doo, another embedded video.

I suppose Super NES Seizure would have been a more catchy title. But if I knew a thing about catching on I wouldn't need to make stupid gimmicky videos like this. Consider:
It is full of video games
It exhibits no playing skill
It is rather long.
I have the capacity to keep clunking these out.
I would have to work hard to mess this up. Fortunately, nothing I do is easy.
But I bet this looks like it was easy to make! Especially since Macromedia Flash, what I usually make videos in, can automatically load images in sequence if they have numerically ordered file names like these pictures were generated with.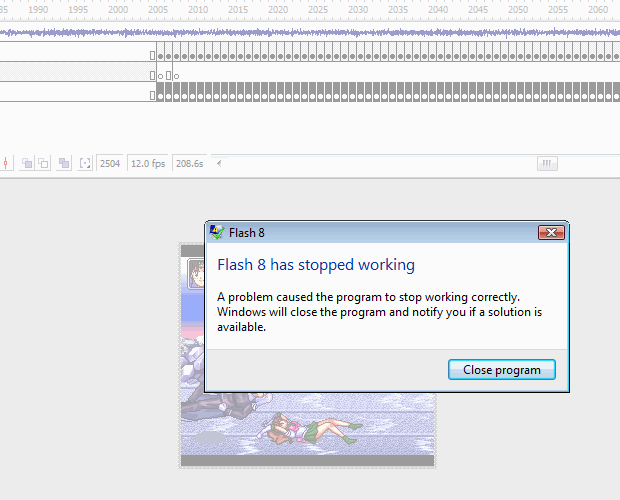 However, I was unprepared for how Flash would lock up and what seemingly innocuous occurrences would cause it. Even though locking up has historically been what Flash does in [any] situations. In this one, most errors relate to moving large amounts of frames after I remembered another folder full of older screen-captures that I forgot to add before the newer ones already in there. Any reasonable person would dump them at the end, and not even consider trying to re-arrange this many objects if the order did not matter, and certainly not persist after establishing that trying to do so is equivalent to throwing potatoes at a wasp nest. But consider my position! Have somebody see my 2008 screenshots and THEN ones from 2005? Why I would have to buy a new hat and get the next coach out of town. And the fun thing about Flash is that moving frames is slow, laborious agony even when the whole thing DOESN'T explode and force you to start over.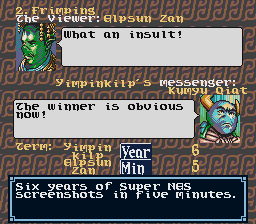 And consider the glorious introduction! It progressed a bit like this:
1 I want the concept explained in the video someplace because [reason]
2 The title should be animated to show that I have some flash ability beyond piecing still images together so that people will come to my page if, pog willing, somebody actually shares this video.
3 I should incorporate my own characters into the introduction also so that it is undeniable who made it if, weather permitting, somebody actually reposts this video without context, even though nobody actually knows what those characters are.
4 The introduction needs to be longer so that the text, that is in a weird font and will be funny only to four people who played one stupid game, is readable.
5 The video's music ends prematurely, and I can add some kind of ending noise to wrap it up.
6 The ending noise now goes beyond the original ending of the video, so I need to add some kind of closing, and it might as well call back to the intro.
7 Now there is 15 seconds of irrelevant nonsense that, if anything, will make people NOT share the video, even though I was primarily trying to account for that situation. Imagine you live each day in agony, terrified you are going to step on a concealed rake and comedically smack yourself in the head, so you buy a suit of plate armor, but the armor merchant uses the money to buy a piano to drop on you.
When that is all done, just getting a video onto youtube in a bearable format is a whole other matter. Every time I add an object, I feel like I have to relearn the process, and some different weird thing goes wrong that magically invalidates all my effort. As if viewers, and even the website itself can SENSE I am unworthy even if my content is something they would otherwise pretend to like.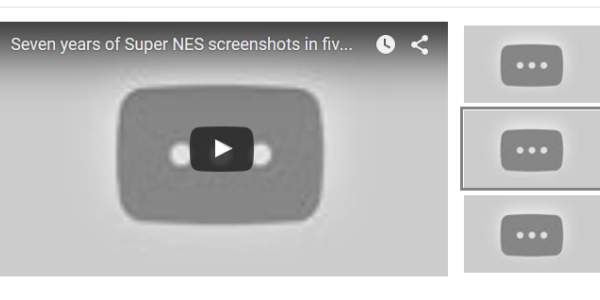 Thus, it went up without a thumb's nail preview image. Just so you know, youtube requires me to have 50 followers before I may choose my own thumbnail, and refused of that privilege, a preview gets automatically pulled from approximately midway through the video, and I am given no option to retry the selection if the selection fails to occur. And the default image that appears in such an event is "…" like a scumbag says in typed chat when passing judgement on me. Like "I have nothing to say, but I want you to feel bad so I am going to say nothing in a showy way, as if I think I'm on a sitcom or something." Not that anything that would come up as a proper thumbnail would be meaningful, given the individual meaninglessness of the screens, but somebody who sees NO thumbnail will not touch it. Even if told "something went wrong with the SYSTEM and not me and no thumbnail was generated," they will keep away. By the morning following the upload a preview had appeared, but the the mark had been made. They can smell my stale calculated contrariness through the internet tube and find the experience objectionable.
Most users don't have that problem because they have cameras or operating systems specifically designed to let them megadump rubbish onto media websites with no thought or effort. If you had time to think, then you already lost! But this time I know exactly what I did! Next time I may be able to do it without thinking.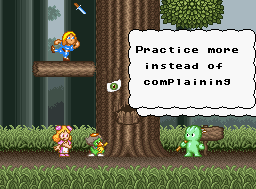 I'll have you know I am getting very good at complaining!
Oh, I had such plans! I had enough pictures unused, since Flash was choking so much, to make a sequel video. Then I was going to do it with my Sega Gensesis screenshots, and another with regular NES pictures. I could probably do five with Doom screens. But now? I still might since I actually like the video. In fact, all this time I was whining about how terribly it came out, I secretly thought it was rather engaging and aesthetically pleasing. Many of my favorite things are terrible. I feel like I still have an awful lot left to give to the world.