October 6, 2007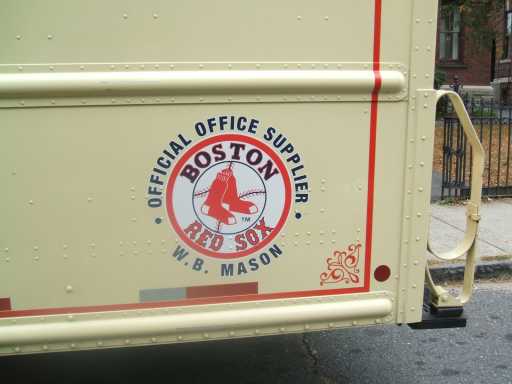 You think I'm –oh no! Not again!
Ehhh. You think I'm impressed by your exclusive provision contract with a base-ball team? How about supplying them with actual baseball equipment? I want to know who the official sox supplier is. There's a title to be proud of. I bet if you promised you could provide socks without patches you'd be let right in. I see you have Ws and Bs, Mr. Mason. Do you supply Cs and Ks? It is apparent to me those are desperately needed.
I didn't even know the players had offices, let alone that the offices are in such constant need of replacements as to require an official truck to supply the offices. I bet W.B. Mason thinks this is a real feather in his cap, except he doesn't wear a cap and the only caps relevant to this situation don't have a place for feathers anyway. I'd provide a picture of W.B. Mason but I've lately become wary of displaying corny merchandising characters of sensitive regional businesses on this page.