January 28, 2018
more about indiscreet of mana. Or I suppose anything about it because it appears that the image links were broken the whole time!
I do not like "fan-art" as a genre. I do not like what it has done to people, and to the economy of artistic recognition. People find out they get disproportionately more encouragement just copying stuff that is already popular than thinking for themselves, and then forget how to think, or never learn to do it at all.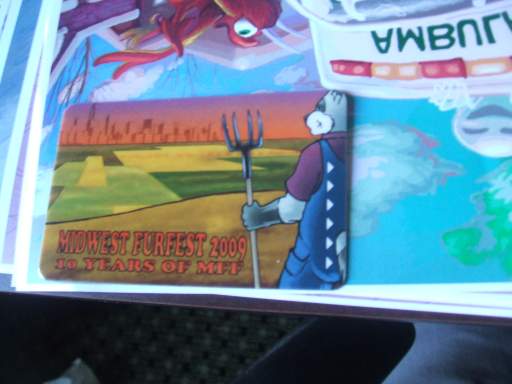 This was even before tumblr and my first attempts at conventions; at the few art events I attended, there would always be some dork who only drew disney characters and I didn't understand why that was fair, nor how that was particularly interesting to the "artists."
I made a considerable list of copyrighted characters that I COULD draw if I ever felt the need to copy someone else which would be more interesting to me, since nobody else ever draws them. It would not make me a more creative person, but it would provide some dissent in the fanart miasma. Much of my life has concerned itself with dissenting in areas where I cannot possibly make a real difference. It is silly, but it is an important silliness to me.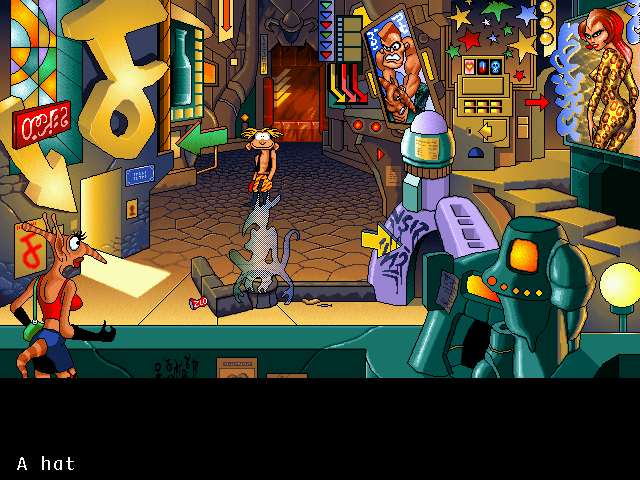 I even "know" the main artist/designer of Gobliins and Woodruff + the Schnibble, Pierre Gilhodes, perhaps my most significant living artistic influence, in facebook, but I don't speak French and have never attempted to communicate with the person, and drawing his old dumb characters would be the perfect way to get his attention if I am going to be drawing other people's old dumb characters anyway. So how did I come to make a scene from a property I have seen countless derivations of?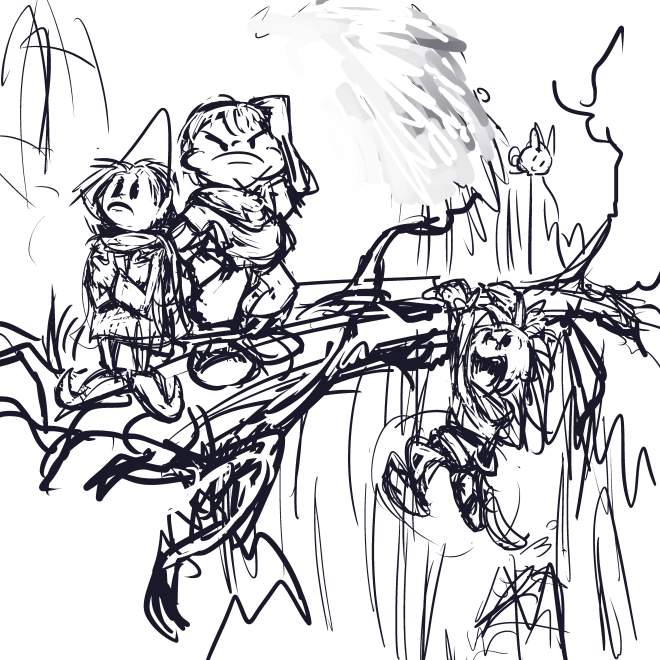 I had started this on April 6 2017, apparently the same day my father was hospitalized, when I was also, already, sicker than I recall ever having been, which I suppose could account for my unusual change in subject matter, and I put it away when, in a clearer state of mind, I wasn't really sure why I was drawing it. But more recently I was looking for some drawing I could finish to place on the internet in a desperate grasp at attention, while my ongoing project on-goes without my having anything coherent to show for it. I saw this and forgot why I had STOPPED drawing it, suddenly taken by the idea of getting easy approval via one of the rare things I like that is still popular. Forgetting that the people who make it still popular are not actually as numerous or influential as they seem, and that I still need to get over the barrier of my having drawn it.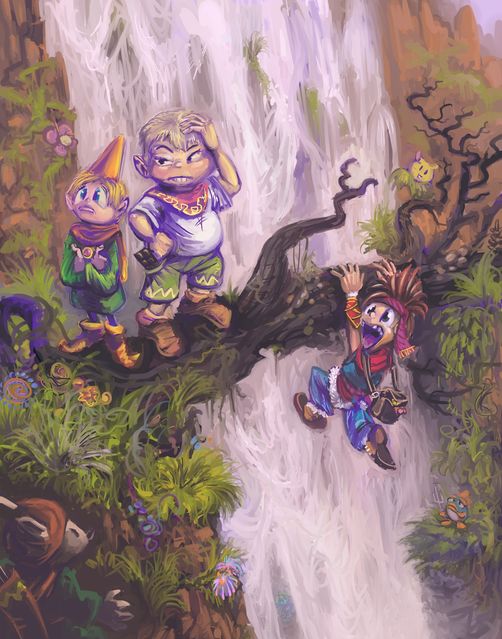 Yet inexplicably the final appears sparse and incomplete to me, and only now do I see the intense perspective flaws. This is why most of my drawings have flat perspectives and flagrantly unrealistic backgrounds. It is harder to see when those have gone horribly wrong and easier to fix when I do notice! I spent a number of hours trying to fix this after the stuff that was important was already set in place and somewhat unremarkable.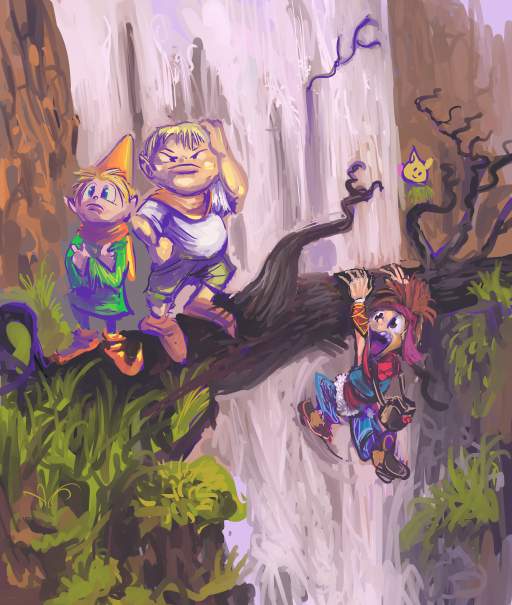 Additionally, I didn't realize that the chubbier child, Elliott with two Ts, was supposed to have an overbite until I had already committed to most of that, and it never looked quite right again after the point where I "fixed" that.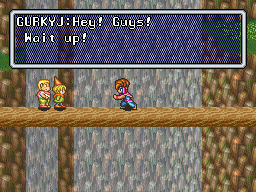 A part of me says: draw it the way that looks right to you (me), since it is your picture and approximately 100% of people who will see this never analyzed the sprites close enough to recognize this who will also complain about that. That part of me typically loses.
As I sought the non-existent source artwork, I inadvertently learned of a 3d Secret of Mana "remake" and I have to say that is completely and wholly unnecessary, especially after Sword of Mana, the remake of SOM's predecessor Final Fantasy Adventure, and perhaps my single most complained-about video game, though not necessarily in public. I wish the Square people would remake something that didn't quite work, like Sword of Mana Secret of Evermore, or localize something that was never released in the US at all, like Romancing Saga or even Seiken Densetsu 3. Or better yet remake every mana game AFTER secret of mana, because as best as I can tell, none of them worked. Or betterer yet stop messing with old games and make a new game that uses a similar interface and graphical style, and acknowledge it is a ripoff but that the 1990s aesthetics have validity, and that without the data storage and processing limits of the 16-bit systems you can do better things with the style than were previously possible.
I kept this part out of the first post because once I mentioned sword of mana I realized I had eh over 1100 screenshots with mostly annoyed comments on them, and wondered what and how much I should say about it here now to sum up my gripes, but didn't have the desire to deal with that at the last update.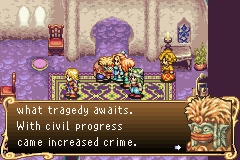 But I don't want to deal with it now, either, since Sword of Mana fills me with a passionate, disdaining ennui.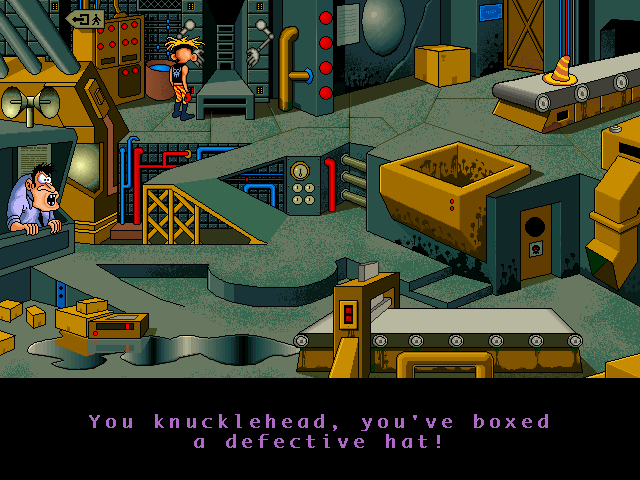 and fixating on specifics endlessly means I miss the point and spend ages getting nothing of importance done!