November 6, 2007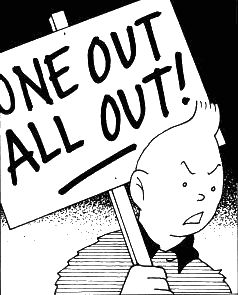 I'm glad the writer guildists of America went on a strike. I'm tired of television. I'm tired of being compulsively tied to things which no longer interest me all that much. I wish the internet would go on strike, too. I'm busy. And tired. As I said.
Ordinarily, shows come on and I panic horribly if I do not see them, even if failing to do so affects my life not a bit. I'll discuss the shameful, shamful implementation of "complete episodes online!" some other time than this. Maybe if that magic electric box leaves me alone for a while I'll form a proper complaint. But I'll tell you I suffer watching TV shows on time, and for the only free alternative to be so cruel is not nice.
Yea, one can buy programs pressed on to the deeveedies at the end of a season, usually, always, now, but then I have to pay money and then I have to find a place for them and I'll only ever watch them once if ever and oh oh oh it's magic if I find a solution that works.
I certainly don't like the idea of people losing their jobs, but they aren't doing that. They want their jobs to be better. I don't regard it as a tragic contradiction of life that mine can only be better while theirs have difficulties because I'm just a bit weak right now. I'll be better. Some day.
You must be thinking that I really like reality tv! If you're any of the people who have been paid to write about this, because they always go with that angle. But it is actually the opposite! With actual thought now out of the question, I, in theory, no longer have any reason to watch television! Or at least no reason to feel compelled to! So liberating!
But oh how I hate the "expect more reality tv" line. First of all, don't give in to that awful inaccurate label. I'll never penetrate my mind with it. You take people specifically chosen for their personality defects, place them into goofy, phony situations, divide them into arbitrary groupings and make them compete in bizarre contests that have nothing to do with anything and you continue to call it "reality." Ugh agh egh. And even though they're competing, rather than defeating each other they stand in a line and then some other dork who's supposedly better but never bothers proving it walks up and then gets rid of one, eventually, but only one. Sometimes they tell me I voted for it, but I didn't and beside that the fact remains that an unseen external party ultimately made the decision. And sometimes that's the way actual reality (I should never have had to make such a distinction) is, but I suspect even that's rigged. I've told you 75% of my audience is advertising robots, haven't I? I've additionally observed that "real" reality often lacks a clear winner. If I block every prescription drug name from comments and lock every item the robots comment on, I don't feel any better. Then I start worrying that Todd Rundgren or Kopiu J. Plimpton or Bacon Wethersfield want to have a serious and earnest discussion with me about Fioricet but saw that they were unable to do so and moved on.
My second issue: Don't assume I'll watch that! I'm not more likely to view that which legally qualifies as nonfiction just because there's more of it. I am curious as to who, if not writers, have the task of devising the nonsensical, irrelevant tasks and gimmicks that comprise reality these days. But not so much that I'll watch these actual events in the world transpire, with the hoping of glimpsing at a few pertinent end credits. Perhaps they are the same writers, who aren't affected in this instance merely because most of reality happened during the Summer but needed time to be edited and to wait for the Fall broadcast season. I wish someone would take a few months and edit my reality to be more entertaining. I could use a break from that, too. Also, we must give the contestants sufficient distance to prepare for a special reunion show at the game-like-thing's conclusion. Why would they want to reunite if they'd just parted, and supposedly hated each other the whole while?