April 23, 2018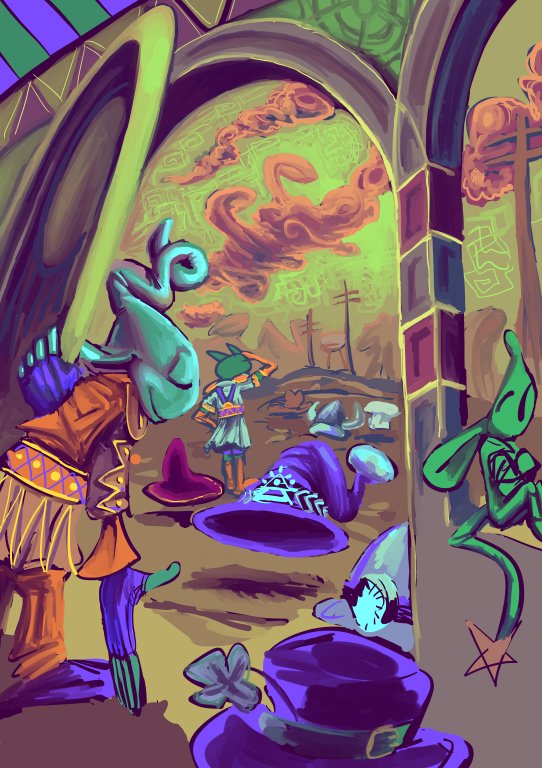 A highly not-yet-finished picture called "hats coming to visit." there is an accompanying music piece… or rather i made some stupid minimally remarkable music, absentmindedly named it that, and then constructed a picture of a literal interpretation of those words. It is easier to post unfinished drawings and not feel bound to them than it is with unfinished music. The only reason the music is unfinished is because that dumb comic book is also
destroying what little life i have
unfinished and if I turn on the music program that will be an all day matter, potentially. Which apparently I do not want to risk, when there are so many totally meaningless tasks I can be doing for other people that are not satisfying the slightest bit and will take many days or weeks to finish.
I have a heap of resentment for people that I don't consider to be "real artists" who post loads of drawings with minimal thought, effort or restraint on to the internet. By perhaps not chance, several of them play musical instruments or engage in digital audio tomfoolery. Sometimes I wonder if I am a hypocrite, for being a visual artist and occasionally pretending to be a musician. But I'm not because I assure you I spend loads longer on my noises than they do on their scribbles. You can't be a popular music artist just by having an ugly squirrel/raccoon/dog thing for a mascot.
No actually probably you can; if you buy the expensive version of fl studio there are enough default filters that sound exactly like trash off the radio with minimal user input that an actual squirrel could probably design a hit track but I am obviously not doing that because those are all marked "demo" (and rather difficult to purge from and wholly unwelcome in my USABLE instrument list) in my version so it isn't the same.
I do not mind there being demo versions of fancy music effects; I object to them not being able to be removed from a version of the program that is NOT a demo.
Try to imagine a middle finger in my face that cannot be removed from the vicinity of my face, that I paid $160 for, dangling a sign that says "gimme another hundred!" If you successfully imagined that, you may have a future in software development.
This is also the one year anniversary of my father's demise, and the ten month anniversary of my not finishing the second post I wrote about that. although that isn't really significant for an unposted piece around here until it reaches the ten year mark. In any event I think he would be glad to know I am just as unaccomplished and unfocused in my pursuits and just as inclined to blame people who did not cause my problems as when he was alive, were he alive, because that would mean he proved the impermanence of death, a matter sought after and never attained through the entire known existence of humanity, if not all life as we understand it. Of course THEN I would be disappointing by comparison to THAT, but everybody else would be, also, and my shortcomings would be less acute.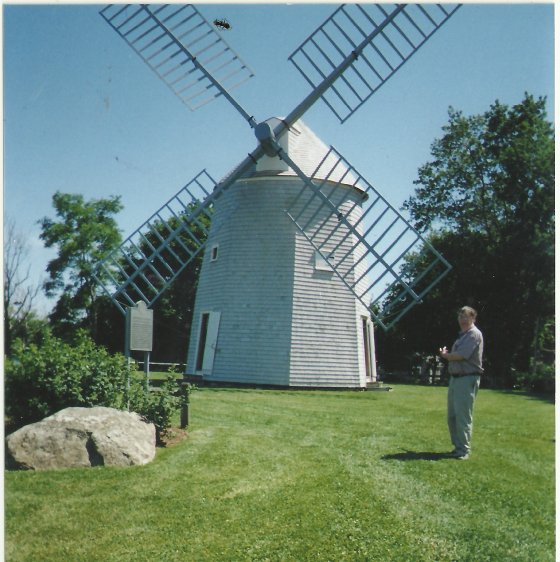 Look, there! He is imploring us to look there at a windmill. How could he do that if he were dead? The crushed ant corpse that I evidently neglected to notice was stuck to the photograph until a year after scanning it, THAT is what a dead being looks like.