June 10, 2019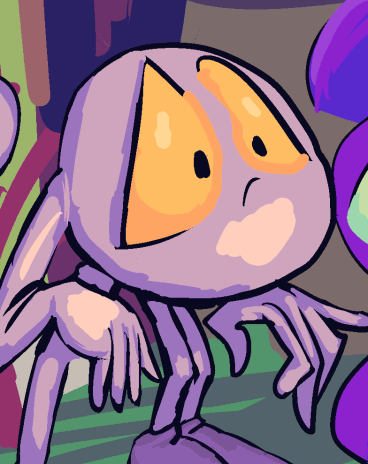 page 3-39,
of the
questionable comic strip.
One of those pages whose construction caused me to question if I really have any business making comics, but it is almost all related to drawing the environments. At least there are more interesting colors on this page. Looking back, I generally can't tell which older pages also made me feel that way, but comparing the dates between them is often alarming. The first time I drew the gnomes was seven years ago on a page which was only about half a day ago, "story"wise!
I must have made hundreds of character "designs" over the years, and many of them have appeared in pointless illustrations. so why is it that whenever i introduce a new character in the comic strip i end up having to figure out how it looks on that very page?
When trying to figure out what squirb looked like, my goal was to draw something that would make sense for elpse to want to beat it up. Hopefully I will think of a properly stupid thing to have hanging from its neck rather than a green gold medal, but for the moment it seems of minimal importance! The creature itself is yellow, and indeed most of my secondary characters end up being yellow, presumably since none of the primary ones are, but I do not always plan in advance for them to be.