October 1, 2008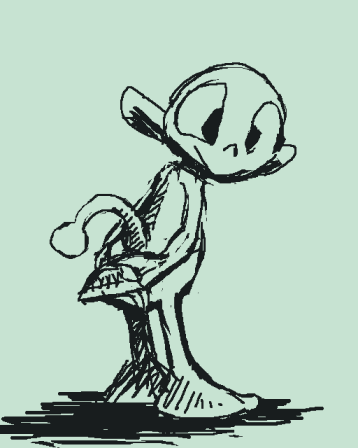 The dope thinks it's so smart just because it has its hands like that. Guess what, dope! You're not smart just because you have your hands like that! That's a dumb reason to think you're smart, dope! Although any reason you came up with would be dumb, eh? Arrrgh, why would I eh at you, like you were capable of inferring anything? Dumb, dumb dope.
At this point it must be noted that just about any statement which begins "guess what, dope" is going to be derogatory in some way. And whose fault is that?
And it has no idea how hard its hands are to draw like that. None. Hey dope, apparently it didn't occur to you that I might not be able to use my own hands as reference when they are behind my back. Oh right and they have a proper amount of fingers. Imbecile! I actually drew you so I could practice making your hands in that position without messing up a different I picture I needed that position for, to save myself trouble, and you just had to make me mad at you for additional reasons. Horrible. In short: the dope is ignorant, inconsiderate, arrogant and decadent. It is a woeful, happy parasite on society. Get a job, dope! Don't just stand around smiling all day! There's work to be done!
I hope the New Haven Register front page headline tomorrow is DOPES UNDER FIRE Area dopes face harsh criticism. The dope will, of course, decline to comment, only making its guilt more obvious. I mean, its name is actually "the dope." What am I supposed to do about that?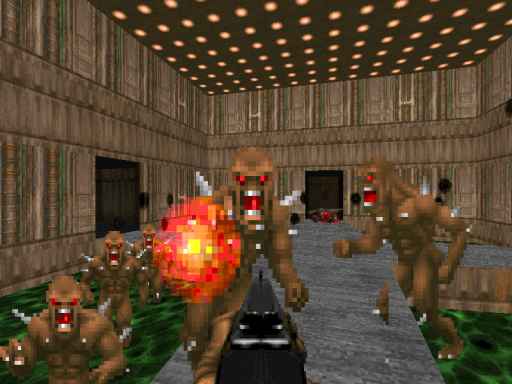 Consider that doom imps, the foul, wretched murdering demons, are related to dopes and won't admit it. Some people even believe that is what turned them to crime. Not being able to express their anger over being related to dopes. Sometimes I'll ask "hey imp, how does it feel being related to dopes?" and they just screech at me. Dopes ARE imps.
I had a dream in which at some point, for whatever reason, I was made to control a dope on a map screen type thing in a video game which was not Doom. I left it idle for a few moments and it started to walk around a bit and look at the scenery. It made me mad. dopes like nothing better than to flap their feet all over town doing dumb dope things. They should not be allowed to do things they love doing. We need to find out what they hate and make them do that.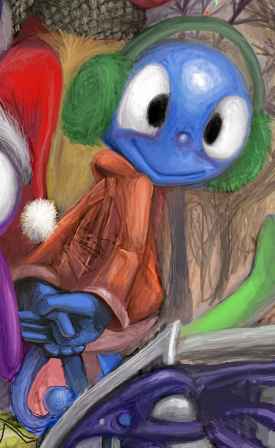 A serious moral dilemma: is it more important to uphold the ban on dopes having property or to keep its controversial ears hidden from view? Solution:
CONFISCATE
the ear muffs and cut off the dope's ears.
Let me tell you something: I felt so wronged by its hostile and dishonorable acts that I challenged the dope to a boxing match on any date. It has yet to respond. That sort of apathy and indifference is one of the reasons I would like to box it. Lazy dope. The incrunchable, punchable dope. It is incrunchable because it lacks bones and cannot be destroyed anyhow. But I can still punch it.
One of the reoccurring problems with dopes is that they don't know how dumb they are. I suggest the appointment of a special counsel whose sole purpose is to attempt communication to the dope of how dumb it is. That plan will fail, but we can say that we tried, which is more than the dope would do. Although if the dope could speak it would probably tell many lies, I doubt this one would occur to it.
Arrr, that dope. Somebody should stuff that thing in a sock and that sock in another sock and toss it in a river. It couldn't be too much worse than 8000 litres of Sunny D. It is my theory that dopes are made of condensed Sunny D. It has the sort of vague, sinister sounding name which would be an ingredient for something like dopes, that Sunny D. Sunny dope. Typing that made me sad.
A few months ago I saw a bird outside, on the ground, when I was at the The Bathroom. The bird flew away when I started fiddling with the window, which I possibly did just to see if the bird would fly away at the noise. The bird did. Although it's pretty stupid of the bird to think I can get it from here, I don't want a bird that dumb hopping about in my yard. It might as well be a dope, and THAT would be 3000% unforgivable.
The dope refuses to be less dumb. If you were to say "hey dope, could you please be less dumb," it would smile at you. Almost mocking you for suggesting that it might be less dumb. I believe this information is worth paying money to put on the internet, yes.