December 28, 2008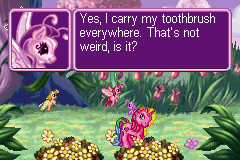 I have lost my concept of weird.
I've just had a look for the first time in about a year and it turns out that writing two full pages about the marsupwhatever video game is something I should be incredibly ashamed by. Also that every thing I've written since that has had a link to it at the right. That is no good. That is not right. My feet stick out of bed all night. And when I pull them in — oh dear! My head sticks out of bed up here. Some of it is funny, thankfully, but not nearly as much as I thought, and it's mostly the image "title" comments, which most people never see.
So how has it happened that the
page I put before you today
lacks those comments entirely* but is an improvement content-wise, and deals with pastel colored equidae yet is less embarrassing? The answer may shock you. And so I shall not tell.
*that was yesterday. The one I put before you today is fully equipped.