September 25, 2013
page 58 of that
Another one that was extremely hard to draw for no clear reason. Even with some minor objects blatantly left undetailed or undrawn in certain frames. I did draw in the missing feet from the previous page. Gallimimus is still misspelled.
I admit this page accomplishes absolutely nothing. Not directly, anyway. I decided it was better to stretch this incident to fill the whole page than try to cut into something else with two frame-spaces left. i have decided I want to keep things even so that I can move them around more easily if the need ever arises. I think out of order but do not understand a picture until I have drawn it, which makes "planning ahead" a very alien concept. there is probably some fundamental rule of cartooning written by somebody I should have heard of that ways "never spend 12 frames on a total diversion"
And then of course I thought of something else after stretching it so now everything is tightly crammed in. I meant to stop forcing things onto pages that could not hold them. truly i did. or dispense with the concept of "pages" when they were not necessary. That is not going well! In fact it is not going at all.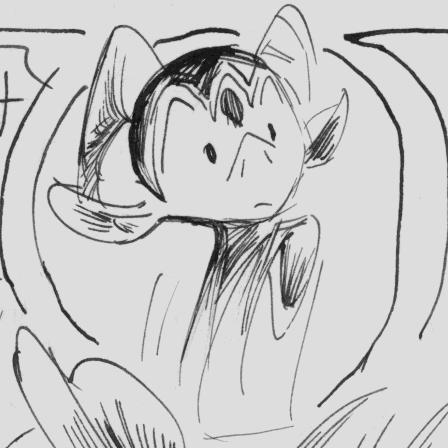 I had to change this drawing to get the right effect, but that is one of the most punchable elpses I recollect encountering.

"one of," I said.
Sad elpse in a circle reminds me of the drawing of a meeply round-eared animal that accompanied the word "cub" in my old phonics books. I recall I used to draw swords stabbing into it and helicopters shooting bullets at it right there on the page. I do
not
recall a teacher ever asking me why I did this or acknowledging the questionable behaviour in any way. They really didn't pay much attention to individual students, usually. One time I joined two lowercase Ts on a word like "butter" and had the word marked as incorrect because (and I had to bring up the issue myself afterward) the teacher thought I spelled it with one H in it. A capital H in the middle of the word "butter" with lines poking out the left and right where there should have been two Ts which make a completely different sound than H. What that we've been through together makes you think I am capable of such a ludicrous error? I hope that's not the REAL reason I was sent to special education. "Who would think a capital H goes there? After all the phonics we've been through? Get that kid outta here!" Dumb old elpse. It is elpse's fault that I was forced into a series of environments within which I would become so disordered through the years that I eventually thought elpse was a good idea to come up with.