October 2, 2013

I will answer the writer Mark Joseph Stern's question with a parable.
At least once all up in a time, the Slate magazine website posted a substanceless, speculation-filled article with a loaded headline in an attempt to build controversy, make a few dumb people think they are smart, a few other dumb people really angry and overall waste everybody's time. I decided it was silly. The end [7 paragraphs later].
No, gay people are not smarter than straight people, and straight people are not smarter than gay people, and anybody who gives in to this sort of thinking, wondering if one should win or one can win is an idiot, gay or otherwise.
The full, post-lure title includes "or do they just work harder?" but that is even worse, in a sense, because it implies one of those options MUST be true.
Is it not enough to have "men vs women" a core component of pointless, unwinnable, non-debate? Why can't we treat this like racial questions? This same writer would be asking "are asians smarter than whites?" if that wasn't likely to get him fired, and if it wasn't it wouldn't be a new question. So why doesn't this get anyone fired? We know people are different. Generalizing about intelligence never gets us anywhere. Most people consider intelligence a fundamental aspect of their being. Attempting to rank huge segments of the population by this basic yet hard to quantify attribute has never been good for humanity and isn't likely to start.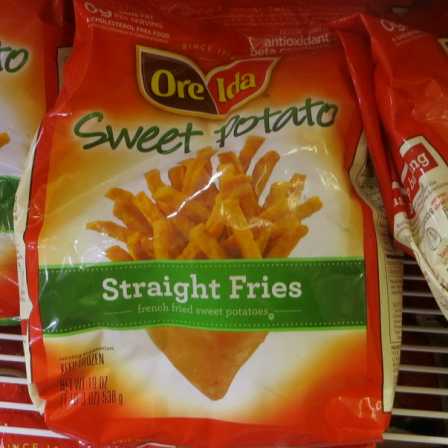 There are not but two sides to the world. straight v bent is like democrats v republicans. It divides people needlessly while also insisting that it is sufficient to pick one imperfect thing over one other imperfect thing and that this is in everybody's best interest. It encourages us to argue passionately about GARBAGE. Look even I am doing it.
complacency about one's intelligence is one of the dumbest behaviors I encounter, and it's about even between gay and straight people. An article like this will only increase that behavior in either of them.
It may be possible for "straight" types to go longer in life without having their fundamental beliefs or feelings questioned, which may make them more inclined to be stubborn on everything and never consider other possibilities. Increasingly, however, gay people are taught to believe there is nothing out of the ordinary about their preference (thus holding up the concept that ordinary is something to strive for) and they are RIGHT and should be PROUD and so become inclined to be just as insufferably set in their ways, and just as inclined to track down rubbish like this article to use as "proof" of their own superiority as the opposing side, which ideally wouldn't be opposing them at all.
And anyway there are other ways to be misunderstood or disliked than what sort of person you make sex on. I don't do it to anybody and that's not the biggest thing that keeps me from relating to them.
People are bullied and tortured for being or seeming homosexual. I am not saying that is good. I just think pride is excessive. Criticism is not persecution.
On a similar note, my previous blowing up about Nazi symbolism should not imply I am one of those ultimate "friend of Israel" types. We shouldn't be afraid to point out when the Israeli government does something cruel or foolish. It DOES and it gets away with that because it is proud and can easily equate criticism with persecution.

Mr. Joseph Stern determined who was smartest by what category of people were getting genius grants. This one time, even though gay people have existed for longer than a year. I saw a few years ago another article about the smartest cities in the country and determined the winner by counting libraries and museums. You can't determine overall intelligence quantity by such limited categories. I question if we really can at all.
A direct quote from today's article:
"Gays are wealthier and better educated than most Americans; shouldn't that indicate that they're also smarter?"
It shouldn't! That is centuries, millenia-old self-justifying nobility dogma whose only result is that they vote themselves higher salaries and lower taxes. That's how we get manifest destiny and slavery and all that manner of horror. The fact that more multimillionaires are openly gay than previously doesn't make them all grand and noble now. I realize this as slippery a slope argument as "what's next? letting people marry animals?" but this has historical precedent. I do not think slavery of non-gays is likely or feasible, but it starts like this. When you declare one group less smart than another group you declare them less worthy of decency.
I denigrate intelligence too often, but I avoid declaring a "smarter" group. I also avoid putting faith in group that has proclaimed itself worthy to declare a smart group. The sad fact is that a declaration of superior intelligence often arises over evaluation of a subjective matter, often in artistic fields. I don't believe any of us is smart enough to know who is really smartest, and we only hurt ourselves as a species when we convince ourselves that we are.
I do not say "nobody is smart." I say trying to label everyone accomplishes nothing good, and I have said it for years. If I do it, it is for amusement purposes and should not be mistaken for serious journalism, and I will never pretend I know who is the most superior.
This reminds me that deviantart, the ostensibly free visual art website, recently fulfilled my prophecy and gave paying members huge stars next to their names. Fortunately, and for the first time of those when I paid attention, more people are protesting the garbage change than supporting it, but not without some priveleged bootstrap class elitism slipping in.




Criticism isn't just persecution, it's an act of treason. Observe how it doesn't matter if these two are homosexual.

And without switching websites:
I won't point fingers but I have a theory that one of these openly male artists is gay and the other one isn't, but I think they actually have a lot in common. They both blame someone else, for one thing.
Back to my "point," plenty of idiots go to college. And plenty of idiots are inclined to imagine they are smart BECAUSE they go to college. They could be exceptions, but that would still call the criteria into question, and assist in calling the question into question. By this definition of intelligence it really doesn't matter who is smarter. You could ask "are gays better at adhering to arbitrary constructs of society than straight people?" And you wouldn't because straight people built them.
Another quote:
"Gay people might just work harder than their heterosexual counterparts"
And you just might have NOTHING and be tossing out speculations about things that are impossible to verify so you fill more space.

The article concludes with the author ADMITTING that there's nothing:
"Gays might be overrepresented in the "genius" pool—and the Ivy League, and the Fortune 500—but there are more than enough dumb gays to even out the numbers."
but never considers that his criteria is garbage. Nor that there is any alternative to being a "genius" than being "dumb." "Intelligence" determines many things and is not a single value that can be conclusively measured. He also does not appear to consider that there might be any alternative to being hetero than homo sexual.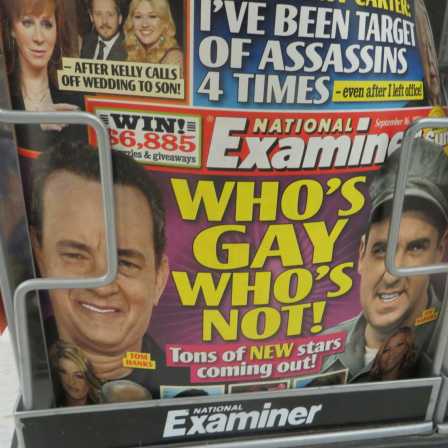 we can probably say that whoever bought this magazine to gain home access to the "who's gay" list is probably a moron. And still I can imagine a remote exception in which that would not be the case.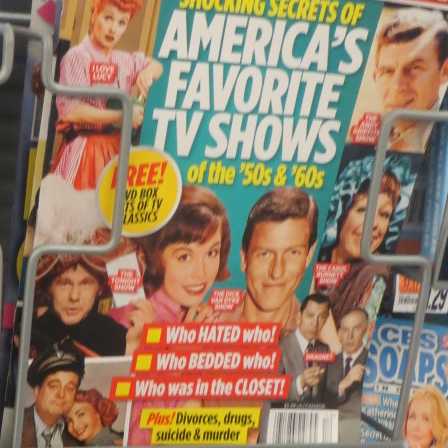 I saw these both the same day and wasn't even taking a picture of this one, an issue of Globe. I think I was aiming at an US weekly for some reason. I only noticed it now when I was trying to find my picture of the Examiner cover. Maybe we can talk about "smart" when we stop caring who is gay.


And yet I think we have come a long way even since I have been on the internet.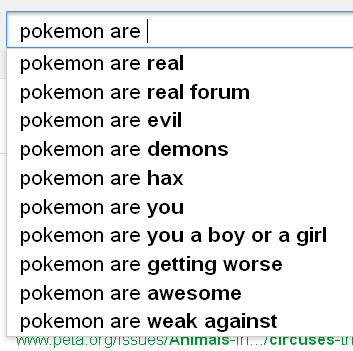 Nobody even wonders if Pokemon are gay anymore.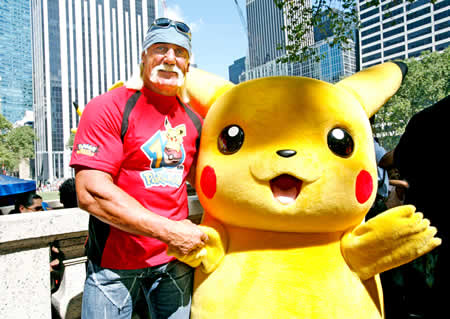 You know what, forget it. I would like to wash my hands of this matter, but I am currently at an important business meal engagement. What-ever shall I do?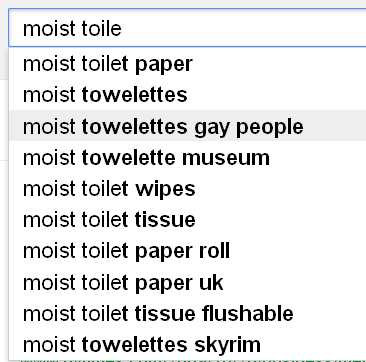 Boh fiddlesticks.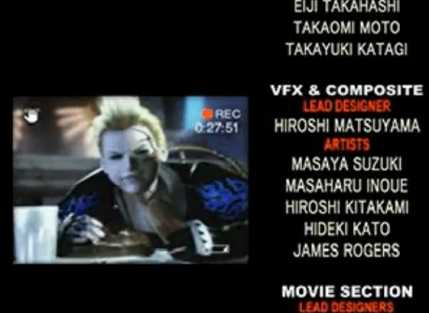 Next time I will wear my dinner [fingerless] gloves.