October 25, 2013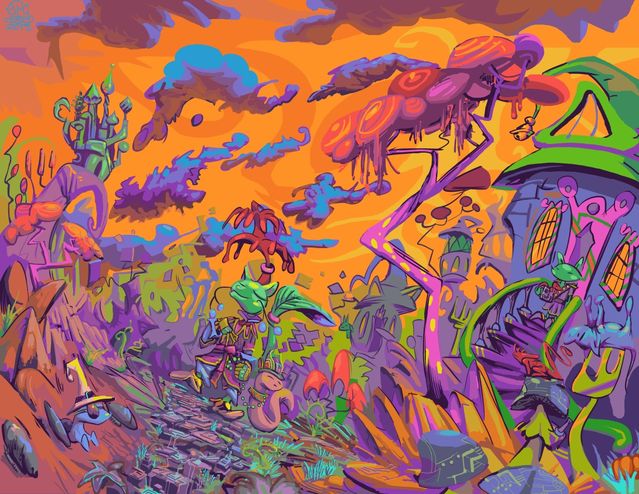 I planned to make this with oil paint two years ago. I think if I had tried I only would have finished it now anyway, though the nature of paint mixing (especially with the way I apply it) may have resulted in better color cohesion. But I would like to figure out how to have that come along more naturally without mixing, because I do not enjoy using actual paint a whole lot.
I feel like this picture is on the verge of working, and you may have observed that I have posted other pictures on the same verge. I still have hope this will be the year I murder the verge.
More recently I had this waiting for two weeks since I was not sure what to do with the "pathway" in the foreground. I added that [today] and now I like the rest of the picture less. That is an improvement, though, since usually I like the last thing I did least.
Having all my big stupid pictures hosted locally now makes it a slightly more logical and justifiable process to make "normal" website updates of them. That text is cloned, however; the gallery entry can say something totally different. There is probably a way to make that specific data show up here, but I do not know how to do that, and it probably looks less unprofessional if I keep this sort of inconsequential rambling out of the official matters that we might presume people will see someday. Not today, though, hopefully. Probably not tomorrow, either. I have the patience for CSS editing approximately once a year and evidently it was last week.