October 21, 2013
An older picture I recently altered to make prints of for a pumpkin-themed event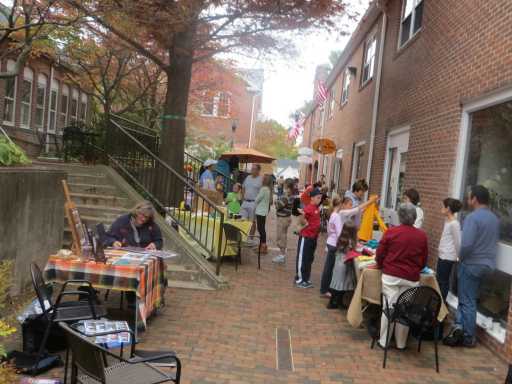 See if you can guess which table is mine
(hint: it is the one with the lamest merchandise that the least number of people are looking it)
I sold nothing, but I sold nothing at higher prices than I had ever sold nothing at before. Partially at the urging of the venue owner, and partially because for all my stabs at integrity it means nothing once I can blame something that feels like a lapse on someone else. It also means I now must keep that price consistent or else the people I showed the high price to will get angry when they see something less than that. Or they would if any had paid it.
Anyway, in addition to some free iced tea they were nice enough to let me have the featured artist space for January, (though the decision came prior to my recent performance) and I will have pictures on walls inside the restaurant, which will not have interaction with me as a condition to owning one. The scenario also is feasible that somebody may buy a picture just to get it OFF the wall so that food may be consumed more peacefully. I am intrigued to discover how I will mess this up.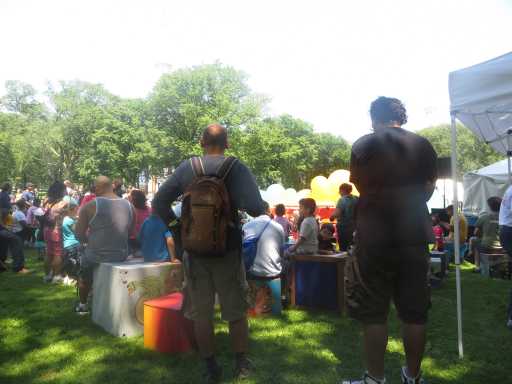 This was an improvement on my last event, where there were mystery boxes dumped directly in front of my table which visitors used for sitting on while facing away from me and eventually for standing facing toward when all the boxes were taken. I would rather fail because of what I did than have nobody know I did anything. When that happens my goal becomes to make people know what I did, and I might not consider that I did something pathetic. After this week I feel like I have taken another step toward my ultimate goal of giving up. After all these months of distractions and setbacks it is nice to be making progress again.
Additionally, you may have become aware of the three for the moment unsightly link "buttons" now at the top of the main bimshwel page. If you had not then now you have, in a sense. One attempts to connect to whatever this is.
In the past i have given out "business" cards to people at events like these, but nothing ever comes of it because if anyone entered the website URL mentioned on the card, instead of art details they would see instead endless rambling about supermarkets and dumb things people do on the internet (such as write about it). Now they can find pictures, if they wait a few seconds for those awful "buttons" to load, and then they can see the pictures and think "yep, that's the stuff I didn't buy prints of today sold by that awkward weirdo who kept saying 'hello' out of forced habit but had no natural social inclinations beyond that. Gosh that was upsetting. Why did I take this card?"
I intend to make the awful buttons less awful, but I also intend to go running once in a while and eat pizza less often.
Ideally, the gallery's rather default-looking setup is only temporary. Even so, it is rather nice for something free, I think. And unlike other free galleries, when something does not work it is not done deliberately as a ruse to try and sell me non-free version. It might be unethical for me to use something free as a means to make a profit, but I have not actually considered any way to use this for that purpose. I imagine I could send art-work through the mail. My imagination usually gets me into trouble.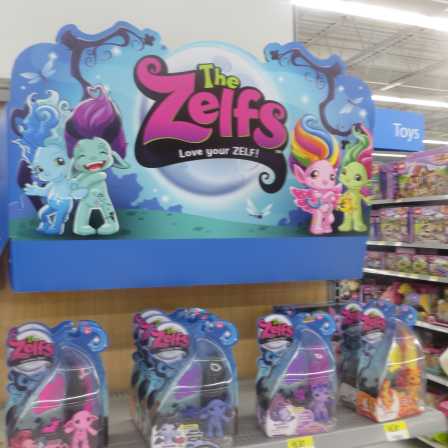 Here is what my ridiculous imps would look like if I had business sense. More gimmicky, impossible to tell who drew them, and seemingly ripped off of other commercial properties. Is this an official spinoff of trolls or little ponies or care bears or an unrelated venture trying to chase the same buckwagon? People only relate to things that I do not relate to. They want to buy things that
remind them of other things
they have been ordered to buy. I would never buy one, and thus I am ill-equipped to make something that a buyer of these would buy.
Of course this display was gone the next time I came into the store and I have never encountered the name "zelfs" since nor had I prior to then (and I must be clear that I do not desire to), but that can also be desirable. If your soulless, derivative, cynical grab at money fails, you want everyone to have forgotten it by the time you make your next attempt at reminding people of stuff that worked. You might notice that is the opposite of my personal feeling, where I prefer to be remembered and to not remind anyone of anyone else. If I saw something that reminded me of me and it made money I would get mad, because then I would need to change me to seem like I wasn't copying me.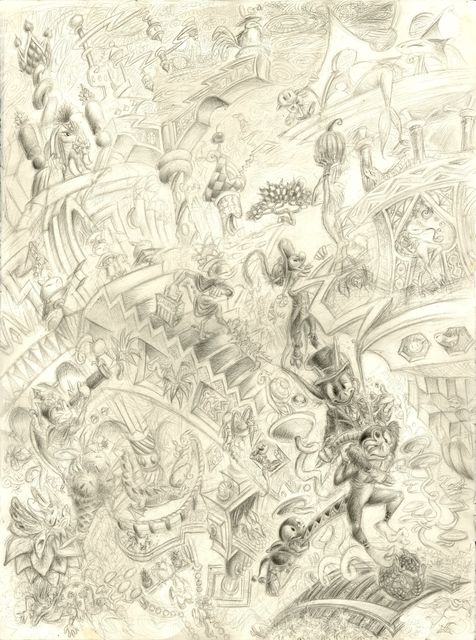 It is common, on the art websites I use, for a participant to become infuriated at "art theft," in which somebody tries to sell another person's pictures and collect money for it. I don't even matter enough for anyone to bother. I would probably doubt that if I heard it happened. If it was TRUE and it worked I would consider trying to take the perpetrator on as a business partner (an unbiased observer might advise that person to turn me down). The closest I came to "art theft" was when I taped a huge pencil drawing to a wall beside a door at the university while I went to retrieve some other things, and it fell off, and somebody picked it up and walked off with it because it looked like abandoned garbage rather than a legitimate finished project that the artist was trying to take home. When the person was persuaded by police intervention to give it back I almost felt bad. I felt like I had ruined several people's days (not including mine). I wanted to thank the unidentified taker for wanting it. The party which I retrieved it from offered no comment on the quality. I might have let the person keep it but I had not scanned it yet and I needed to bring it back at the end of the semester for a grade anyhow (rubbish generally gets a better grade than nothing at all). Currently it is on a shelf smaller than itself behind me with other things stacked on it and probably no longer in displayable or theftworthy condition.