April 13, 2009
People are fatter than ever, people have less money than recent evers. The solution?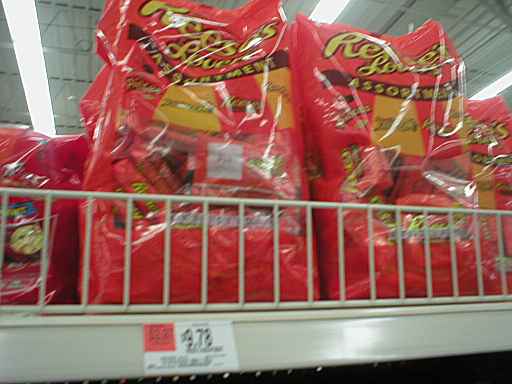 Enormous, ten dollar bags of Reese Peanut Butter cups. (The Connecticut sales tax rate is six per-cent, which you'll know adds another 59 cents to the 9.78 blurrily seen here if you're better at maths than I am). Enhancing them in this way might be our only hope of stopping Terminator peanut butter cups from the future.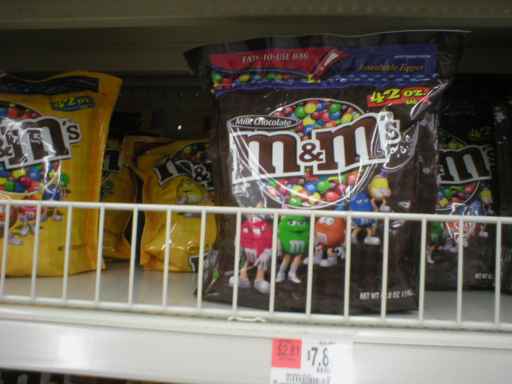 A counterpart quantity container for M&Ms, in addition to the old sizes still available. Because it was decided too much shelf space was going to competing brands at this Wal Mart.

Ooah. I have never seen an mnm bag that big before. That is atrocious. The only thing I like about this set up is that it makes the awful, awful M&M "characters" appear to be in jail.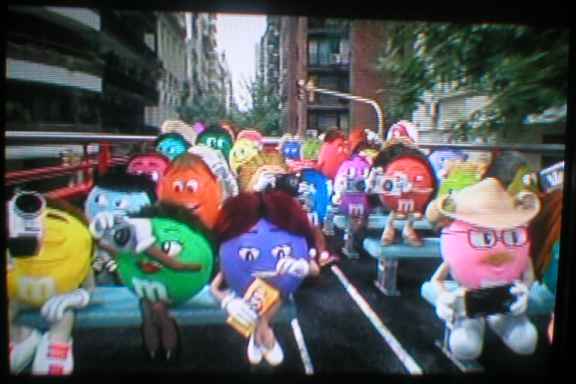 Unfortunately, their relations with teeth, hair, occasional lips and mustaches are yet believed to be at large. That is assuming "large" is still adequate for their consumptive requirements.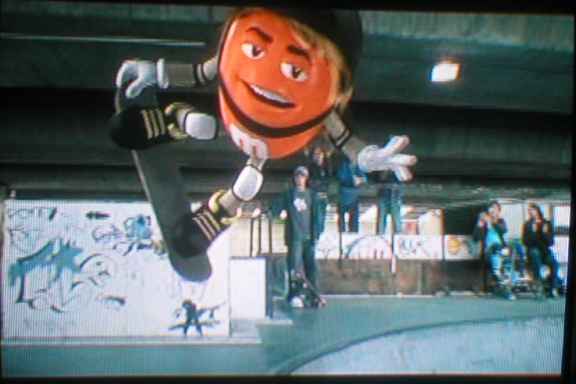 ARRRRRRRGH TEETH

I despise the teeth on computer-made people. In actual cartoon drawing sometimes it serves an expression better for no teeth to be visible but shrek and all the fish and amazin' adventurin' celebrity-voiced zoo crews always have full sets of evenly sized and spaced grey teeth. It is even worse, the more stylized they are. We get these enormous, barely detailed heads with little mouths full of tiny perfect teeth. Uggggghhhhh somehow the natural distance fading and blending doesn't happen with teeth. No matter how far away they are you still see every tooth. That isn't necessarily the case right just now but fortunately it's creepy enough just that there are teeth and that I see them.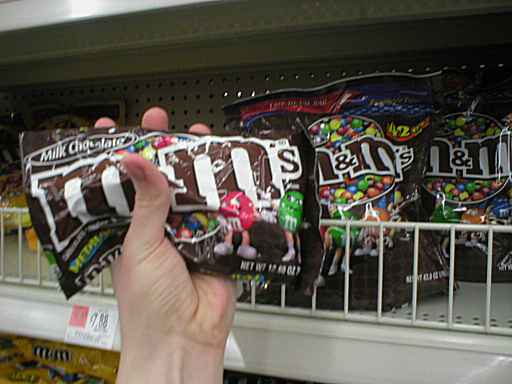 I felt dirty when I bought a "medium" bag back in December. But 42 ounces, that's like eating a cat. A cat made of chocolate. True enough, after seeing this I proceeded to procure and purchase a 24-count box of Coky Cola cans, which it is not at this time my intention to share, but I don't expect to drink them all before August. Somebody somewhere buys 42 oz of m&ms and eats 42 oz of m&ms in the same day (perhaps in Oz), and was getting worn out opening three or two bags.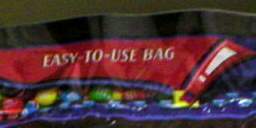 Truly, 'tis a great time to be alive.