October 5, 2009
A special message from Jay Piscopo among the comments.
———————————-
Page 33 (it's below page 32) of this.
Hey, remember when I used to post a comic here? Well I don't. Could you remind me what that was like?
The moral of this story: believe in yourself and you too might one day cause someone else a spinal injury
The page size limit affects me yet again. I do not think it is as obvious today as the previous time, though. The size was FINE when I was PLANNING the thing. It was only when I drew it and started thinking "maybe THIS should happen instead…" that problems arose. Problems often arouse themselves in this way.
Once this "story" is finished, I intend to use a different content-delivery method if I think of one that seems like I would be capable of working with it. I imagine the shift would be considered abrupt if I did it mid-action. Even though I apparently have no problem with taking month-long breaks mid action, ideally at the conclusion, when the next images are posted, the gap isn't visually apparent. Surely it's fun enough to track the color depth changes between pages.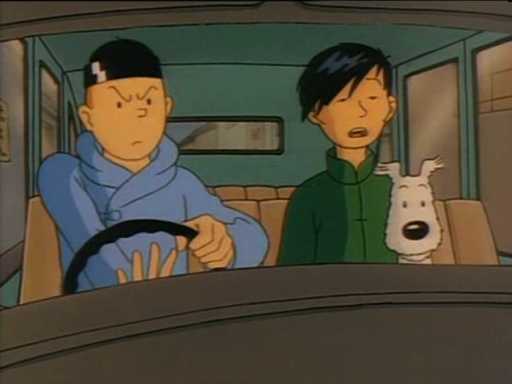 I wanted to be like Hergé. As far as cramming lots of stuff into little spaces and having it not seem like I crammed it beyond reasonable protocols of crammage goes. I still do. I cannot. Look at
this page.
Or don't, but I'm going to continue talking as if you've looked at it regardless of whether you have.
FIVE
rows of panels. I never even realized the pictures were smaller than usual here until a few years prior to now because the author was a master at what he did. Every little box gets my full attention, as if it's all I see (ehhh, in the actual book, off the internet, at least). Not only are there lots of boxes, a lot happens into. Herge gets China invaded and occupied, and then the invasion gloated about in ONE PAGE. Maybe it's a
little
bit racist, maybe Tintin's survival throughout his numerous captivities is incredibly improbable, that these guys who start wars just because they feel like it will point guns at but not kill the one meddler who threatens them the most, but that's beside the point that my drawings are incomprehensible. It's beside the point of itself because the improbability doesn't affect my desire to finish viewing the story nor my ability to enjoy it. That improbability is all around us and people are used to it. I need to realize that I can get away with some blatant improbabilities. I do, but most of the ones I set up are, at their roots, attempts to avoid other improbabilities that are easier for people to ignore. Or something like that. I feel asleep back when I used a form of "improbable" in the fourth consecutive sentence.