July 20, 2011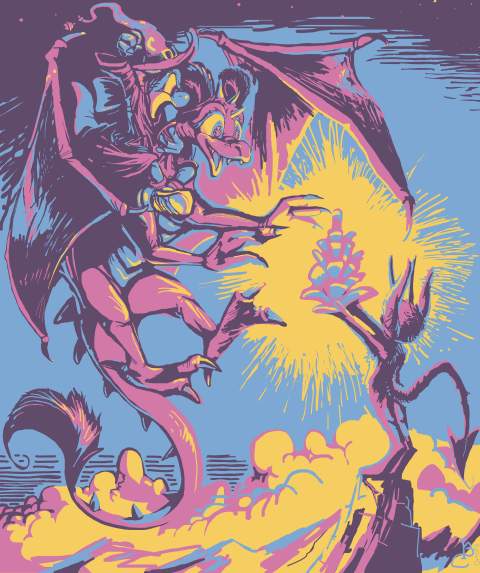 A perhaps obsolete edition of a creature called Jumbi faces the ultimate temptation. This image was made to commemorate
Jumbi,
(no relation), more recently called Cosmos Ogler, soon to be called let's say Sorbet de la Murklebean, who is very helpful and it is a shame the situation depicted is ultimately so stressful and conetentious. These are harsh coneditions which cannot be conedoned.
I ought also to point out that the Jumbi person, merely through noticing that I was hiding them in stupid places, was in large part responsible for the continued proliferation of pine cones (that's the what the thing in the center is) in the images I produced after late 2008 or so and so it seemed logical to include one. That would be the only logical thought that occurred the entire time. As for why I started hiding pine cones to begin with, I was most likely afraid my oppressive governess would find them and scold me severely.
I had been meaning to put this image in the internet for a while, because this is the sort of thing I put there, yet I had not put it there, because it wasn't well finished, for almost a year. I put off finishing it because I have trouble finishing things like this, but I thought I should. So I'll try and get around to that later. And then next year maybe I'll do another.
I produced four or five things like this one in 2010… the first one was good and each subsequent one was less good, so when I got to this it seemed sensible to postpone completing until people forgot I had played the style out. Fortunately, I forgot also and was able to put it off even longer.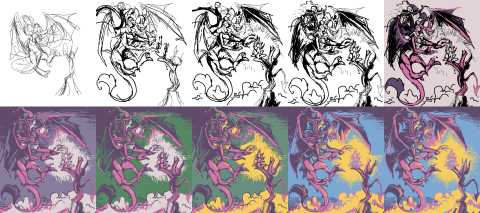 You might observe that I only noticed that the large figure's head was somewhat off-model toward the end, and my revision did not work as well because I have very limited abilities and in any event didn't think about it for long enough. Either the eyes are huge and crossed or they're creepy.