September 5, 2011
I notice this is a lot less interesting a week afterward.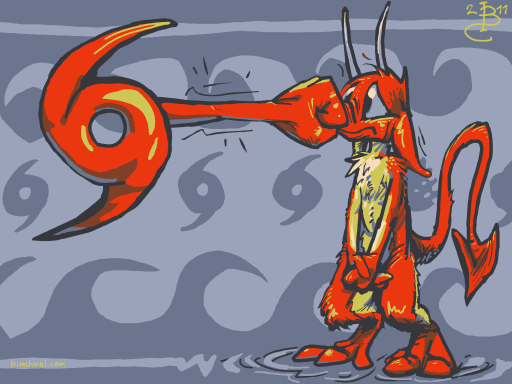 Nobody wants nemitz in their homes, and apparently nature doesn't want nemitz outside, either.

Last week on Bimshwel, State Street New Haven, Connecticut, Amelica residents were mildly inconvenienced by a dwindling hurricane that actually did damage in other places. I actually made this picture before that even happened and meant to post it on its own, in anticipation of the electricity going out, me thinking that a decent excuse to post an entry of minimal effort, but the electricity went out before I could, and then afterward I no longer had my justification.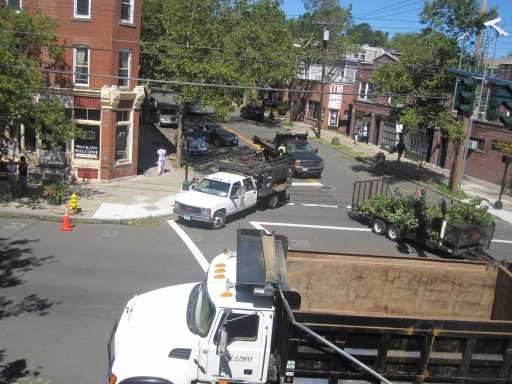 Ehhhso the next day more trucks came and went. I considered that the tree may have been declared a cultural landmark that was actually being protected from removal.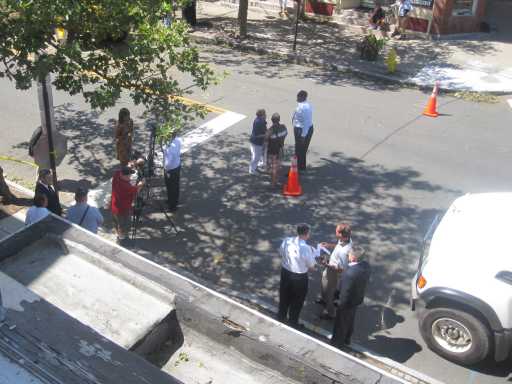 12:30pmish: A slightly more organized rabble assembles at the usual meeting place. It's about time some professionals took pictures of the tree. And this time with video cameras, just in case the tree tries anything.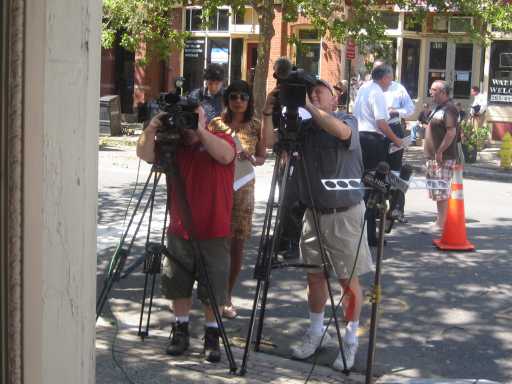 Here they assess whether an apartment building is tragic-looking enough to film in front of. The sight of me living inside it must have clinched the deal.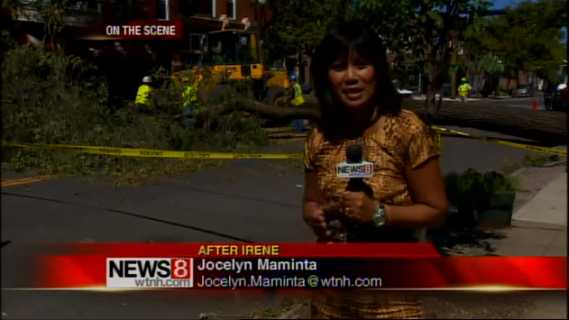 Unfortunately I haven't had local television access in a while so I didn't recognize the famous Jocelyn Maminta of WTNH Action News 8. Though who would, with those magnificent sunglasses? That is twice as good as Clark Kent's disguise. I might recognize Al Terzi, even though he defected to WFSB3 which I never watched in 1989. WTNH also hasn't been called "Action News 8" since around the same time.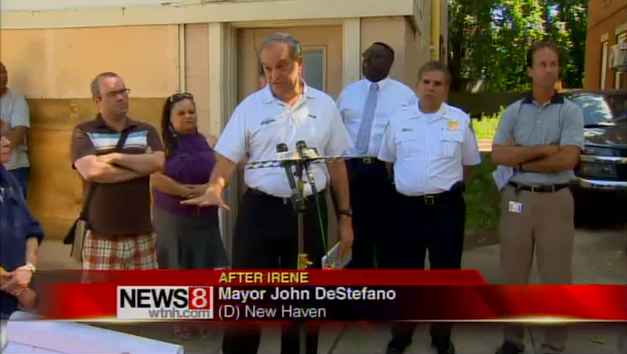 The Mayor said some things here, such as that approximately 100,000 manly hours had been expended in this aftermath. He did not clarify how many of the hours were devoted to driving up to stuff and then driving away from it, and if the county accountyants had multiplied this by the number of extra people in the vehicles who weren't even driving.
I wanted to emerge from my doorway and proclaim something in the vein of
Please citizens, do not be alarmed! We are doing our best to drag this story out as long as possible! We are taking every measure necessary to keep up the illusion that we are the primary victims in this matter that was actually killing people and destroying homes two days before it made us ornery, and continue comparing it to an incident from 1985 that this is in no way comparable to. I am enormously honored to see that you deemed my apartment decrepitated enough to make your speeches in front of.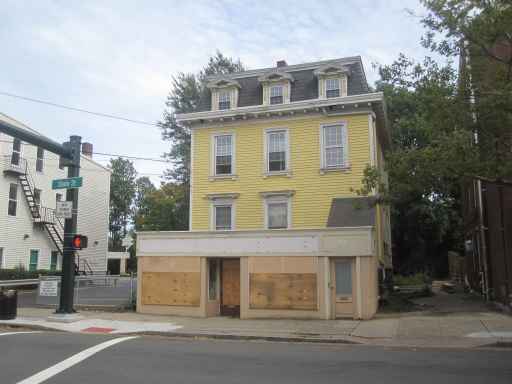 However, I should inform you that it looked like this before
the hurricane, and as far as I can figure those trucks kept coming and leaving because you ordered them not to remove the tree until your schedule allowed you to personally admonish it.
I didn't. I also just today didn't go to a
free
local barbecue because I was terrified at the thought of having to speak to a stranger to get a hot dog. In food service situations it is alright because I can imagine I am paying people to not impose further social obligations on me.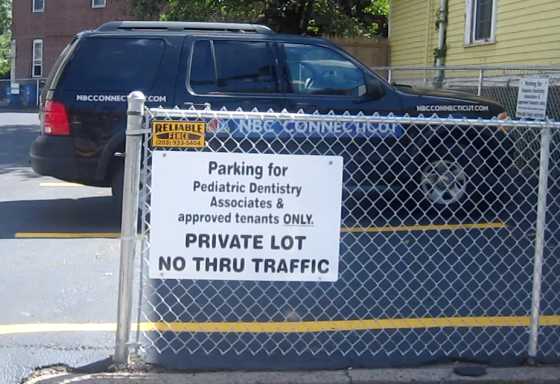 I don't know who was here with NBC; I assume it was the guy who kept glaring at me like I'd messed up his shot after I chose to emerge from my chamber with a queenly wave in the midst of the mayor's words to take a picture of this van. I only know that if there's any justice, it got
legally held for ransom
towed away and impounded, like what happens if somebody who actually lives here tries to park here. Don't they know this lot is reserved for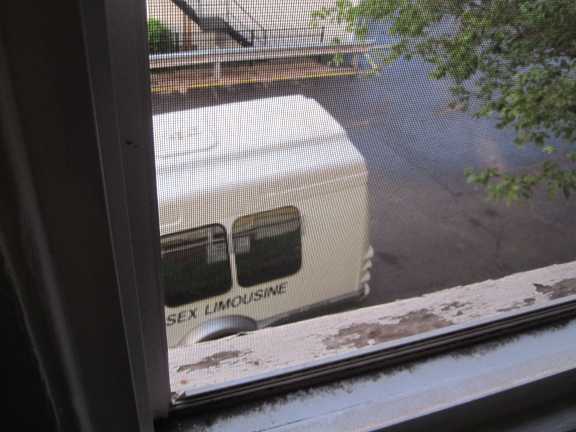 sex limousines?
There are/were some legitimate disaster areas in Connecticut, and even further north in Vermont and such, but New Haven isn't one. That's why my parents were evacuated and came to where I was.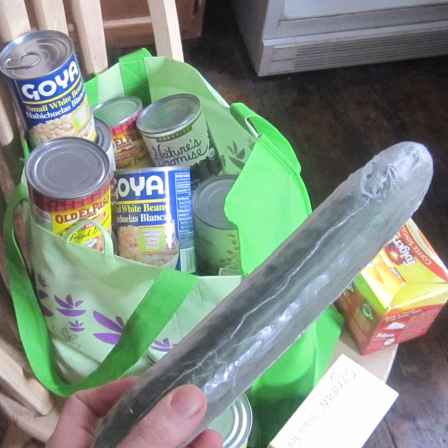 As to why they stuffed my kitchen with cucumbers and cans of beans and then left, I'm afraid that's a personal, family matter and it's highly inappropriate for you to bring it up.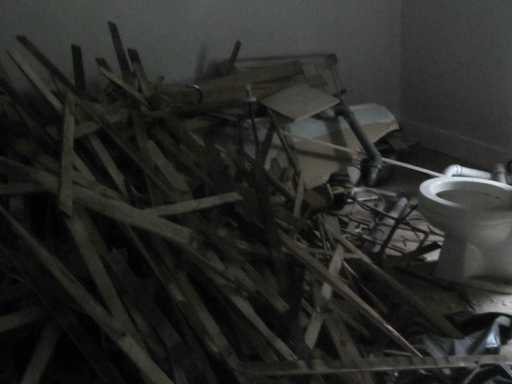 The mayor should have posed in front of this. It is the apartment above mine. It was also like this before the storm. The people renovating it haven't finished yet, I guess. They didn't bother to lock the door to it, either.

I bet the mayor was ecstatic when he found out there were some locales under his juristiction without power. East Haven, my old haven, had some actual wrecked homes to shoot. All New Haven got was a tree that was due to fall over anyway.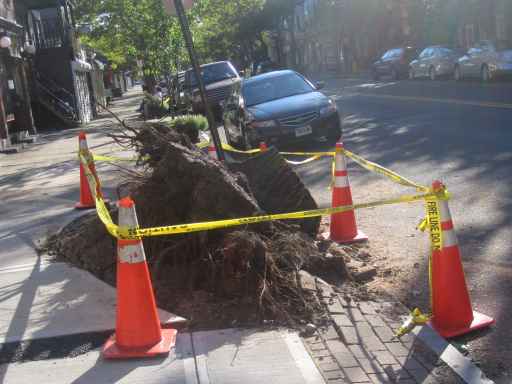 Now only the stump is left, but still surrounded, and still presumably dangerous. Or maybe this is meant to be interpreted as a shrine. I thought this would be funny but actually it makes me kind of sad. It's going to be even harder to park here now.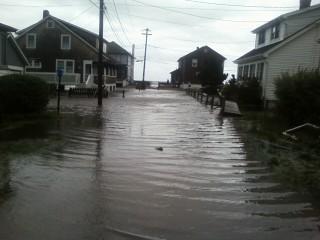 This is the zone of my previous dwelling, as seen by a picture telephone my mother sent before she rounded up the beans. Thankfully my brother Ibrow uploaded it at the internet through his aggregate-accessory fruit, because Verizon would have charged me twenty five cents if I'd done it.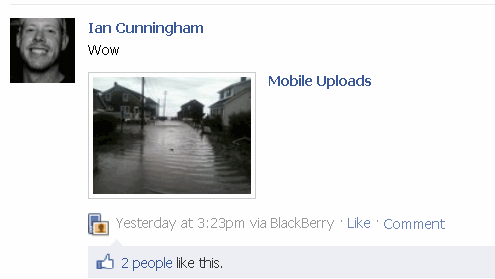 Two people like that my ancestral home is in peril. The same number of people who historically have liked nemitz. There is no coincidence.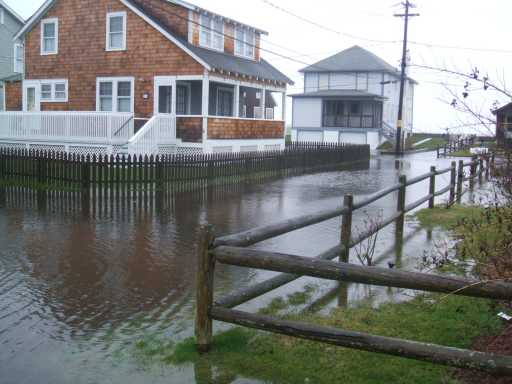 Here is how it looks from another angle. What a catastrophe! Oh and also this was from last year and a regular thunderstorm. This street floods EVERY year. Gobward it's a good thing I made this story two entries; otherwise it would be lazy of me to use the same non-gag twice. Observe how I started out by implying this place was worse hit than the other place and then I dismissed that as folly. I wrote all this for nothing. It makes me sad. In the future I pledge only to address matters of substance.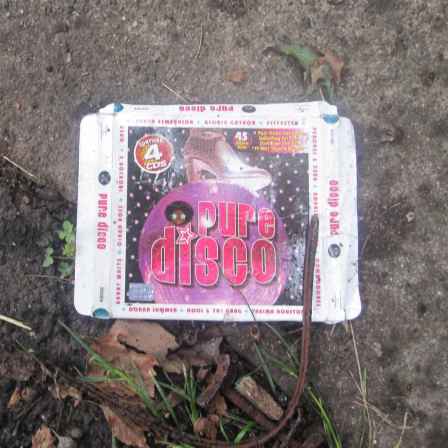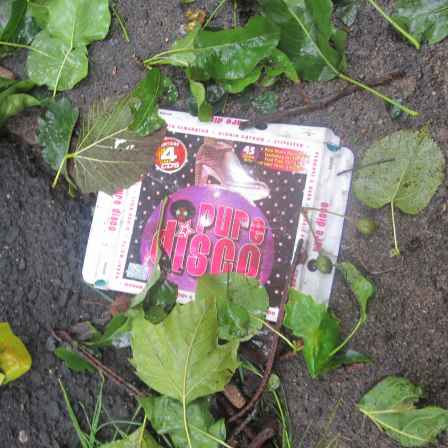 Next week: exclusive before and after pictures detailing the tragic effects of a hurricane on disco.