September 13, 2007

As for Capital Eli himself, his scary website uses the same logo but says very little about the soda and seems primarily intended to exhibit a too-small javascript window comic strip with fairly unreadable text (And these days my preferred screen resolution of 1024×768 is considered to be at the low-end). Imagine Bazooka Joe with delusions of magnificence, except you have to go to a website to see it, and you probably won't because it's scary, and even if you do you won't know what's going on. The Shipyard Brewing Company, which makes the soda, likewise does not mention the comic strip on its own website. Through it, though, you can order a box of twelve twelve twelve twelve ounce Eli Capitan soda bottles for $34.95, barely a bargain over what I paid for one, and we have no guarantee that they are full bottles.
For the picture stories is offered an email subscription service, even though it started in 2004 and not 1994. I presume this brings forth bigger, readabler pages, but I'm only presuming that and that it wouldn't affect past """webisodes,""" though I doubt they're all that good anyway.


The character artwork appears passable enough –considering that the "meet the artist" page includes mumble mumble co-creator mumble internationally distributed mumble *cough* mumble mumble world¹s first disabled superheroes, The Scrap City Pack Rats, we probably could do worse. And verily that's a tiny 1 instead of an apostrophe–
Ehhh! So the drawings don't seem all that terrible, though if you're bringing out the lame photoshop filler techniques for your cover image I have to question your dedication to quality, especially if the best backdrop you can find looks like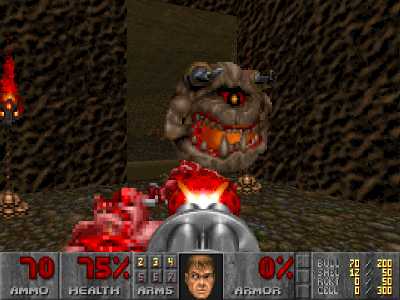 Doom II's ASHWALL4 colored blue. Sure, GRAYPOIS or SP_DUDE7 would have been worse, but I prefer to discuss what could be done to improve things. For example, Doom has plenty of pretty sky graphics that would work.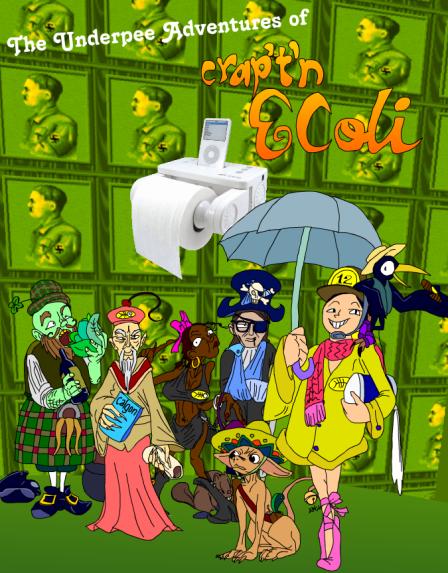 As for hokey, noncomplex computer graphic models, I nominate that we save those for CBS News simulations of planned NASA missions. There's really no sense to it if its non animated.
But I'm being unfair, as often happens. The effects on the inside, generally, are much better…

those people, however, are starting to freak me out. I concede that numerous online comic strips have utilized similar artistic anti-methods for humorous effect, and sometimes even succeeded, but this here is not meant to be funny, I don't think. Though Eeleye is an apparent orphan, his plight was not brought about by a bright green tyrannosaurus stepping on his house, that's all I'm saying.
Me, I may not be able to piece together a coherent story, I may not be capable of incorporating realistic, relate-to-able issues, I may not be able to read books on philosophy long enough to find the good non-sequitur fodder, I may not be able to draw a straight line, but by gummybear I'll take hours and hours to get anything done. I pledge this to you.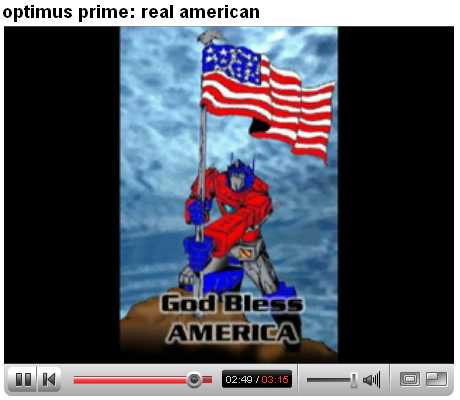 Someone who appears to be the same author has uploaded a
promotional clip
through the youtube. In addition to being animated in the slightest, it features inappropriate use of one of my favorite musics, Gustav Holst's (watch out, this is more noise)
Jupiter: The Bringer of Jollity.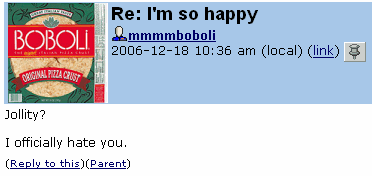 But I still prefer that to using music I hate and that has words in it unrelated to the visual content. I have filed the proper information requests with Neldo Headquarters to confirm that I do officially feel that way.
The site claims its "saga" begins in this story, although below it there is another one labelled as "first," evidently by a different author. One who could draw backgrounds. One who could, but gave up on it a few pages in.


It's hard to say if replacing this person was worth the trouble.