September 16, 2007


The Dapsy Dino Family. They are one series of collectible figurines out of… too many. They were at one point found inside little plastic eggs which could be purchased in many countries besides this one. And I guess people bought them.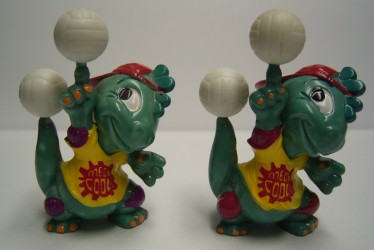 While I pointed out
in the past
that a certain pair of crocs were most certainly not cool, it is only fair to mention that their honorable ancestor Dribbelino was also not cool. Or at least not as much as any of the

CHiNESE-BEAVER. You may know them better as

les de CHiNEE-CHiN. I must give special recognition to SAM URAI, bridging cultural stereotype boundaries by naming himself after one of the outdated things westerners habitually associate with Japan instead. What we learn here is that it's not insensitive to depict Asian people as having ridiculous over-bites if you imagine them as animals which look like that anyway. It might also help to choose one that's known to inhabit parts of Asia, but I may just be misinformed in my belief that these aren't. For some reason I'm hesitant to investigate any of the results for my "asian beaver" google search. But anyway.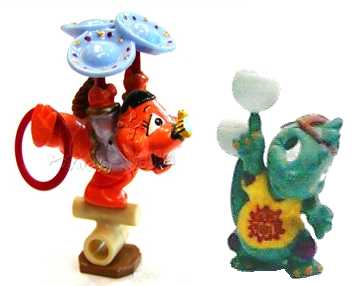 There's simply no comparison to be made.
As for why Dribbelino is spinning volleyballs, traditionally neither subjects of dribbling nor spinning upon limited surfaces in attempts to impress onlookers, that is yet a mystery.

By the roy, DAPSY DINOS should not be confused with

DROLLY DINOS, who don't delude themselves into thinking they know how to dress properly.
Huh? Hweh? What's that? Ah, you are observant.

FANNY FITNESS is indeed connected to an apparatus called LADY SHAKER. I'm glad you noticed.
Getting back to my original point, I think the croc's problem was that they misrepresented themselves. While throughout time evidence has proven that crocs cannot be cool, they can be CRAZY.

Ever in denial, the CRAZY CROCOS tried to convince me that I'm the crazy one, that it's somehow my problem, that oh no, that's just the way things are in the city, for

CITY CROCOS. Sure, pal. Everyone knows CONNY CRAZY is not named LISA RAP. That would be stupid. Obviously I wasn't having that so I sent them promptly back to

KROKOSCHULE to learn better manners.
I've made a couple jokes at the expense of the characters' names, but no one can touch

CROCOCROK. Why would you want to?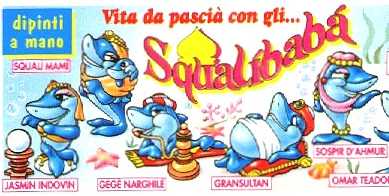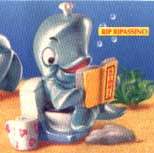 Next week: SQUALIBABA meets a whale on a toilet. Or probably not.