July 12, 2017
I need to stop writing things like this and forgetting them. I like this one, and its references are not completely out of date yet. I no longer have my father around watching network television all night; in fact I no longer have satellite dish "service" and the local reception here is awful, so I am drifting back into complete unawareness of what goes on the air. I am not glad my father is dead at all; I look at the box of ashes every day and keep thinking about the day he went to the hospital and I couldn't even get him into the bathroom since I was so sick, but there are some habits that I am relieved to be without. My own habits do quite enough damage on their own.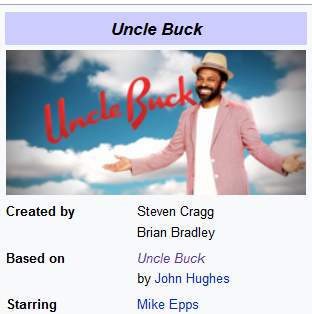 I am so glad "Uncle Buck," the 2016 tv series, got canceled. Every idea there is terrible. The initial movie was mediocre, the worst example of John Hughes' fondness for dumping comedy in favor of desperate sappiness pretending to be comedy. And then you changed all the white people to black, which is always a desperate, cynical grab at looking hip and socially conscious. And you make Buck himself skinny instead of fat, bearded instead of shaven, and wearing a dorky hat, so it is a totally different character. Then you switch the time period ahead thirty years, and switch from a stand-alone premise, Buck looks after the kids for a week, to the standard continuity-less sitcom format, so that Buck's role is necessarily different, so apart from the name "Buck" there is really nothing in common. The film is hardly regarded as a classic by anyone except extreme doofuses, so you wouldn't have people under 30 generally aware of the source material, so they wouldn't care about the allusion. And people who were aware, and also actually would want more Uncle Buck der film, would be offended that you changed so much stuff.

And it bothers me that this series was conceived by Steven Cragg, who was the head writer on Mad TV in 2005 or thereabouts, its least-completely misguided late season. Cragg is only credited as writer on 3 of the 8 Buckisodes but that should be enough if it was a good idea.
wikehhpedia cites a rotten tomator who says

not enough laughs for what? To be true to the legacy of the film? Because the film is only marginally funnier than Ghostbusters, which is only marginally funny, but has other elements apart from that to keep it interesting and me from dwelling on its social implausibility.

no it hasn't! The cited article is just an interview with two of the actors saying how great John Candy and John Hughes were. Not every mediocre movie from the 1980s is a "cult film!"
Uncle Buck
was, by the preceding statement's own admission, a mainstream box office success during its initial release.
I would believe
Canadian Bacon,
also starring John Candy, is a cult film, because it flopped on its initial release and has truly bizarre elements to it, but since it wasn't written or directed by John Hughes and came out in the 1990s it doesn't fill in enough of the corporetro buzzword bingo card and actually gets correctly identified as a dumb old movie that may safely be not-cared about.
And a few months ago the cast of Blackish was the cast of Good Times! (and DIDN'T get cancelled) Everybody programming at abc is a brain-robbed twit stuck in the 1970s, except they think they are smarter and edgier than the 1970s. With "new" versions of 25cent pyramid, match game, muppets, battle of the network stars or whatever else, I swear every ad for Goldbergs or Blackish just shows them homaging this or that old intellectual property. Hey look they're talking about THE BREAKFAST CLUB! Hey look they're dressed like BATMAN AND ROBIN from the 1960s! Who cares? How is that funny?
I remember The Wonder Years… I also remember hating The Wonder Years, but the premise was never Kevin busting into his house and telling everybody about this great new movie PLANET OF THE APES! and then his family act like they have never heard of it and ha ha! this is FUNNY because EVERYBODY knows what planet of the apes is! And then Charlton Heston shows up but NOT playing himself but that's the JOKE and everybody falls asleep and dreams about being Apes on the Planet of the Apes.
As a child of the 1980s, do you know what my favorite movie was? Robin Hood, the Disney version from 1977. And Disney even owns ABC but wouldn't make an episode about that because it doesn't tie into their contemporary marketing since they have no live action adaptation of it planned and their version never thoroughly supplanted every other version of the character in popular culture. My older brother liked Transformers: The Movie, but the Goldbergs can't talk about transformers because a rival conglomerate is making billions with that. My younger brother liked The Land Before Time, and the Goldbergs can't talk about Don Bluth dinosaurs because a rival conglomerate is making surely tens of thousands off of that.
I wrote most of this last October, but literally last week, May 2017, the Goldbergs episode was about Back to the Future. And presumably involved dressing like the characters and acting out scenes from it with a forced-jewy spin on it. They would probably have Christopher Lloyd pull up in an actual DeLoreon but I think Big Bag Theory owns the current rights to having every nerd celebrity guest star as themselves acting like the characters they are associated with and in reality probably spent years trying to get disassociated from. Whatever the case, our tv writers seem to have been replaced by automated trend aggregators.


This headline I found while searching a for a background to draw behind the unspeakable dope on
this page,
and somehow just having read it made me feel dumber than drawing the dope did, and I declined to investigate further.
Literally Sheldon Kuper is the rudest most entitled jerk on earth and it is supposed to be entertaining to watch the world bend over backward to allow him to live out geek fantasies even though he is implied to be rich and appreciated for his skills already. Also, there are about five women in all existence and one of them is in love with him??!
You used to have to watch Nick Jr. to see plots this contrived, and you could accept that programming for toddlers will err on the simplistic and predictable side. The comedy on
Peppa Pig
is more sophisticated than network sitcoms. I almost ended that statement with "now" but then I remembered Full House and Growing Pains. Maybe knowing I was writing this killed Alan Thicke. And also Kevin Meaney, who starred in a
different
failed sitcom remake of Uncle Buck at the same time Full House was airing and became dead less than two months before Thicke did.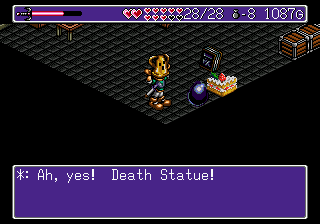 Getting back to the Buckture, plainly the point is that Buck is a darker skinned gentleman, and I should be interested in this revived concept based on that. Can you imagine if the ABC network put on a TV series based on The Color Purple or Roots in which everybody was white? No, they wouldn't do that, because everything that exclusively features black characters has blackness as a central component to it, and they emphasize that. John Hughes stories have whiteness as a central component. Steven Cragg is very white. Loading black people into white concepts to make the cast seem "diverse" just makes trouble.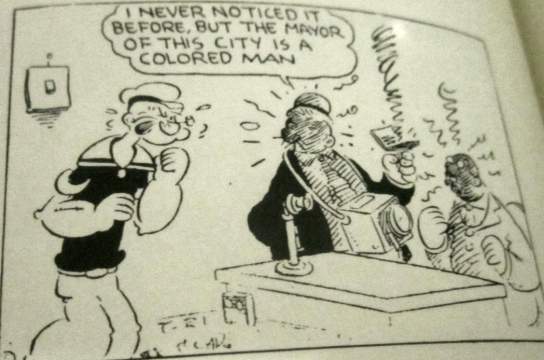 I can understand doing this in the recreation of an old theatric play, if it was lacking in elements tied to race and presented initially during a period in which only white people were permitted to audition or perform. That was not the case in 1980s film. In my limited period of access to plays, I have seen productions of Richard III, Three Musketeers, Romeo AND Juliet, plays written by and about white people, but staged with black actors in leading roles, and it worked because the scripts weren't messed with with to try and draw attention to the blackness of the actors. But if you set it in contemporary society and are changing the personality and ethnicity of a role heavily associated with an actor still presumed to be in collective social memory, because you wouldn't be remaking the film if it
wasn't
considered heavily recognizable, you try and force people to accept how "real" it is, and it isn't any more real like this! White people really do exist! And they really do occur in quite large numbers in this country. I don't care if you make a cartoon series about an anachronistic stone age society that fixates on a dark-skinned family that is written to act like contemporary people act. But don't call them
The Flintstones
because the Flintstones are a specific group of characters that act like middle-class white people from the 1960s.
I remember when Cedrick das Entertainer was doing a publicity tour for the completely needless and cinemized remake of The Honey-Mooners, how self-congratulatory he was for having recontextualized everything. How Ralph Cramden's outburst "to the moon!" was no longer an insincere yelled threat of violence said in frustration but a calm and sincere statement of love. Which means he was playing a different character, and telling a different story. Cram Ralphden is a frustrated low-class oaf. If you are worried he will offend contemporary advertisers, you shouldn't put him in a movie!
The play "Annie" was remade as a film, with all the white characters played by black actors, but since the original story is set in the 19th century and the show a musical-type anyhow, it is already somewhat abstract, and the character personalities already removed from reality, assuming the songs weren't screwed with to seem more sassy and hip-hoppety. Whatever the case, don't call it "color-blind casting" when it is deliberate. You want me to think that skin color played no role whatsoever in filling the role, which is a lie. You wanted me to notice the blackness, just like you wanted me to notice the ladyness of the more recent Ghostbusters. And people did, and you pretended it was their prejudice that made them notice. Please stop doing that!
I accept the idea of remakes, taking a functioning concept and putting it into a fundamentally different context, but without trying to obscure the original from existence. I don't accept replacement characters with the same names who behave in fundamentally different ways.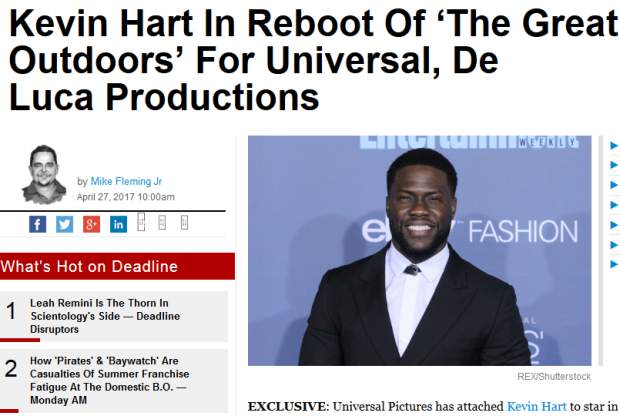 It must also be noted that "The Great Outdoors," another thoroughly unremarkable John Hughes/John Candy feature, is also being remade, and while I admit I haven't seen it, and that Kevin Hart is certainly uninspired and irritating and coasting on an inexplicable media-wide assumption that he is funny so-that-he-needn't-attempt-to-be enough to replace Dan Aykroyd, you could easily make a movie about two families going camping and coming into conflict without anybody saying "hey, isn't this a ripoff of that all-time cinema classic The Great Outdoors?," even if you hadn't taken the precaution of making sure the cast had fewer white people in it. There is just no reason for any of this, I don't get it, I never got it before, and I expect I shall continue not to get it.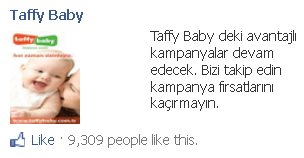 I thought I had griped about John Hughes in the past, but if I did it isn't on this website. without even remembering that he was responsible for Baby's Day Out.
I remember seeing promotion for a video game based on the movie before I even heard of the movie, and then the game didn't actually get released, but the movie did, and somehow I saw it.

Oddly enough, the titular baby has just the sort of aristocrat entitled parents that Hughes always shows ostensibly-relatable schlubs triumphing over in his other movies. And now I suppose they all have jobs producing lame movies and tv shows that reference his lame movies.