September 20, 2017
The task of reformatting/relettering/rewriting pages has reached the second basement section, its most troubled point, that I knew would be troublesome, and had meant to tend to even before I thought it feasible to print a book with that in it. And I think I will not finish the book in time to have an example copy for City Wide Open Studios Armory Weekend on October 14 and 15 in New Haven Connecticut, but just having it done at all will be a major relief to me. Someday I will finish all my ancient projects, and then I can die. Or live. Undecided.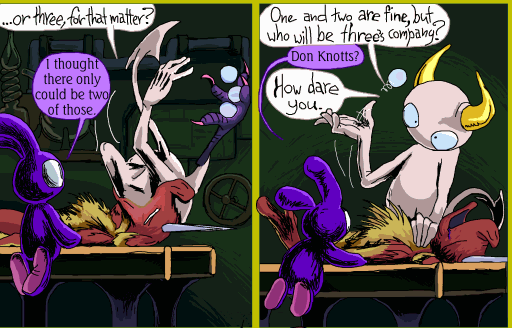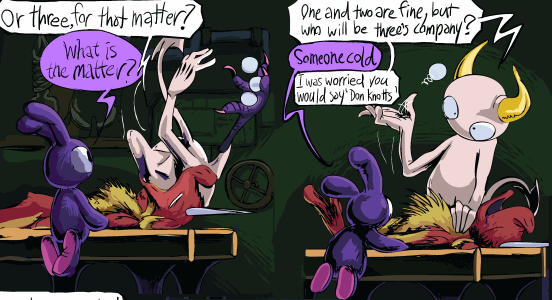 The dialog is crammed in ways it should not be, and characters, pog especially, say things they should not say. the Short Circuit robot in the background, which I left in, is not the same thing as pog specifically mentioning Don Knotts. but then i went and had kumquat do it, despite that being a more serious character whose illogic can be less excused, so what am i even trying to accomplish? You know what, I have never watched Three's Company
or
Short Circuit. I have no business making inappropriate references to either.
The saturated purple being subdued is a natural byproduct of me enlarging the base in Adope Illustrator, which I would correct were Adope Illustrator not generally better informed as to which colors will actually print out the way they look onscreen than I am.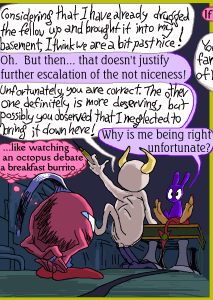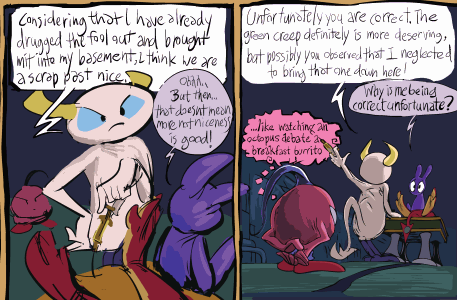 Also a problem: where I had meant to split two pages into three, I seem to not have enough dialog for a full third page, even with it decompressed to be less forced where it does not belong. I could definitely add frames to the elpse dream session to fill in the gaps, but considering how immersion-breaking it is, after already having a problem with that, i would like to keep that on one page only!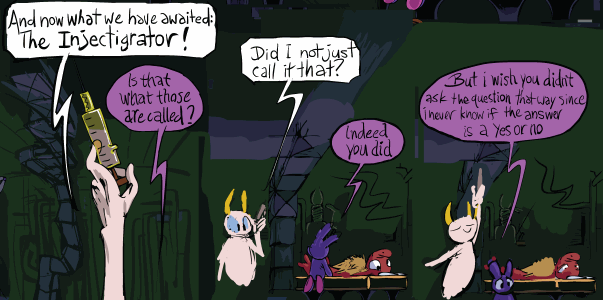 Elsewhere, the meddling screws up the panel placement. Some things that are funny midway through a page seem less so at the end of the page, where they come across like i think they are funnier than they are.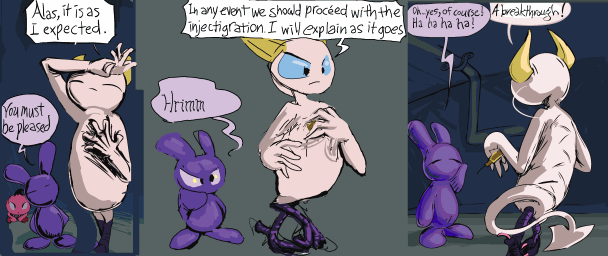 and some things that are funny as page conclusions are easily ignored if placed midway through a page, since I need the next frame to seem to follow from it. Even in a fully continuous comic strip, page boundaries have a magical power, where time is imagined to have passed, so that not everything need be shown and stated. And in this particular example what formerly started the next page now needs a transition before it, so the "oh yes of course!" doesn't seem to come out of nowhere, pog's closed eyes are noticeable both times, and the creature does not appear to be sleepwalking, also. But still, the viewer's mind filling in what should be there is more efficient and more effective than me forcing on in. Alas, my action is necessary. As are panel boundaries. Amazon assures me they will be arriving any day now. Isn't it nice that with five massive hurricanes and two earthquakes in three weeks and our president all but daring North Korea to shoot nuclear missiles at us, this is my biggest problem? Not at all; having my computer on this desk hurts my neck.